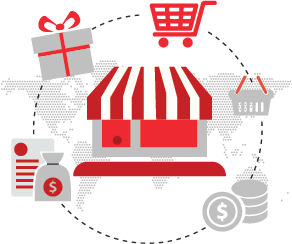 Climate change is at the centre of the global debate. Environmental activist Greta Thunberg has become an icon in her own right, drawing unprecedented attention to this issue and challenging world leaders to address the spiralling situation.

Perhaps as a result of this hype, today's consumers are more environmentally-conscious than ever before, and this hugely affects the way they shop. Afterall, everything from what we eat to how we travel and what we wear, has an impact on our planet. Therefore, the retail industry, facing complexities such as production, packaging, distribution, returns and so on, has inevitably been involved in the conversation. Customers want to shop from sustainable brands, so they pay attention to these aspects and their effect on the environment. For instance, they favour brands that work to reduce their carbon footprint by shipping sensibly, as well as those that utilise recyclable materials. Our report's results confirm this: a significant 47% of those surveyed in the UK prefer retailers that minimise packaging.
While looking after planet Earth has moved up the customer agenda, some things never change: frictionless and engaging experiences still win shoppers' hearts. The past few years have seen the astounding growth of online shopping, due to its unbeatable convenience. An undoubtable focus for retailers has been designing error-free, smooth-running websites – even a few seconds' delay in page loading times can result in a missed sale and a customer who is unlikely to return.
The post-sale experience is no less important: despite the growing amount of orders and ambitious shipping expectations, brands are under pressure to manage flawless operations in order to offer customers choice and quality service. Speedy, affordable (if not free) and convenient deliveries that fit around customers' busy lives are a must, leaving retailers that fail to achieve this losing business.
Sure, customer preferences evolve and new trends arise – futuristic stores with augmented reality features will help to attract shoppers' attention,but – it's undeniable – retailers that get the basics right always prevail.
It's not easy being green – but it certainly pays off
Friction is still a big turn-off