Toshiba brings a long history of technological advancements and insights into the retail environment. It's here that the inventors of the barcode perfected the technology behind the Universal Product Code still used for scanning product labels in supermarkets and stores globally. The back stripe, which is that little thin stripe on the back of your credit cards and debit cards was also invented here. Collectively, the group of master inventors at Toshiba has hundreds of patent filings on record with the U.S. Patent and Trademark Office for the pieces and parts that help keep Toshiba Global Commerce Solutions ahead of the competition in the retail market.
Today, the retail industry is at an absolute crossroads, like perhaps it's never been before in terms of the whole transformation of the customer experience, the ways that customers can touch the retailers in terms of the different channels by which they can shop. Shoppers create new demands on retailers to keep up with their expectations. Disruptive technologies create new ways to engage and motivate consumers to action.
The retail environment is constantly changing. Consumers want to find frictionless journeys. They want to go inside and walk out of the store as soon as possible. Inside the store, if they have a product that's catered just to them, promotions that are catered just to them—and that's relevant, that's transformation.
The retail industry is looking for new and innovative ways to adapt more quickly to customer needs while they optimize store operations and reduce the cost of delivering and managing their business. "We are here to help retailers respond," says Rance Poehler, President and CEO of Toshiba Global Commerce Solutions. Over the years, Toshiba has been providing those capabilities to world class retailers with technology solutions to ensure efficient and effective day-to-day operations. "We advance the future of retail with innovative commerce solutions that enhance customer engagement, transform the in-store experience, and accelerate digital transformation."
So Toshiba has a long legacy of people that have been dealing in the retail environment. That means there are professionals at Toshiba with a rich set of viewpoints that guides and educates what it does and how it does. "Our people understand the retail environment and they understand our customers," says Poehler.
What's the next thing that you can even imagine that retail will become in the future? Team Toshiba is always thinking ahead into the future. The team is always at its feet listening to and understanding their customer needs, This coupled with its rich experience, enables the team to identify what's needed in the future and then build solutions and ideas now so that they can have products in the future to support those things. "People around here are passionate about getting this retail transformation done," says Naresh Keswani, Director Product Management at Toshiba Global Commerce Solutions. "You feel like you make a difference every day because you know what you want as a consumer. And then to be able to help retailers get that is indeed unique."
Toshiba Global Commerce Solutions combines a rich history of innovative technology with vast experience and specialization in retail to serve clients better. Serving in over 120 countries, more and more retailers look to Toshiba for its size, scale, and experience along with its global client base. With world class solutions, Toshiba sees itself well-positioned to meet retailers' demands in today's environment. "Our solutions are amongst the best!" assures Poehler.
Toshiba Global Commerce Solutions is a leader in retail store technology and has emerged as retail's first choice for unified commerce solutions. Toshiba's mission is really to empower shoppers to shop the way that they want to shop. It does so by providing retail technology that's beneficial to retailers as well as consumers.
As a premiere provider of retail solutions, Toshiba is on the verge of disrupting the industry with their intelligent end-to-end solutions. Toshiba essentially owns the entire solution stack—from hardware all the way through the entire software stack. Toshiba's technology solution is applied directly to solve retailer's problems. Toshiba has been able to constantly keep up with the market and bring new solutions to market that are relevant and reliable. "And I think that really goes a long way to making us number one in this industry and continuing our position as a global leader for point of sale, software, hardware and services," says Poehler.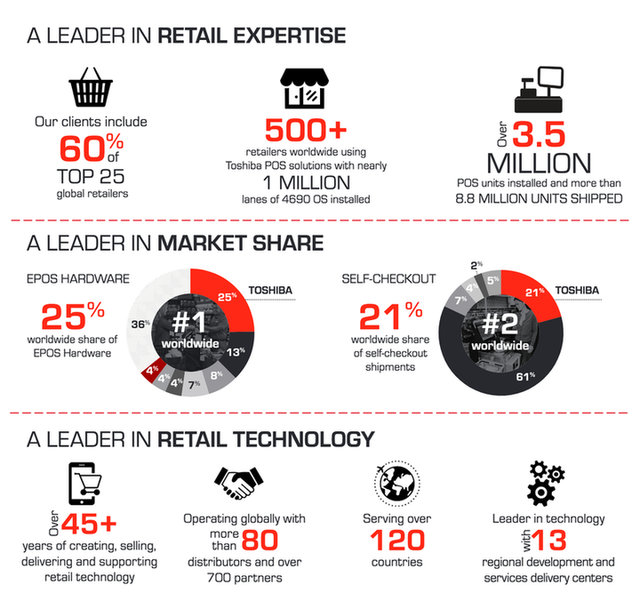 Whether you have five stores or a global presence, Toshiba is prepared to handle whatever you're currently facing and anticipate in the future environment. Toshiba is committed to partnering with clients in order to provide highly-tailored solutions based on specific retail needs.
Toshiba provides retailers with options as well as recommendations to enable their success. Its depth of industry knowledge and retail experience combined with data gathered from one of the largest POS install bases make Toshiba the ideal business partner.
Toshiba provides retailers with thought leadership in various trends occurring around the world. Toshiba supplements retail knowledge that customers have with its ongoing global technology experimentation. "No matter where you are in your retail solution journey, we can get you to the next level," says Poehler.
Toshiba's expert team of professionals provide the insights and foresight to help retailers make their vision and investments come to life—to enable Future Commerce. "We understand retail isn't simply one size fits all. Our dedicated teams have worked extensively in a variety of retail environments—from well-established brick and mortar to highly personalized consumer engagement strategies and everything that connects them," says Poehler.
We are Retail
We are Reliable
We are Empowered
We are Trusted
We are Agile
We are Innovative
We are Leaders
World-Class Retail Commerce Solutions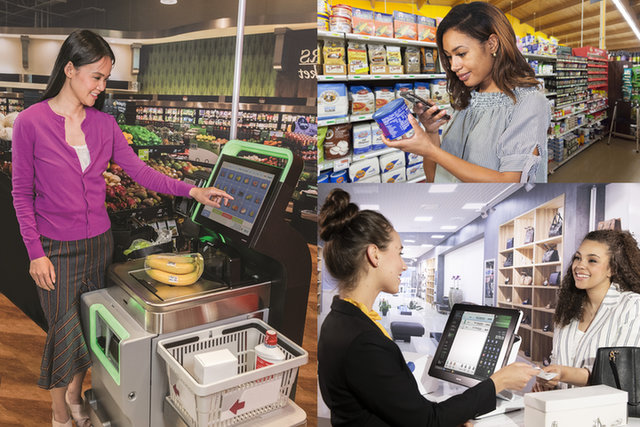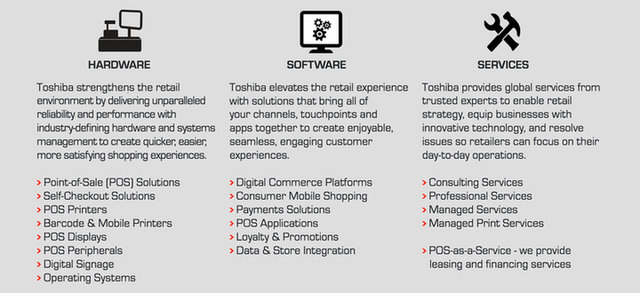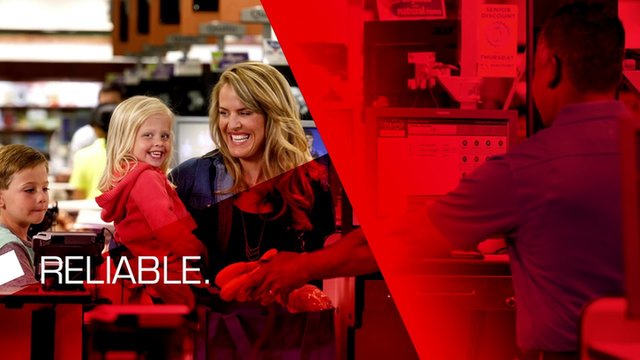 Bringing World-Class Retail Commerce Solutions
Driven by Passion, Powered by Innovation