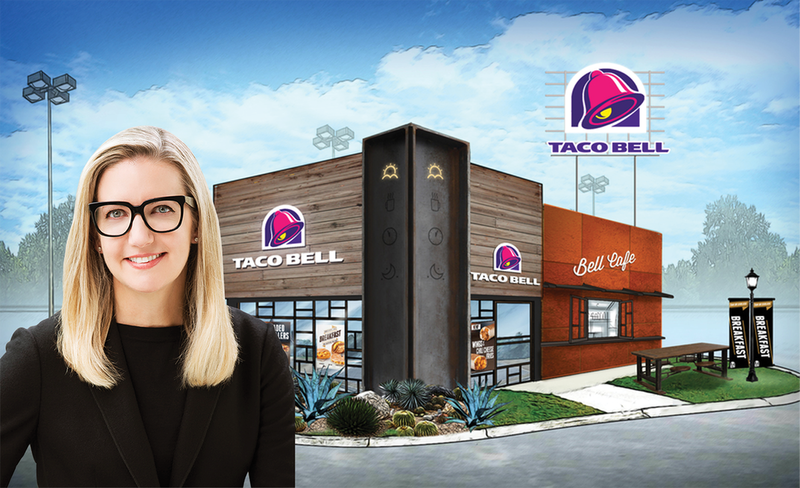 President, Taco Bell International
Beginning January of this year, Julie Felss Masino transitioned to her role as President, Taco Bell International, responsible for the strategy around accelerating Taco Bell's global growth in key markets. She heads a global team accountable for ushering the brand on its journey toward becoming a $20 billion business with 10,000 restaurants globally. Masino will continue to champion the brand's potential for growth, which includes bold restaurant development in countries such as Brazil, Spain, and India, as well as bringing craveable food, breakthrough marketing, people-first culture, and the unmatched operating capability of Taco Bell to new markets all across the globe. Masino is responsible for ensuring the brand continues to deliver same-store sales growth with breakthrough innovation, new store development and a frictionless customer experience through digital and technology initiatives.
When Masino joined Taco Bell in January of 2018, the very next month then-CEO Brian Niccol dropped the bombshell announcement he'd be leaving Taco Bell, after storied success. Masino wasn't unnerved. Masino's dedication to excellence in her career coupled with an inner, inescapable, entrepreneurial spirit ensured that she was more than ready to take the helm.
Masino's approach has improved the fundamentals of operations and leadership development for the brand. As she helps further the momentum of the international markets, she's focusing her people on the culture of the brand and winning economics. She's also instilling the importance of a positive team member and customer experience every day, in every restaurant—the key to ensuring franchisees, team members, and customers connect with Taco Bell in global markets.
Masino has in the last two years steered the iconic restaurant chain, a subsidiary of YUM! Brands, into exciting new directions. She has championed initiatives that underscore Taco Bell's culture-leading DNA. Under her leadership, Taco Bell is outperforming the industry. She has fuelled her teams to launch innovative products like Nacho Fries and the Toasted Cheddar Chalupa, and transformed the chain into a cultural phenomenon through amazing brand moments like the Bell Hotel. She helped catapult the brand's "all access" technology strategy, launching in-restaurant kiosks, delivery, and an enhanced online purchasing experience that ensures customers have easy and frictionless access to Taco Bell, when and how they want it.
Masino's experience in the restaurant and retail world is unmatched. She joined Taco Bell from Mattel Inc. where she was Senior Vice President and General Manager of the Fisher Price division. Prior to that, Masino led Sprinkles Cupcakes as CEO, and has extensive restaurant and food industry experience including 13 years in senior leadership roles at Starbucks. She also has deep brand marketing experience in the retail sector, including Godiva Chocolatier, Macy's, J. Crew Group Inc., and Coach Inc. Masino earned her degree in Communications from Miami University.
The curiosity to explore and thrist to learn are two qualities that define Masino. She works tirelessly to build culture, innovate for the future, and lead by example. Her critical thinking ability has given her the confidence and flexibility to continually learn new skills. Channelling her entrepreneurial spirit, Masino brings the risky yet calculated vision any leader can only hope to bring to fruition.