Inflation: Taking a Bite Out of Grocery Store
Inflation is on the rise and here to stay. The annual inflation rate hit 9.1% last month. But that doesn't mean that Americans are seeing their bills or their grocery store receipts go up by 9% across the board. In most cases, the rise in prices has been far greater. Family grocery bills are on the rise with higher prices for most items, accentuated by significant increases in the cost of eggs, chicken, bacon and beef.
Food prices have been consistently outpacing the overall Consumer Price Index (CPI). Last month, the index tracking grocery prices showed a 12.2% spike over the last year, making it the largest 12-month increase since April 1979. But when one goes for grocery shopping it is no brainer that certain individual food products have increased much more in price than the Consumer Price Index.
Datasembly that tracks product prices across over 130,000 stores recently analyzed for Fortune magazine, the average cost shoppers are likely to pay for some of the grocery products. They include Bird's Eye frozen corn, Cheerios cereal, Kraft cheese singles, Coca-Cola, Jif peanut butter, Wonder sandwich bread, Lay's potato chips, and Tide laundry detergent. Quite surprisingly, some products are seeing annual jumps that are more than double the CPI rate. From June 2021 to June 2022, for example, the cost of a 13-ounce bag of Lay's Classic Potato Chips skyrocketed 38%. The average price jumped from $3.55 to $4.90. The price of a 16-count package of Kraft Singles American Cheese Slices rose nearly 15%.
Food inflation is outpacing salary growth, and it hits those with the lowest incomes the hardest. Sales patterns underscore the impact rising grocery prices are on shopping behavior. For example, meat sales were up 5.7% in terms of dollar volume in June on a year-over-year basis, but the number of pounds of meat people bought last month fell 2.7% by the same measure, according to data from 210 Analytics and IRI. Similarly, perishable sales rose 6.8% in June compared with the same month in 2021, but unit sales were off 4.5%.
In recent weeks, consumers are seen making adjustments and switching to less expensive grocery brands as inflation continues to eat away their spending power. In addition, people are increasingly cutting back on purchases of non-food products, reducing travel to save gas and looking for bargains when they shop, per the firm's findings.
Like everyone in grocery business, Walmart is faced with a challenging environment right now. Inflation is squeezing the budgets of many of its shoppers, leaving them with little room to pay for more discretionary items outside of groceries. Groceries are notably a low-margin business. While announcing the second-quarter earnings, Doug McMillon, CEO of Walmart had observed, "The increasing levels of food and fuel inflation are affecting how customers spend."
Let's look at the foot traffic at major U.S. retailers such as Costco and Walmart over the last few years.
According to SafeGraph data that shows foot traffic at five major U.S. grocery retailers from January 2019 to August 2022, Walmart has consistently brought in the most customers on average. The chain welcomed over 108 million shoppers in July 2022 alone, while H-E-B brought in just over 25 million, Costco around 34 million, Aldi around 63 million, and Kroger around 46 million that same month.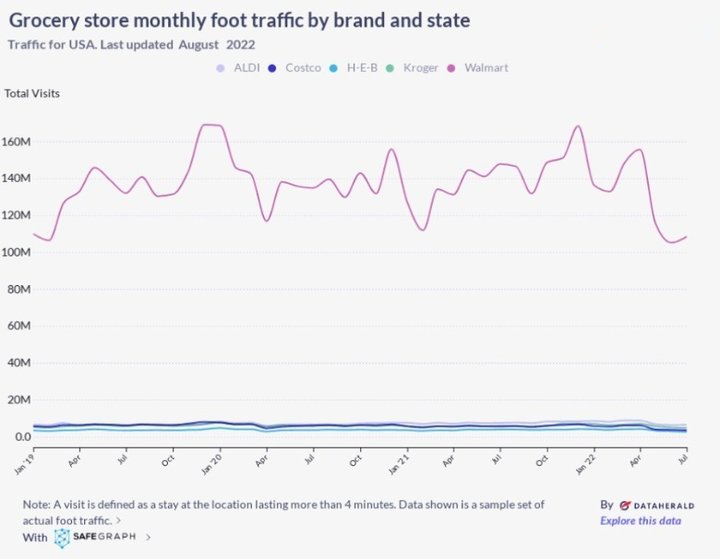 While Walmart is by far the most dominant when it comes to foot traffic, according to data from Placer.ai, a location analytics firm, Walmart's foo traffic fell 2.7 per cent on average from June 1 through July 25 versus a year earlier. Meanwhile, traffic rose 11.5 per cent at Aldi, owned by German discount grocer Aldi Sud, and the number of shopper visits climbed 4.1 per cent at Dollar General. Walmart's share as the first choice for grocery purchases dropped to 25.5 per cent in July, from 27.4 per cent in June, according to a Prosper Insights & Analytics monthly consumer survey cited in a Cowen & Co note. Since many consumers are only buying groceries, they're finding lower-priced grocery stores like Aldi a better alternative than making the trip to Walmart.
While the slowdown in foot traffic at grocery stores earlier this year is a potentially ominous sign for food retailers, the fact that visits appear to have stopped going down suggests consumers may be getting used to the rising costs they are seeing on store shelves and gas pumps, according to the Placer report. "We don't expect inflation to ultimately dictate the sector's foot traffic performance," the report mentions.
Inflation is changing everything about how Americans grocery shop, from what stores they visit to the brands they buy and how frequently they shop. Approximately 95% of US households said they are making changes to purchasing habits to account for rising prices, according to a Numerator survey of over 10,000 consumers. Grocers of all sizes are having to pivot now and listen to their customers as prices and preferences continue to change.
Traffic to Walmart has dropped over the last two months while discount retailers have seen foot traffic climb.