The Metric-Driven Agency

Tyler Sickmeyer, CEO and founder
Tyler Sickmeyer is the marketing thought leader and founder of Fidelitas Development, a full-service marketing and advertising agency that serves clients worldwide. Knowing that brand loyalty is a company's most important asset, Tyler and his team implement unique and innovative strategies to accomplish the goals of their clients.

As a sought-after keynote speaker, Tyler has inspired audiences around the world with his unique perspective in sharing solutions for today's marketing challenges. As the founder and host of The Lion's Share Marketing Podcast, marketing leaders are treated to a wide range of topics, from Customer Acquisition Strategies and eCommerce best practices to the latest marketing and communications trends. Tyler showcases how integrated marketing and digital storytelling drive results in an ever-changing world.

As the youngest independent Christian concert promoter in the nation Tyler was the first to utilize text message marketing and Facebook for event marketing. He leveraged cutting-edge technology to provide data-driven results and continues to do the same today.

Tyler stays on top of the latest trends while serving on the board of Live Ventures (NASDAQ: LIVE). With a wealth of experience in digital and traditional marketing, along with PR and eCommerce, Tyler develops campaigns that stand out among crowded platforms while helping leaders navigate a path to successfully connect with their audiences.

Originally from Illinois, Tyler now calls San Diego home along with his wife, two sons, and yellow lab.
Meet Tyler Sickmeyer, CEO and founder of Fidelitas. From its humble beginnings in 2008, San Diego, California-based Fidelitas has grown into a truly full-service marketing and advertising agency. Over the years, Fidelitas has worked with a multitude of incredible brands, helping with SEO, social media, paid media, retention marketing, and influencer and earned media campaigns among others. Its dynamic team is well-versed in Digital, Traditional, and Brand Strategy disciplines, allowing Fidelitas to offer honest, unbiased advice and feedback to its clients. What sets Fidelitas apart from the other agencies is the team's relentless focus on delivering ROI-centric solutions.
Tyler founded Fidelitas on the premise to serve clients the way he would want to be served: as a strategic partner that actually cares about the client's bottom line. Over the last decade or so, Tyler has nurtured not just an upbeat and positive culture, which most agencies can talk about, but a winning culture that is strongly rooted in a metric-driven framework. An avid basketball player, Tyler still plays for the San Diego Sharks of the TBL (minor league basketball) and understands that if you're truly good at something, you'll enjoy keeping score along the way. Just like every sport has its scoreboard and team stats— so must every business. He brings the same philosophy to Fidelitas—Winners Keep Score.
The Fidelitas team actively tracks wins and losses of all its clients' marketing campaigns to ensure that they come out on top in the end. "We believe that if you're doing a good job, you don't dread "report day" and look forward to gauging the results of your efforts. This approach carries over to every decision we make on a client's behalf. We're always contemplating if the decision will result in improved results for the client based on their specific set of priorities—which is mostly sales, but not always," explains Tyler.
It's critical to have a thorough understanding of each client's needs and specific goals. The beauty about this winning culture is that it keeps every Fidelitas team member connected to the outcome. Employees begin to think and behave like businesspeople with a vested interest in success—not like hired hands. That's why the Fidelitas team prides itself on its reporting process and is constantly striving to ensure that its clients' goals are aligned with the work and results the team produces. "If you're great at what you do, you're going to look forward to measuring your results," says Tyler, "By focusing on the results instead of the next scope increase or how to stay off the hot seat, our clients win. And when you win, we win."
Winners Keep Score
The StratOp Approach
"While improving clients' respective bottom lines is the end goal, what makes a relationship with Fidelitas special is how we get there together," explains Tyler. Fidelitas implements several StratOp principles and exercises that help its clients and the Fidelitas team achieve joint clarity around the best path to the desired results. Fortune 500 companies, like Ford and Boeing, have used StratOp over the years for monumental accomplishments. The StratOp Process (created by Tom Paterson over 40 years ago) is a Strategic Operational Planning Process built on the principle: you must plan for tomorrow – today, while insuring you tend to today - today.
Through a systematic process clients gain more clarity to make informed decisions while prioritizing their marketing strategies and helps them create a plan that can be measured, incrementally implemented and adapted to achieve the desired results. "Our clients get more than a plan; we develop a comprehensive process to implement the great ideas into breakthrough marketing, which leads to growth and effectiveness and helps our clients succeed," explains Tyler.
It's through this strategic process during discovery and even into onboarding, Fidelitas gains clarity into what's really working—and not working—in a client's marketing strategy. Without divulging proprietary information, Fidelitas team capitalizes on a wealth of internal and privately-available external data to inform its strategies and recommendations for clients. For example, the Fidelitas paid media team has managed over $300 million in paid ad spend. That experience lends itself well to situations where a client may be wondering if something is wrong internally, or if it's a broader issue on the channel in question. Different clients have different data points more regularly available depending on the nature of their particular businesses, so the Fidelitas team looks to identify trends at a high level and then apply those insights to all of its clients in order to shorten the learning curve, saving time and money on the path to profitable work together.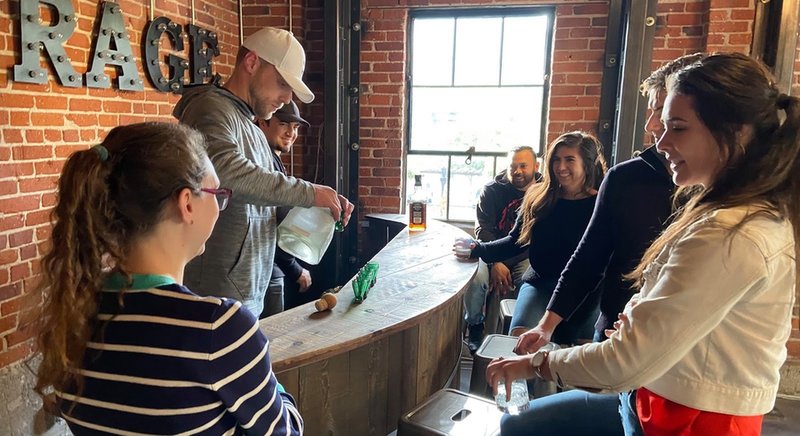 The best part about working at Fidelitas is that they're not just a full-service marketing agency, they have a fully-loaded bar as well!
The Partnership Mindset
Tyler explains that Fidelitas is truly differentiated from industry agencies. He observes the client-agency relationship model is tired and broken. "There's a better way," he notes, "and that's being a true strategic partner. If one scrolls through the company's social media posts, be it on Twitter, LinkedIn or Facebook, you will see that every time there is a new client sign-up, the clients are welcomed as partners into the Fidelitas family.
Tyler firmly believes that when you treat clients as a strategic partner there is trust built from day one and this means transparency both ways. Added to this, there is commitment to honesty, open communication, and candor--all things you don't typically see in the world of agencies. It is because of this 'Partnership Mindset' that pervades across the organization, that the Fidelitas team is able to have deeper conversations around what winning really looks like. "This allows our clients and our team to ensure that our goals- and the KPIs that go along with them- are aligned and measured appropriately," explains Tyler. "A joint-commitment to improving our relationship leads to the best possible outcome for all parties: profitable, trackable results from people that actually enjoy working together for brands worth building."
Treating clients as Strategic Partners and helping them navigate marketing challenges efficiently has helped the Fidelitas team to be brutally honest with their clients. Sometimes that means having the courage to speak up and say "this strategy isn't working, here's what should be done instead." Too many agencies fall into the trap of sticking to what they know they can invoice for, even if it's not in the client's best interest. For example, after Fidelitas signed on a regional farm and home retailer, it saw the writing on the wall: their eCommerce operations weren't up to par and failure to modernize the brand's digital strategy would result in a slow and painful death over the next decade. For Fidelitas, it would have been very easy - and profitable - to just run back what the previous agency was doing while improving upon the quality of the work. But the retailer needed more than that. By crafting an omni-channel approach, Fidelitas was able to save the client 15% on a seven-figure marketing budget while increasing same store sales by 6%. While this was happening, Fidelitas also helped the retailer modernize their co-op strategies, launch a new eCommerce site, and enable in-store pickup to catch up to their larger and previously more agile competition.
In an era where marketing leaders are being asked to do more with less across the board, agencies like Fidelitas that produce measurable ROI benefit. Because of the 'partnership mindset' it brings to table, clients naturally expand the conversation and enjoy longer relationships. "Many of our engagements start with a single channel, but as we dive into the client's needs and identify weaknesses in other areas of their marketing strategies we're often asked to expand scope to assist with the additional channels in question. Most teams know they need help in lots of areas- where as retailers were fine with a single social media pro just a few years ago, they now need entire teams or agencies to keep up with the latest trends and content creation needed to capitalize on those trends," notes Tyler.
A Strategic Partnership Mindset coupled with StratOp Approach and 'Winners Keep Score' Philosophy makes Fidelitas truly differentiated from industry agencies.
The Omnichannel Flywheel
One of the biggest insights that Fidelitas uses in its approach with clients is to incorporate an omni-channel approach. By eliminating silos and creating cross-channel synergies, clients are able to unlock profitable growth. For example, a well-executed PR strategy can benefit a client's SEO efforts as well, but those teams are rarely connected. There's great wisdom in giving all of the teams, departments, and agencies a seat at the strategy table. "We believe that a rising tide raises all ships. You never know where your next great insight will come from. For example, someone on your creative team may have a great solution to a challenge your retention marketing team is facing," says Tyler.
Retail and eCommerce brands often leave margin on the table when they don't put the puzzle pieces of their marketing and product operations together. "We look to connect the dots between customer acquisition, the journey to purchase, and fulfillment. No amount of marketing can make up for a poor customer experience," says Tyler. In every conversation Tyler has with his clients, he insists that they lean in and "connect the dots" between the Fidelitas team, their internal teams, and other agencies on the roster. If everyone is rowing in the same direction for the good of the brand, retailers and their marketing leaders experience a far better Marketing Efficiency Ratio than they do by allowing each channel, department, and agency to operate in silos.
Retailers need to understand their customers on a deeper level and continue to invest in building brand loyalty. That doesn't just mean a perpetual onslaught of retention marketing campaigns, either. Retailers must continue to invest in finding ways to add value to their customers through improved experiences. Tyler doesn't leave any stone unturned to preach to clients that keeping the WIIFM (What's In It For Me?) question top-of-mind when looking to develop campaigns is essential. Any brand that focuses on adding value and enhancing the shopper experience will enjoy a distinct advantage as shoppers consider a brand against a wider swath of competitors than ever in the era of increased comfortability shopping online or in-store. "Everything, from channel selection and optimization to messaging to customer experience online and in-store, all comes back to the WIIFM factor," he observes.
The Winning Culture
Working with the team at Fidelitas, you will be quick to sense a genuine care felt for clients. And it flows from Tyler. His forward-thinking approach, enthusiasm, and the need to look for that next great challenge keeps him and the rest of Fidelitas on their toes.
Creativity and integrity are woven into every facet of the Fidelitas company culture. At Fidelitas innovation is more than just a good idea. The drive for innovation permeates down to the individual level and encourages experimentation and ideation. The team is empowered to tinker and think big. "People either love it or hate it here, and that's by design," says Tyler. "By clearly defining who we are and what we're about, we know we're not for everyone and that some will hate it here. We do our best to find that out before we hire them! But for those that choose to embrace our culture, they love it here. There's a sincere camaraderie among our team and there's no limit to the lengths we'll go to for one another. That's what makes us different and enables truly great work."
Tyler exudes positivity, and the same attitude flows through the entire organization. This is evident in his passionate and fervent search for better ways to help his clients reach success. The Fidelitas team is wired to finding ways to be a good partner. Sometimes that means taking late calls or traveling for an event we otherwise wouldn't be required to attend. Other times it's checking in on clients as individuals and doing whatever necessary to help ensure their success. "We're incredibly focused in serving as partners. When you have that approach as a marketer, you're really focused on what matters," says Tyler.
Tyler's obsession with measurable results has not only helped Fidelitas win notable accounts but also truly helped its clients generate improved returns from the work together. "That's why they hired us in the first place, right?" laughs Tyler.