In Conversation with Meridian's CEO, Chris Gilder
Meridian is a fully integrated manufacturer of kiosks, interactive digital signage and self-service solutions. Since being founded in 1999, we are committed to developing innovative and total self-service solutions. A fully integrated manufacturer, we design, engineer, fabricate, assemble, deploy and support self-service solutions from our 13-acre headquarters in North Carolina. With all processes, from software development, to powder coating, to quality control completed in-house, we proudly offer American-made interactive kiosks to a global marketplace. As a complete end-to-end self-service innovator, Meridian develops products and services all under one roof, providing greater efficiency, and lean, high-quality results.
Vertically Integrated Kiosks


We believe form and function belong together. It's why our kiosks are built from beginning to end by our own team of industry experts, ensuring the combination of engaging design and reliability.
Some of Meridian's retail kiosk solutions include automated smart lockers, interactive and static digital signage, and temperature screening kiosks. As a custom kiosk manufacturer, we also offer a variety of standard hardware models that can be designed to incorporate with a retailer's software.
Self-Service Software Solutions
We understand that people want to engage with a secure, reliable, user-friendly interface. That's why our team designed and developed our own compilation of award-winning software tools. MzeroManage, Meridian's kiosk management software can be utilized to allow kiosk deployers to monitor and manage their kiosks from remote locations. The web portal can be accessed from any computer and can provide access for kiosk deployers to monitor their kiosks' state of health, customize alerts, diagnose issues, and retrieve analytics reports.
Meridian's MzeroPlatform serves as the foundation all of Meridian's software solutions are built on. As a standalone product, MzeroPlatform functions as a secure kiosk browser, allowing companies to deploy web-based kiosks with web applications and URL whitelisting and blacklisting.

By effectively managing your kiosks, Mzero Software can help you:
• Improve customer satisfaction
• Increase operational efficiency
• Deliver high financial returns
Our industry-leading software can be tailored to any organization; from a single kiosk, to large scale deployments of thousands of self-service solutions across the globe.
BOPIS: Fuelling Smart Lockers Adoption


As with most industries, the year 2020 brought about a great bit of change for retailers. Most notably, many retailers had to explore and implement new and creative ways to continue serving their customer base while keeping health and safety in mind and contact to a minimum. Buy online, pick-up in-store (BOPIS) solutions, like automated smart lockers can be implemented across retail stores of all kinds to do exactly that. While the concept has been in existence for several years, it seems as though the buy online, pick-up in-store concept is still in relative infancy in regards to its full potential.
We foresee automated smart lockers continuing to play a major role in simplifying and expediting the retail process for years to come. In 2021, we are anticipating greater deployment of more automated smart lockers solutions. Smart lockers can be installed indoors or outdoors and can be used to simplify the order pickup process through an essentially contactless exchange. Restaurants and retailers alike can utilize smart lockers for convenient order pickup. Customers can place their orders online or in-app and pick it up directly from the locker by using a QR code or pin number when their order is ready.
Meridian has designed automated smart lockers to bridge the gap between physical and virtual stores, thereby simplifying and improving the overall retail experience for shoppers. Meridian's smart lockers provide secure, fully integrated systems to simplify product pickup for unattended rentals, device charging, package drop off and retrieval, and much more. Designed with the end-user in mind, electronic locker systems enhance, complement, and expand upon the processes and service that they use and rely on across a variety of industries.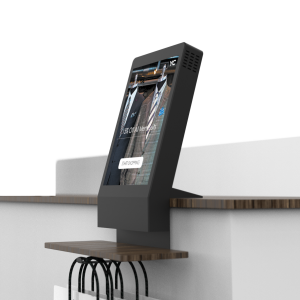 Meridian's countertop kiosks enable customers to scan and pay for their products without the help of a cashier or sales associate. This efficient solution allows sales associates to redirect their attention toward customer service. The countertop kiosk can be placed directly on existing countertops or built to fit a custom structure.
CUSTOMER SURVEY + LOYALTY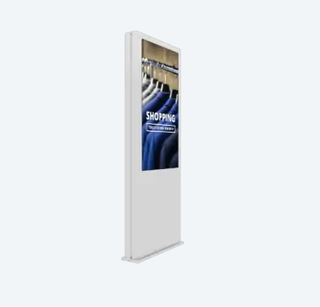 Meridian's customer survey and loyalty kiosks provide a platform on which visitors can respond to surveys, leave feedback on their experience, and enroll in loyalty rewards prior to making their departure. By offering a place for visitors to provide feedback before they leave, businesses and organizations can anticipate higher response rates.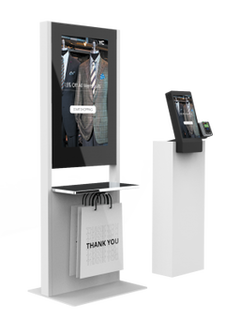 Meridian's endless aisle kiosks provide unattended self-service for online inventory browsing. Users can reference the kiosk to explore product offerings available online, that may not be immediately available in-store. This model is available in multiple screen sizes in both portrait and landscape orientation.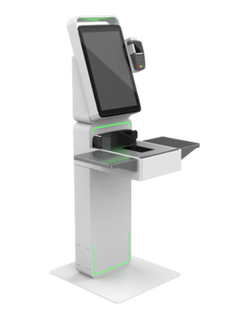 Meridian's self-checkout kiosks simplify the checkout process by providing a platform on which customers can quickly scan, pay for, and bag their items. The solution can be designed to accommodate the needs of a variety of retail outlets, and can integrate with multiple screen sizes, payment devices, printers, and scanners.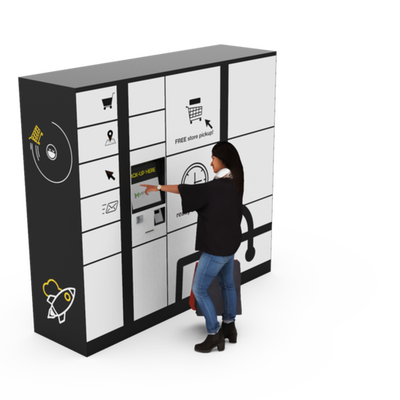 Designed to expedite and simplify the order pick-up process, Meridian's order pick-up lockers can be used by retailers both large and small. Customers can place their orders online or in-app and pick their order up from the locker when it's ready.

Meridian has worked with numerous retail clients throughout our 21 years in the self-service kiosk space. Most notably, we partnered with the world's largest retailer to engineer 12 different kiosk designs for a variety of use cases across their stores including hiring, site-to-store service, and gift registry kiosks. More than 20,000 units have been deployed with this retailer to-date. We also worked with the fastest growing employee-owned supermarket chain to deploy kiosks for hiring applications. Conveniently positioned at the front of the stores, applicants can complete the entire job application and provide answers to additional questions, all directly from the kiosk. Most recently, we partnered with a customer to deploy 100 custom dual-sided large format digital signage kiosks in a newly built retail and entertainment complex.
We strive to not only provide digital solutions of the highest quality, but also equip our customers with the most up-to-date information about self-service and provide an inside look into the industry. We specialize in helping companies optimize impact and reach with self-service solutions. No matter the market, we're focused on encouraging engagement through interactive self-service kiosks and software.
Quality: As an end-to-end manufacturer, quality is one of our top priorities. Our processes are ISO 9001:2015 certified and our products are designed to UL listing safety standards.
Scalability: At Meridian, we're constantly growing and improving to meet demand. With three facility expansions over the past ten years, we now have more room than ever for large scale deployments.
Oversight: With nearly 20 years in the digital kiosk and signage industry, our experienced support team is prepared to address any hardware or software challenges that may arise.
Increase Efficiency: Because Meridian owns the entire process, we are able to deliver our solutions in shorter time frames, helping customers maintain and grow their self-service deployments as their demand grows.