By Anand Dubey, Research Head, BCC Research LLC
The Rise of Self-Service Kiosks
Self-service kiosks are interactive and intuitive in nature, making them an important platform for customer self-service. Basically, self-service kiosks are application-specific electronic systems that can significantly increase operational efficiency, and are widely regarded as a business tool that can easily streamline the products and service delivery. As well, self-service kiosks are used in industrial applications as they can provide streamlined process control effectively. Kiosks are evolving as an important tool for organizations to evaluate consumer behavior and purchasing habits. Interactive and self-service kiosks are finding applications across domains including quick-service restaurants, healthcare, travel, tourism, entertainment, and retail. Some benefits to businesses from self-service kiosks include lower operational costs, and increased revenue and a consequent return on investment (ROI).
Self-service is increasingly becoming the standard and is being anticipated and accepted by customers in many different circumstances. Society has come to terms with self-service, and both customers and companies have generally acknowledged its advantages. With the help of self-service technologies, shoppers can save time, avoid human interaction, maintain control, and organizations can save money on human capital. Interactive digital kiosks are being used in more locations and have features that are broader than ever.



Future of Self-Service Kiosks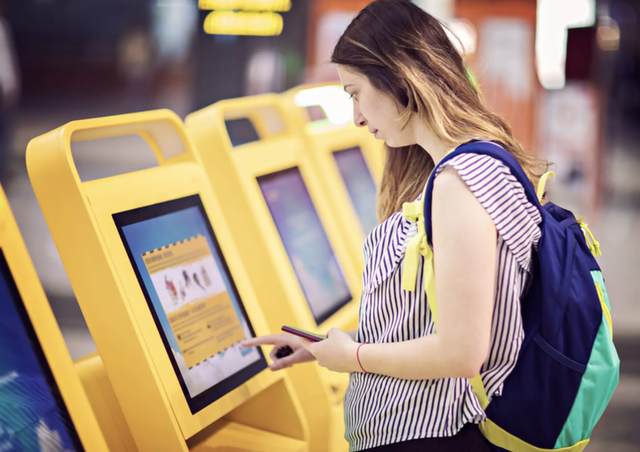 Currently, self-service kiosks are used in a restaurant for food ordering and are being used across the transportation and entertainment segment for various applications. The current generation of self-service kiosks are more stable and resilient, which has resulted in them being used across different verticals. Hyper-efficient kiosks are being developed; they feature low energy requirements and instant sleep/wake-up modes. Some companies also are providing solar-powered solutions for off-grid service. Self-service kiosks come with a wide range of integrated features and functionality including touch screens, full-color
displays, multimedia, speech recognition, and others. Some of the most used types of kiosks also accept payment by card, contactless and even mobile.
With the accelerated pace of technological evolution, greater investment is being made in self-service kiosks, which will enable them to provide even more functionality. Mobile integration with self-service kiosks is being enhanced and extended, and the availability and reliability of this equipment will also be increased by advancements in technology.
Development of Artificial Intelligence - Based Self-Service Kiosks
The development of AI-driven kiosks powered by human intelligence and self-learning skills has the potential to make the current self-service kiosk generation obsolete. Not only can AI-driven kiosks display human intelligence, but they also have capabilities for self-learning. With the help of machine learning, digital kiosks can learn with the help of various learning algorithms. They will continuously keep on learning from variations they come across in every interaction with users. This will enable them to extend their intellect and transcend their own constraints. Subset AI technologies such as natural language processing and computer vision enable touchless kiosks to understand and extract voice and gestures even from nuanced backgrounds. ML algorithms have the ability to minimize background noise, which can enable gesture control interfaces to accurately determine gestures and provide users with answers. These self-learning capabilities will contribute to the growth of AI-driven kiosks across multiple applications.
Credits: The Kiosk Association. Excerpts from the report on 'U.S. Self-Service Kiosks' published by BBC Research.