By Robert Meiner, Technical Sales Engineer at Peerless-AV
Potential of kiosks in retail: Limited only by the imagination
The possibilities are endless when it comes to retail kiosks and customer service but, when it comes to serving customers, retail kiosks are becoming more self-service-centric. Kiosks are helping to handle mundane chores that customers would rather handle on their own, such as flipping through a catalog, checking the price of a product, or seeking out a wider variety of items to try on in a fitting room. With the help of retail kiosks, salespeople are free to engage in deeper and more complicated interactions with customers.
Even further, in-store kiosks offer great help for businesses with a lack of staff or retail space, serving as silent salespeople. Businesses are then able to maximize square footage by offering products that are not available in-store. Some retailers are even replacing directional signage with interactive kiosks, showing the quickest route to a shopper's desired location within a shopping mall. The kiosks can display up-to-the-minute information about sales or other events within the shopping center, however, when they are not being used for customer inquiries they help in displaying advertising and other messaging from nearby brands, bars, or hotels.



Retail kiosks truly make it easy for customers to complete their shopping experience. To tap for discounts of sales, customers can scan QR codes for special offers and NFC tags to tap on their phones, or scan the barcode of an item to find product accessories. In some solutions, the kiosks detect an RFID tag mounted on the item and display a list of potential add-ons automatically.
The potential of kiosks in retail is limited only by the imagination of the developer and the tasks for which consumers will use them. Some retailers are incorporating kiosks in a marriage of online and brick-and-mortar retailing. Shoppers order a product online and print a receipt. They then take that receipt to a brick-and-mortar store, scan their receipt at a designated pickup kiosk and have that product brought to them.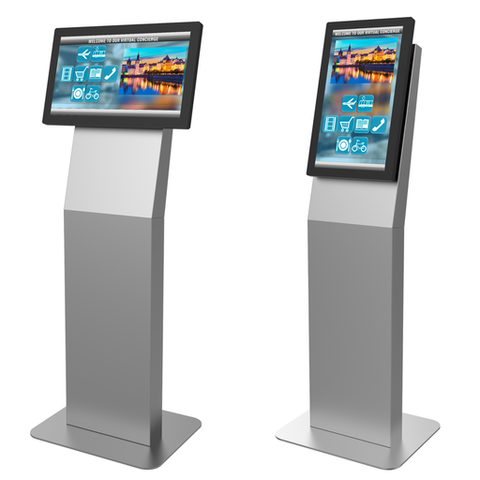 In 2021, we're going to see a lot of digital signage and hands-free interactive kiosks. After the COVID-19 pandemic, shoppers are going to be even more aware of touch surfaces and bacteria that can cause the spread of disease or illness. Touchless options are going to be more attractive for the in-store shopping experience, while still allowing consumers to physically see and interact with products. Self-service is a concept that has been promoted largely by e-commerce. Customers browse through products, create an online shopping cart and check themselves out. Now, shoppers are demanding a similar treatment in brick-and-mortar stores. Smartphones and mobile apps have changed what a self-service retailer is capable of. People will conduct more business using smartphones to research, shop, purchase, and pick up their merchandise. This is all to create a contactless experience, in which people can avoid touching kiosk surfaces and interacting face-to-face with salespeople. The customer journey is evolving dramatically, and physical stores have to do everything to meet the expectations of their target market.
In the next 5-10 years, kiosks will be incorporated with AI technology to provide detailed metrics to retailers in terms of customer demographics, time of day, current occupancy, and dwell time. In addition, with facial recognition software, these kiosks can alert security when a potential person of interest enters the store. This may improve the security of retail spaces in the case of shoplifting or fraud.
We are already seeing Target and other big-box retailers embrace AI technology and the online shopping experience. The ability to search products, make purchases, and schedule pickups at the nearest store or delivered directly to the address provided is all made possible with the online shopping experience. Using this method, stores will start to embrace AI technology to offer goods and services based on your purchase behavior, and that of other people like yourself in terms of age, gender, location, and more. Retailers will also cater promotions based on current events shoppers in a particular area experience, like promoting umbrellas and raincoats to those about to experience a rainstorm or snow shovels before a pending snowstorm.