In Conversation with Chris Baird, President & CEO
As the kiosk industry continues to grow and develop, IoT connectivity is helping expand that growth. Lost connectivity can halt your operations and cost your business revenue, productivity, profitability, and customers. Managing a portfolio of connected, wireless kiosks can be complex, so having a partner, not just a vendor, who understands you and the impact that downtime has on your business, makes all the difference. A connectivity lifeline you can count on 24x7x365 is essential to a successful operation. OptConnect's managed solution provides everything you need to get to market faster, reduce your downtime, and generate more revenue.
OptConnect specializes in managed service wireless connectivity for ATMs, Smart Safes, Kiosks, Micro Markets, Digital Signage, and many other IoT/M2M applications. OptConnect provides a secure and reliable monitored wireless connection to the internet for unattended equipment (kiosks) that is easy, low-risk, and convenient: All supported by a superior customer service infrastructure. OptConnect has spent 10+ years perfecting managed wireless services so that customers can focus on their core business strengths without having to deal with the delays, complexities, and frustrations of typical cellular deployments.
We help connect innovative kiosks just like the touchless ones that Vengo Labs recently launched. With the onset of COVID-19 to pandemic, Vengo Labs quickly pivoted to provide solutions to address the immediate needs of consumers. The company adapted its connected software platform by launching a touchless solution where the consumer can use her mobile devices to control the kiosk. Now customers can purchase PPE products including KN95 face masks, hand sanitizer packets and rubber gloves via their phones as an alternative to touching the screen on the connected vending machines.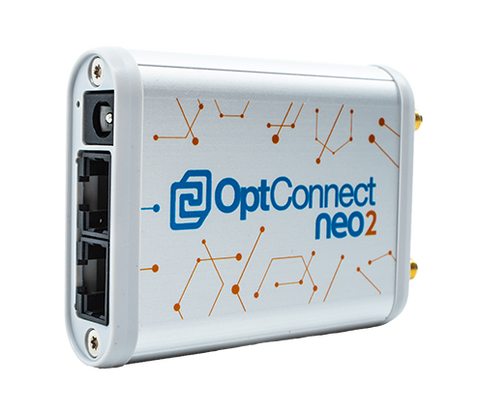 Plug & Play Smart Solutions
We recently launched a brand new router, neo2, that is optimal for kiosk connectivity. With nearly twice the speed, twice the carrier coverage, and twice the connectivity power, neo2 is the next evolution in OptConnect's fully managed cellular connectivity for the Internet of Things. neo2 is a compact LTE Category 4 multi-carrier cellular router perfectly suited for kiosks, micro markets, digital signs and other applications that require high-speed connectivity and the peace of mind of redundant carrier connections.
We also have a patented embedded cellular modem, that we call ema, for manufactures of smart equipment that need a smaller form factor, lower cost, and more design flexibility. OptConnect Ema is a great managed solution with multi-carrier functionality, LTE Category 4, and is end-device certified by the carriers and wireless standard bodies.
OptConnect's fully managed solution provides Connectivity-as-a-Service for kiosks. Our purpose at OptConnect is to ensure that every kiosk deployer has the best connectivity possible so that downtime is minimal. We provide our clients information around device statuses regarding update, data usage, and device locations. All of these can be used to see how a deployment is doing in terms of connectivity health. Instead of trying to figure it all out on their own, operators now have a wireless provider that delivers a service-rich solution. This enables them to focus on running their businesses and generating revenue rather than spending precious time and energy on keeping their devices connected to the internet. We take the guesswork, frustration, and stress out of connectivity while also giving operators net cost savings.
Powering Self-Service Kiosks
Growth of connected devices is increasing exponentially as more businesses digitally transform. Kiosk self-service solutions are a key part of this, enabling digital delivery channels. With a customer focus, Louisville, Colorado-based KIOSK, a company that offers end-to-end self-service kiosk solutions for industries like retail, hospitality, transportation, government, healthcare, and financial services, sought to strengthen their connectivity offering to ensure optimal field performance and uptime. As more applications became increasingly data intensive and require adaptable connectivity, the ability to manage a scalable spectrum of connectivity-related requirements presented challenges – as well as an opportunity for a solution partnership. KIOSK partnered with OptConnect to provide a robust connectivity solution for their customers. From a cost perspective, KIOSK believes that OptConnect's managed wireless connectivity is ideal for third party locations. KIOSK now bundles connectivity into their Total Managed Services offering, thereby giving its clients an opportunity to grow beyond third party locations.