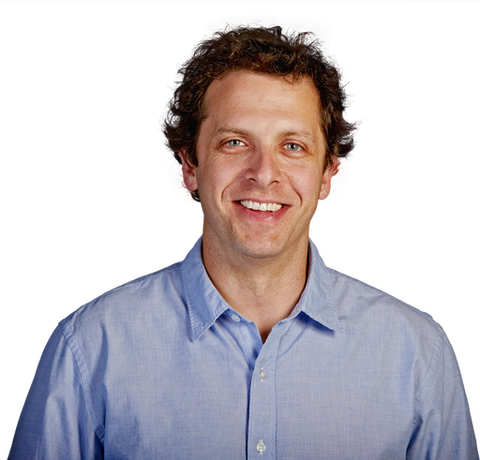 An Executive Conversation with Keith Karlick Principal, Mercutio
Mercutio specializes in highly technical solutions for the modern, mobile-based Internet. While technical expertise in mobile web, cloud infrastructure and e-commerce is at our core, we work as a well-rounded consultancy offering a full complement of tech strategy, solutions consulting, and digital creative services.
We create exceptional online experiences that help brands win. It's been that way since the beginning, we pride ourselves on our design & technical chops, and are specialists in driving e-commerce businesses. Our purpose is to help your business reach—and surpass—your goals via a combination of strategic consulting, modern web technology and digital creative services.
Brands usually find us when they're looking for a change in technology or business strategy. Along with building the site, we typically make recommendations for additional digital marketing and/or ecommerce improvements to help achieve a client's project and business goals.
Mercutio was founded as a Magento support agency. We started out as the people you would call when your Magento site was acting up. We've come a long way since then, and as the business grew, we expanded beyond Magento to focus on BigCommerce, building out the design and strategy practices at the same time, eventually offering a full-service suite.
Having been around the block a couple times now, we have a pretty good sense for what's needed to build for the future. I like to say we are the development shop that avoids custom development. That's a bit of an exaggeration, but the point is that we leverage core functionality within platforms as much as possible allowing us to take advantage of updates and new features provided by the platform vendor or third party service. Getting a new feature as part of a product roadmap will be the least-expensive way to add functionality, as opposed to potentially costly and time-consuming custom development. Additionally, I would say it's important not to silo your data, and to make sure that systems have the ability for integrations.
The phases for our projects are Discovery, Design, Development and Deployment. Discovery is the most important phase, as it sets the business, functional and customer experience goals for the project. We focus a huge amount of effort on strategy and alignment at the start of the project, which pays off in a big way when we get to development. We pride ourselves on our strategy work; In fact, when clients are introduced to Mercutio by an initial strategy project, that work often wins us the rest of the project.
We ask a lot of questions, maybe too many. Our clients know how to best run their business, but we're able to provide outside perspective and experience. Our most-successful projects are those where we closely collaborate and iterate with our clients to find the best solution.
There is no excuse for ugly sites. Ecommerce platforms and modern front-end development frameworks make it possible to achieve a high level of design even with modest budgets. We fully expect to create online experiences that not only improve sales numbers, but are also high-quality expressions of the brands they represent.
Development brings the site features and design to life; this is the production phase of the project, where we're building the site and our clients are creating content. At the end of this phase, we lead our clients through a QA and UAT testing process to make sure the new site reflects the requirements that were set in the Discovery phase.
We solve complex problems for our clients. BigCommerce is our primary service provider; with most projects, we use BigCommerce as the ecommerce platform and will likely bring on other systems based on the project requirements. This might include, advanced content management with Contentful or a PIM, email marketing with Klaviyo or using Knect (our proprietary integration platform). The flexibility of integrating these platforms allows us to scale solutions to fit a variety of industries, business sizes and requirements.
The Deployment phase typically involves final data migration and final testing. For clients running on SaaS ecommerce platforms such as BigCommerce, deployments are typically straightforward, as there is no need to migrate huge amounts of code onto production hosting environments.
If a particular client is running on an outdated technology or an ineffective strategy, we politely and honestly (brutal honesty!) convey to the client—this ain't gonna work. We've been around the block. We've seen good tech implemented poorly and oddball custom code implemented well. Simple tools generally work well, and most of the time when we see good tech go bad, it's because requirements became too complex and custom solutions were built for specific use cases. Then, as the business evolved, the tech became outdated. We really try to focus on simplifying complex processes and operations, and providing the right tech to support them. The devil's in the details, and if we're smart keeping it simple, we create reliable solutions.
We built a custom suit configuration tool for our client Kokatat. The tool has gone through two iterations, the first on Magento 1 and the second (current) on BigCommerce. Kokatat sells dry suits which are made to order, and the configuration tool allows customers to select more than 100 combinations of colors, sizes and features to get exactly what they want and need. This has quickly become the leader for Kokatat's dry suit sales tool, along with becoming a massive differentiator in the industry.
We also built an engraving tool for SOG Knives, which allows customers to request custom knife engravings during the purchase process. This is an easy upsell for SOG, and it creates a very personal connection to the knife the customer is purchasing. Use of the tool increases during the holidays for gift giving, where customers are engraving knives as gifts, adding a personal touch to an already great product.
We're also working with a data science agency to create a prototype that uses real-time customer lifetime value data models to predict when customers are ready to purchase. With that data, we can then provide a coupon in checkout to help give the customer a nudge to complete a purchase. I'm really excited about this because it's using some really interesting modeling to provide coupons only to customers who are ready to purchase. The release date is still TBD, but we're already looking for a good first project to run the first trial.
We do help clients achieve higher conversion rates. Our 3 recent site launches using BigCommerce have seen a double digit increase in conversion rates post launch, with even greater success on our mobile sites. Now that the sites are live, we are working to constantly improve engagement and conversion using email and marketing automation through email. In some cases, we are seeing email drive over 30% of total site revenue.
In our world, everything is measurable. Clients expect that their ecommerce business will be stronger when we complete a project, otherwise why would they take on the project and expense? We also have clients who have been with us for multiple years and multiple projects, which I believe is a testament to our ability to deliver solid business results.
WEBSITE REDESIGN AND BIGCOMMERCE IMPLEMENTATION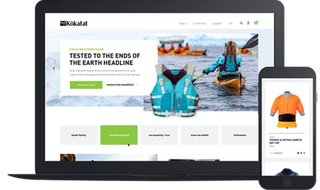 We modernized and updated the design of the Kokatat site while keeping brand communication consistent.


We helped Kokatat migrate onto a reverse headless system with BigCommerce and Contentful for faster performance and easy content management.


Together, Kokatat and Mercutio designed Kokatat's custom suit builder tool, their primary driver of dry suit sales.


Contentful powered the content aspects of the Kokatat site; a robust and easy tool for managing content and merchandising products.


Mercutio's Knect integrated Kokatat's internal and custom ERP system for orders, customers and inventory information.
BIGCOMMERCE IMPLEMENTATION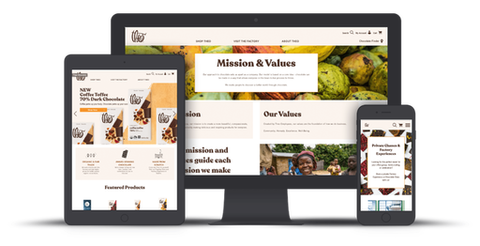 Theo began with helping them define what the next phase of ecomm looks like for Theo - this included process definition for online orders, specific feature requirements, review of upcoming changes to their ERP system, platform review, cost of ownership analysis and platform recommendation


They landed on BigCommerce so we migrated the site from Wordpress to BC in 90 days. Shogun was selected as a plugin to help manage content


Phase 2 is coming with a bunch of new features
WEBSITE REDESIGN AND BIGCOMMERCE IMPLEMENTATION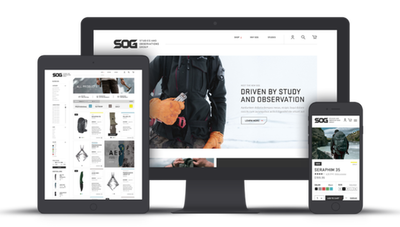 For SOG's website redesign, we chose Contentful as the system for managing product merchandising and branded content.


We integrated SOG's Great Plains ERP system by using Mercutio's Knect platform.


A full redesign of the site was completed to match with a major brand update


During the 2019 holiday season, SOG grew mobile conversion 3X, and reduced page load time by eight seconds.


The migration was also an opportunity to update services like fraud protection, credit card processing and tax collection.


Klaviyo was implemented as an ecommerce focused email marketing and automation platform.
Context is everything. When we're compared to design agencies, we have a stronger dev team. When we are compared to dev agencies, we have a stronger design team. We've worked really hard to build both a successful design and successful development practice. We've been successful here because of the leadership and oversight of our two partners, Jimmy and Keith. We continue to be successful because both design and dev teams work really well to find solutions together.
Our Seattle-based team helps clients outline their business strategy, define the approach to the project, and then implement the right assortment of technologies and services to optimize their site's design and performance. Our team is made up of wall-to-wall rockstars. Everyone is committed to creating great work and to our client's success. I think the multi-year relationships we have with clients who've hired us for multiple projects speaks to not only work quality but also having team that our clients are stoked to work with.
We talk a lot about empathy with our client relationships. Our team is dedicated to the project at hand, however our clients have day jobs on top of implementing large time-consuming projects. We have to be aware of the constant push and pull for internal resources and available time with our client teams. It is also our job to make our clients lives easier. If we do a good job with delivering work that is one less thing for our clients to worry about, that is a win. We also send booze baskets with every site launch, so that might help as well.
With the internal team, we try to create balance on the volume of work and the various projects to keep things fresh. Rotating folks on and off projects can be a breath of fresh air and provide different points for problem solving.
I'm a dirt-bag at heart. When I'm not at work,
I can be found mountain biking, skiing and sleeping in the back of my truck. Fundays in the mountains are typically filled with hard work, the rewards of accomplishment and time spent surrounded by good friends. We try to instill a similar mentality into our work at Mercutio.
Ecommerce is complex, but—just as in the outdoors—hard work and commitment is rewarded with creative problem solving and memorable results. Finishing projects and seeing the team's work succeed with our clients is incredibly rewarding, and we make a point of celebrating our accomplishments.
Our comradery results in a team that runs like a finely tuned machine. I have also heard it compared to the comradery of a running club—when you are surrounded by other runners, some are faster and some are slower. When you find your place in the pack, you discover you're capable of running distances beyond what you ever thought possible and the team will carry you along.