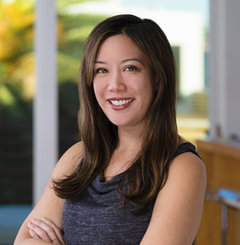 Refusing to accept the status quo, Melissa Wong left her retail job to transform how work gets done in stores.
Tyler Sickmeyer is the marketing thought leader and founder of Fidelitas Development, a full-service marketing and advertising agency that serves clients worldwide. Knowing that brand loyalty is a company's most important asset, Tyler and his team implement unique and innovative strategies to accomplish the goals of their clients.

As a sought-after keynote speaker, Tyler has inspired audiences around the world with his unique perspective in sharing solutions for today's marketing challenges. As the founder and host of The Lion's Share Marketing Podcast, marketing leaders are treated to a wide range of topics, from Customer Acquisition Strategies and eCommerce best practices to the latest marketing and communications trends. Tyler showcases how integrated marketing and digital storytelling drive results in an ever-changing world.

As the youngest independent Christian concert promoter in the nation Tyler was the first to utilize text message marketing and Facebook for event marketing. He leveraged cutting-edge technology to provide data-driven results and continues to do the same today.

Tyler stays on top of the latest trends while serving on the board of Live Ventures (NASDAQ: LIVE). With a wealth of experience in digital and traditional marketing, along with PR and eCommerce, Tyler develops campaigns that stand out among crowded platforms while helping leaders navigate a path to successfully connect with their audiences.

Originally from Illinois, Tyler now calls San Diego home along with his wife, two sons, and yellow lab.
Reimagining Retail Communications
Zipline: Connect Teams, Empower Individuals, Drive Results
You don't often hear the words "love" and "enterprise software" in the same sentence - especially in retail. Employee-facing platforms in this industry are notoriously difficult to navigate, and often make a store manager or store associate's already complex role even more stressful.
But talk to any of Zipline's retail customers and you'll hear the "L word" over and over again: Brands love using Zipline to manage store communication. They love the way Zipline aligns their fleet. And they love the fact that Zipline drives best-in-class store execution.
"Brands love us because we're making the lives of their associates and field leaders easier," says Zipline co-founder and CEO, Melissa Wong. "We help them better prioritize their work and quiet the noise, and we help Headquarters understand store execution. Zipline powers all of that."
Today, more than 70 brands, including Sephora, Rite Aid, AEO, and Hy-Vee have lowered their operating costs and increased frontline productivity with Zipline. In fact, Zipline customers experience a 130% increase in sales execution and millions of dollars in labor savings annually. It's no wonder Zipline achieved a Net Promoter Score of 71 in 2021 (an outstanding benchmark in the world of SaaS, where a typical NPS is around 41.)
Brands that use Zipline experience a 130% increase in sales execution and millions of dollars in labor savings annually.
It all starts with better communication
In retail, store execution traditionally hovers around 29%. This means that less than a third of the direction HQ sends down to their field teams is executed correctly, and on time. Retailers leave a lot of money on the table through badly executed campaigns - and it all stems from ineffective communication to the frontline.
Communicating at scale in any industry can be challenging and this is especially true in the world of retail. It's a complex environment where everyone, at each level, has a different role and responsibility in ensuring things get done, there is often a disconnect between what is decided in headquarters and what's executed in stores.
For example, management might decide on a big marketing push to sell any remaining Mother's Day-related items after the holiday has passed, but stores might not execute to plan. Why? Perhaps there were too many messages that week, they didn't see the memo, and they didn't know it was a priority.
"It's not that frontline workers are negligent or do not want to follow the direction," observes Melissa. "Everyone really wants to do the things that are right for the business. It's just that we aren't setting them up for success. Frontline store associates need the right tools, which will allow them to better prioritize and manage the firehose of information that keeps coming up from the top."
Only 29% of direction from HQ is being executed correctly.
To bridge the gap between the field and HQ and promote alignment and visibility at every level retailers are turning to Zipline. In a single place, store teams can find all the needed materials and tasks. Zipline helps retailers achieve maximum campaign effectiveness by focusing on communication and task management. Bringing together task management, labor optimization, and communications into one platform, Zipline drives efficiency and consistency across all shelves and locations.
Unlike other retail operations platforms, Zipline is the only solution built with communication at its core. Publishers are able to easily thread important direction and context throughout the platform, so store teams always understand exactly why they're being asked to complete the tasks they're assigned - whether they're reading a message, looking at a daily checklist, or browsing through the solution's search-friendly Resource Library.
As a result, teams in retail stores and distribution centers feel more connected to their brand's mission and are more successful and are able to better engage with customers. This is ultimately why Zipline customers achieve greater business success, fulfilling their vision for both customers and employees.
The secret to better business agility
Before she founded Zipline in 2014, Melissa Wong spent ten years working for a Fortune 500 retailer, trying to get stores to execute to brand standards. Many of Zipline's features were born out of Melissa's first-hand experience: a deep understanding of not just retail industry pain points, but also the realities of a store team's day-to-day work. In this way, Zipline was built by retailers for retailers.
Running a store today requires an immense amount of agility. Store teams are being asked to provide a top-notch customer experience while also running product out to the curbside pick up, dropping deliveries in mall lockers and handing off purchases to Uber drivers for same day delivery. But too often, competing technologies can hinder a store team's agility, rather than help it. Switching between multiple siloed systems or waiting for task completion approvals slows teams down, and reduces their ability to provide a seamless customer and brand experience. That's where Zipline comes in.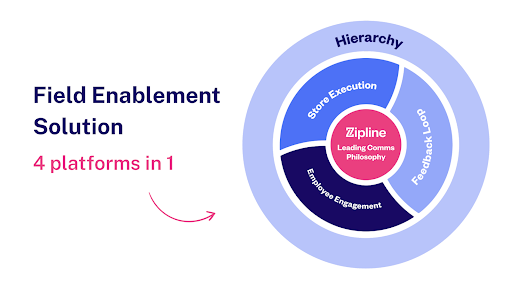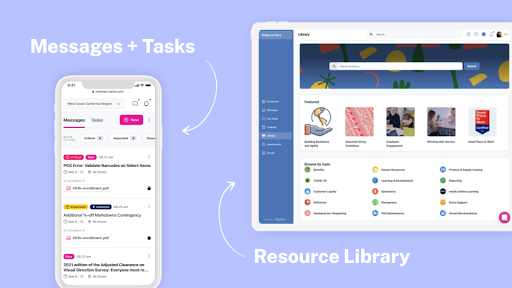 With Zipline, Store managers can easily assign tasks, recognize individuals and plan store activities right from their mobile device. Store teams see messages, tasks, and attachments—only the ones relevant to them—in one place, without any extra logins. They can focus on delivering the right store experience without having to search a dozen places for information.
Another key component of agility is feedback. In the online world, customer data can be collected, analyzed, and reported out in the blink of an eye. But among brick-and-mortar stores, too many retailers still rely on in-person visits, foot traffic counters, and survey tools to understand if the initiatives they spent months developing actually worked.
Instead of relying on anecdotal feedback and acting on assumptions, the most successful retailers implement technology that allows stores to share what's working with other stores and with HQ. This continuous feedback loop is how brands scale the experiences that win customers' hearts and share of wallet.
Zipline facilitates this feedback loop in a number of ways, giving District and Regional Managers real time visibility into who's reading messages, who's completing tasks, and who's not. They can track task completion rates, stay up-to-date on company news, and follow up directly with their store managers all from the same platform.
Zipline also supports group discussions, surveys, assessments and acts as a resource library (a home for policies, videos, training modules, and more). The platform integrates seamlessly with leading systems frontline teams rely upon for human resources, workforce management, content management, employee resource management, learning management and analytics, among others—creating a one-stop-shop for every frontline worker.
Frontline engagement is everything
Last year, Zipline surveyed 500 retail associates in the U.S. to better understand their feelings on the changing state of retail, workplace environments and how they connect with customers amid the pandemic. The 2021 Labor of Love Report showed that 42% of retail associates are considering leaving the workforce entirely citing their voices are largely ignored by Corporate. Another 33% don't think retailers are doing enough to bring back the excitement and emotional connection that customers have missed.
"At Zipline, we believe that associates are the "unlock" to delivering the best customer experience in store. We know they are also the most difficult to reach and engage. Fortunately, Zipline is built to address specific needs of this part-time audience, with a product called the Associate Experience," says Melissa.
Zipline's Associate Experience brings a focused and actionable view of Zipline to frontline employees (who may or may not work a few short shifts a week, and who may or may not have access to store email!). The Associate Experience helps engage and inform Associates while continuing to streamline communication and improve store execution. It brings together the needs of HQ to share the brand voice/vision to teams, with the needs of Store Managers to have a better way to work with their team.
For instance, today L.L.Bean uses Zipline to engage their frontline associates, or "Guides," through communication. L.L.Bean's store leaders can cascade select messages down to their Guides with the push of a button, creating more efficiency, transparency, and opportunity for development. "We're finding we can actually share more information with our Guides than we originally thought - more operational pieces, and not just company news. We're able to give them a peek behind the scenes of the business," says L.L.Bean's Manager of Store Operations, Justina Griffin.
As a result, L.L.Bean's Guides feel even more connected to the brand. "The biggest piece of feedback I've heard during store visits is that they feel like we're being more inclusive," says Griffin. "That's such a big part of our brand and mission, so it's been extremely satisfying to hear that directly from the field."
Over 90% of effectiveness of a retail marketing campaign is lost between concept (at HQ) to execution (in stores).
THE ROAD AHEAD
While the pandemic dramatically altered the state of the retail industry, Zipline thrived because its customers and prospects found incredible value in its ability to align the fleet around a single source of information and easily reach all employees, down to the store associate. Retailers used Zipline to drive health and safety compliance and streamline operations during the turbulent time.
In fact, the variety of brands that Zipline supports has only grown. In the last 24 months, Zipline has evolved to serve the unique needs of grocery, convenience stores, pharmacy, and automotive. "Our product is proven to work well for all types of retail businesses. In times of chaos, everyone needs better communication, agility and operational ease to navigate effectively," notes Melissa.
Going forward, as omni-channel retail continues to build momentum, retailers have to provide a distinctive but consistent experience to get consumers to their stores. This type of seamless customer and brand experience can only happen when store associates are given relevant, correct, and executable direction and information to exceed customer expectations. Zipline is the answer for those who believe in the power of the store experience.