COVID-19 is changing everything! Many brands have historically relied on bricks-and-mortar retail outlets to sell their products. Consumers love to talk to people when making certain purchases. They want to get it right the first time, so the ability to ask and be asked questions has been a key reason we go to stores. However, COVID-19 has led to a shift in expectations and behaviors. We have become accustomed to using websites and mobile apps to order everything from telescopes to jewelry to vitamins and supplements.
So the new challenge is this: how do you replicate that personal in-store experience on ecommerce platforms? Consumers don't like the trouble of returning things and are infinitely more delighted with their purchase when it feels as though it has been customized to their very needs. But how do you do that online? Most websites are endless lists of pictures and product specs with no one to help you find the right thing. How do you combine the best of both worlds?
The answer is intelligent guided selling (IGS); a Software-as-a-Service offering that bolts seamlessly to brands' ecommerce platforms to help consumers make purchasing decisions through dynamic questions based on their lifestyle, purchase intent, needs/goals and budget. These guided selling platforms create unique customer journeys for each consumer that inform their purchase considerations and give them the best possible options. This maximizes conversion rates and revenue, increasing consumer satisfaction and drives incremental sales revenue through upsell and cross-sell.
The online world is a digital warehouse of choices. We are bombarded with product specs and hard-to-digest technical data. This reinforces the complexity of the decision and in the best-case scenario, creates doubt and in the worst-case scenario, causes us to disengage completely.
Intelligent guided selling platforms address this complexity by building a compelling online sales environment, leveraging psychology, machine learning and customer experience to deliver a smaller, optimized range of options or one simple, obvious choice.
Intelligent guided selling platforms are the highly trained shop assistants for the online world.
Conversity provides retailers and brand marketers with intelligent guided selling Software-as-a-Service to help them humanize and personalize their online purchase experience. Brands that implement intelligent guided selling experience 3X higher conversion rates, 3X longer session times, and 5X greater basket sizes. Our service is the application of years of in-store experience as well as the application of the most current technology platforms to enable us to help our clients best configure these customer journeys to amplify their brand voice and connect to their customers' lifestyles, goals and budget, which drives advocacy and increases their lifetime value.
Too many brands deploy a product catalogue approach using search and filter functionality, which does not address the problem statements for the majority of online shoppers unless they know exactly what they want to buy. Companies run the risk of configuring their ecommerce platforms as a completely separate and unrelated function to their bricks and mortar and call center sales channels – they are all united and are simply touch points for the same customer. The beauty of the Conversity solution is that there is no need for brands to change their approach, rather simply turn on the intelligent guided selling tool and let our digital shop assistant engage customers and guide them through the offering through dynamic question sets.
The key is to start with an understanding of how your customer interacts with you during their journey and their mindset and then optimize each stage continually evolving with their needs.
Conversity approaches each client's website by initially conducting a diagnostic to understand what kind of business outcomes a client is seeking to achieve as there are many drivers that we work across when helping our clients configure their customer journeys. Some client organizations are largely looking to ensure that they are making their online experience more personal. They are looking to create a stronger bond with their customers by getting to know their needs and demonstrating a sincere interest in that knowledge. Other clients are focused on optimizing the performance of their website; the improvement of specific KPIs such as session time, conversion and upsell. In all cases, we focus on making the online experience more personal by building a human connection and taking an active interest in each customer that arrives at a client's website. This is achieved across several key considerations of engaging customers online:
Make me feel welcome (acquisition)
Understand my needs (data capture, navigation, segmentation)
Help me choose (personalized recommendations and conversion)
Fulfillment (simple interaction with minimal friction)
Be there when I need you (service after the sale, advice, re-marketing)
We focus passionately on helping clients to recognize that their customers are unique, helping them replicate the human relationship in the online world. That focus spills over into our approach to our clients. Every customer has differing objectives reflecting the marketplace they operate in. Skincare journeys are very different to televisions. It is for this reason that we custom design beautiful bespoke journeys for every customer – our SaaS modular architecture is designed with a common core and flexible components so that even these bespoke journeys can be grown or changed on the fly to support special events like Black Friday.
Our clients have come to appreciate our expertise in thinking like their customers across various customer segments. Many times the client contacts that we support are in digital roles and may not include those who are in retail operations roles. Our insight into the intersection of the two is where some of the value we bring is derived.
We know that our clients are facing challenges to continually evolve and improve what they are doing to engage customers and drive sales. We take this responsibility very seriously and have a very proactive approach to the journeys that we have developed. We don't assume that the journey that we delivered last quarter is the one that should be in place for the next. Bringing strategic insights form the journey data that we collect as well as innovations that we develop for other clients is part of our client success model.
Our clients appreciate this and many provide testimonials about their appreciation for our collaborative approach in our service.
One of our key differentiators is the fact that we offer multiple tiers of service that allow our clients to dial up simple journeys that enhance conversion and upsell, all the way up to sophisticated journeys that enable brands and their customers to sync up in ways that are far more personal in nature. More than anything, our team, from client success to technology to analytics, acts as an extension of the digital commerce managers group within our client organizations.
We continue to see that ethics and sustainability are important to the modern consumer. Returns have an environmental impact and customers are very aware of this, so we're committed to using our data insights to help build and maintain sustainable supply chains. Helping consumers purchase the right items and avoid costly returns is good for society and helps our clients with their bottom line.
We're also working with a leading British university and data science organization to ensure that data is collected in an ethical way and genuinely used to enhance how customers and brands interact. To us, product data quality is just as important as obtaining data on customer interactions – bringing both together enables our brands to know their customer before they even start the journey – think of this as the highly researched aid discretely briefing a diplomat on key contacts as she works the room at a cocktail party!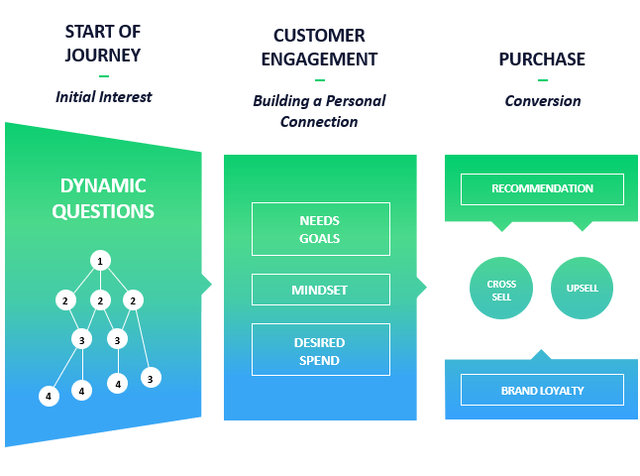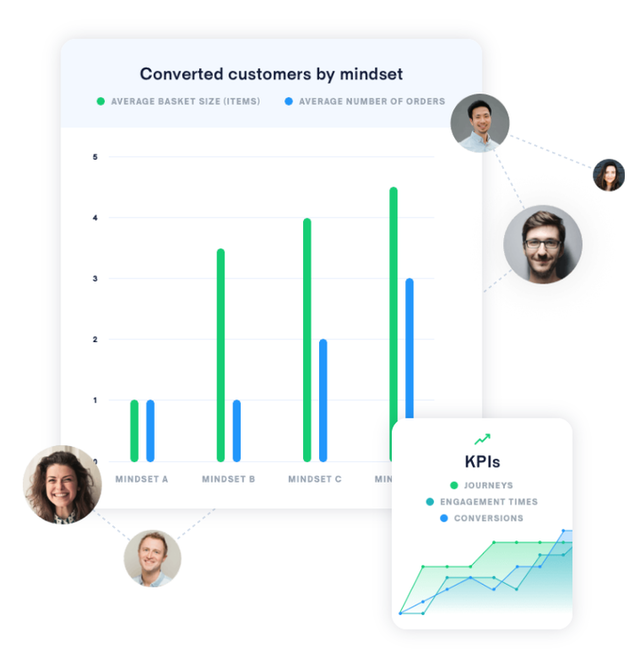 The idea for Conversity began when its founder, Brian Boroff, was shopping for a big-ticket item and was overwhelmed with all of the possible choices available to him. He just could not decide what to buy and put the decision off completely.
Very soon thereafter he stumbled across Barry Schwarz's book, The Paradox of Choice – Why More is Less. The concept resonated with Brian and the Conversity offering was born – the art of dynamically personalizing a purchase experience to ensure that a customer is only presented with the products or services that are a perfect fit for their specific needs.
I joined Conversity as Chief Customer Officer after a 25 year career in the retail industry; getting my start working in stores, providing products and services to retailers or consulting retail brands to optimize their delivery of the best possible customer experience. The opportunity to join Conversity at this pivotal moment in retail was just something that I could not pass up. I have a lot to learn from our team members who have been architecting customer journeys for clients for years and I am looking forward to helping build a team of digital commerce evangelists here across the globe who will help transform how shopping is conducted online.
What has been evident over the last five years and has only accelerated with the worldwide COVID-19 pandemic is how important online retail has become. What has inspired me is the rapid shift that I witnessed in my previous consulting practice. My clients and I were seeing long held beliefs about who would and would not shop online via website and mobile apps change right in front of our eyes. We saw uniform increases in digital commerce across every age group that we studied. Clients were immensely appreciative of the insight, but there was something more to it for me. A paradigm shift in how retail consumption was conducted. It could be argued that brands that did not or will not optimize their online presence and build out their digital transaction models will not survive in our future economy.
So much of the transformation in the retail selling arena is about creating a great experience and the stores that I visit are all investing in both atmosphere and staff to drive that home. But when you visit some of those same brands' websites, it just feels like aisles and aisles of products and descriptions. The two are largely out of sync to me.
This was all brought to life for me as I began shopping for a gift for my wife to celebrate our 20th anniversary together. In my mind, this gift had to say a lot to her and about our partnership. So, no surprise, I really wanted to get it right. With retail stores shut down, I had to go online to begin my search. I looked across multiple websites and scrolled through countless options, but just wasn't sure what to buy and whether some of the items that I saw would make the right impression. Eventually, I stumbled across a brand that had a digital shop assistant online and the back and forth of the questions – occasion, budget, star ratings and reviews – helped me find just the right item. Right then and there, I got it. The online experience was made personal for me and relieved the stress of such an important purchase.
Our team is made up of a range of passionate individuals, each bringing a different skillset to the effort of serving our clients. We have retail sector experts who use their knowledge and work closely with clients to bring great insights to bear on the development of our customer journeys. We also have a team of talented technical experts who are well-versed in the underlying Software-as-Service technology, who take steps not just to get the tech in place, but also fine-tune it so it's more cost-effective for brands to implement.
Because our offering is a SaaS service there is very little our clients have to do. We provide a few lines of script to launch the journey from their website; we design the journey and build the logic. We can cleanse and enrich data or even source it, if required. To deliver this end to end turn key solution we operate a practice-based approach.
Our design practice team has decades of experience and they are able to rapidly identify the core elements of a client's brand. We can either deliver a solution that replicates their brand guidelines or we can build something innovative in support of their design team. Smaller companies may simply ask us to simply view and replicate their website as a reference.
Our customer journey team has a wealth of experience in optimizing the customer journey and includes graduates of Consumer Psychology and AI specialists.
The development teams are split into dedicated practices (UI/UX, Data and Analytics, Core Platform), which allows for focus in the relevant disciplines. We propose A/B testing using subtly different journeys or recommendations based on the machine learning evaluation of customers.
Post deployment, our customer success team has a regular customer success review to assess performance and discuss ideas for additional optimizations. The frequency of those sessions is dependent on the level of service a client has contracted with Conversity to deliver.
The technology team at Conversity is focused on delivering the best intelligent guided selling service on the market today. There are other providers who offer templatized services, but Conversity is more focused on bespoke journeys that truly create a personal bond between the brand and their customer.
The company has quarterly innovation events where team members are awarded for the best innovation ideas. We celebrate our diverse family and we are very proud of our staff retention rate (a number of team members have been with the company for over 8 years). Equally, as we grow we are taking on new team members almost weekly. We love the new perspectives the new talent bring to the table as we constantly look to innovate. We are proud of our mentoring program as it is as useful to our seasoned executives as it is to our new hires.
To support the in-house mentality we leverage customer support team members to become the eyes and ears for Conversity into our clients' internal teams. We continually review the performance of the customer journeys that we implement using the analytics data the platform collects to work in concert with our clients to recommend improvements to the journeys as well as consumer insights that can be used to inform client product and marketing strategy.
TEAM CONVERSITY: PRODUCING THE BEST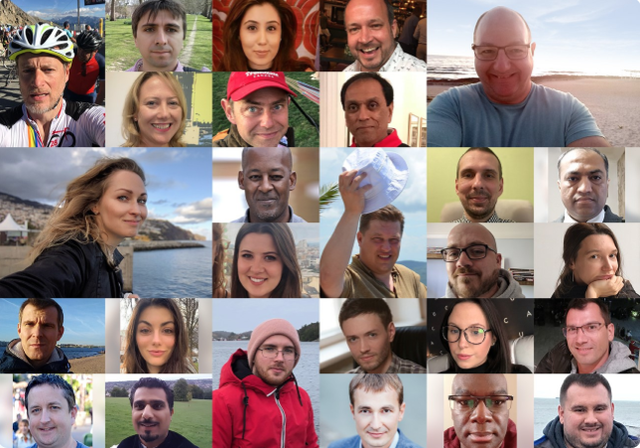 THE PLATFORM:
ENRICHING THE CUSTOMER JOURNEY
We have over 10 years of experience in building customer journeys for a range of clients. It is our combination of retail and customer mindset experience, coupled with our technical investment in building our own proprietary SaaS intelligent guided selling platform that enables us to deliver real value in the development of customer journey mapping for our clients. The deployment of AI and machine learning across our client base ensures that the journeys that are developed are then continually optimized as more and more customers use them to make just the right purchase decision and become ever more unique and human.
Our platform roadmap is focused on making our offering an essential part of a rich ecommerce ecosystem that brands will leverage for competitive advantage in the marketplace. Advances in AI technologies such as voice and augmented reality will require data-driven recommendation engines that will enhance the personalization and relevance of the customer journeys that we implement for our client base. We continuously develop our rich APIs to support the latest enhancements.
Beautiful design is also key. We have developed a unique componentized architecture that enables us to design in hours a bespoke journey that exactly maps to and amplifies a client's offering. This customized approach is a keystone component of our philosophy.
We are also focused on enriching the customer journeys with supporting data from other sources including unique customer information from customer data platforms (CDPs), behavioral data from historical interactions and 2nd Party data around product reviews, social media trends, and personal data ecosystems (CitizenMe, DigiMe). In addition, the customer journey software can be linked to 3rd Party (public) data sources such as demographic/economic information, sustainability around brands, local weather or traffic information as well as finally physical event information (Mother's/Father's Day, Valentine's Day, football games etc.). All of this data combined with our clients' product data allows the Conversity intelligent guided selling platform to be more personal to the consumer than if they were in a retail store with a sales associate talking face to face.
Beyond enhanced sales capabilities we also capture valuable information about a client's customers. The brand learns what is really important to new or current loyal customers and what actually informs purchasing decisions. This, in turn, drives more optimized marketing campaigns and more highly focused product development.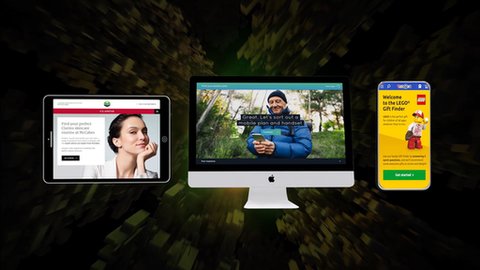 Brands typically engage us when they want to develop a more personalized view of their business to consumers via the very impersonal sales channel that a website can be. Conversity cuts through the various sales and revenue KPIs of interest and helps brands focus on the customer; who are they and what is important to them. We help clients see their brand through the eyes of their customers and let that perspective be the guiding principle behind our journey design effort. We help clients bridge silos within their business as oftentimes there are sign off considerations between digital, category management, marketing and retail business units. Our initial diagnostic work with clients brings these teams to the table to ensure that all understand the value of the effort and each influence our understanding of the brand. This enables us to implement software that both humanizes the online experience while also optimizing its financial performance.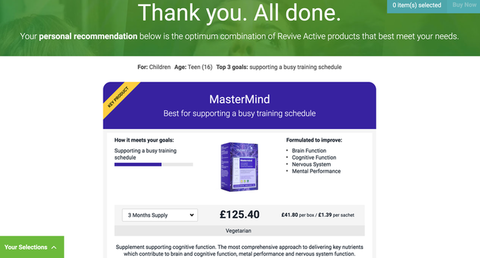 Revive Active, a vitamins and supplements provider, was looking to better personalize the way it sold its products on its website. The brand implemented the Conversity intelligent guided selling software and has since seen a 6X increase in engagement, a 16% conversion rate and a greater level of insight into customer needs to help drive their future marketing initiatives.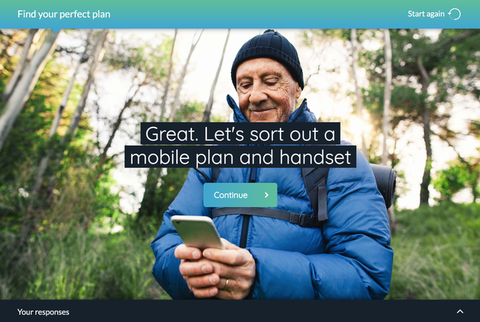 Similarly, phone and broadband provider The Phone Co-op was looking to reduce choice overload and increase personalization online. By implementing intelligent guided selling software with Conversity, customers are now three times more likely to make a purchase when using the tool, ecommerce conversion has increased from 1.7% to 5%, and basket sizes are five times larger than they were previously. The Phone Co-op's Head of Residential Business Marcus Jacci had remarked, "Conversity understands our target customers, our ethics, and our strategy for growth. Their guided selling platform enables The Phone Co-op to deliver better conversion journeys which drive sales and customer satisfaction hand in hand."
All our development efforts focus on either improving the user experience for our clients' customers or improving the usefulness of the solution.
Let's take the former. We aim to replicate the in-store experience of a premium brand with our customer journey software. If you are standing in a store for a prolonged period, an assistant will come to your aid. In the online environment, we monitor progress during a journey and if a consumer gets stuck we leverage our software to step in to provide advice.
For example, we can also identify through our machine learning-based feedback the products and journeys that are most effective with first-time buyers. This insight empowers our clients to develop and execute much more powerful marketing campaigns that drive stronger customer acquisition and ROI.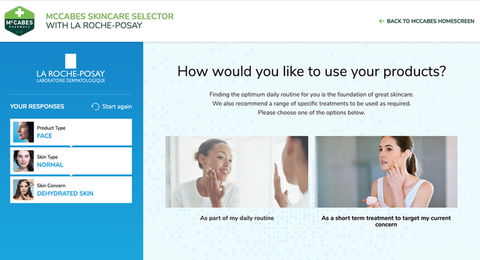 We developed for McCabes, an Irish pharmacy, healthcare and beauty care provider, a Skincare Advisor tool for La Roche-Posay, helping them replicate the important customer to retail consultant interaction readily available in stores to their online experience. This led to a 157% increase in products being added to baskets, and a conversion rate of 35%.
Lastly, several of our clients call out how they use our solution deep within their core strategy to ensure they develop the products their customers really want.
We built an intelligent guided selling-powered gift finder tool for LEGO in North America, which provides recommendations for customers shopping for gifts. This platform sits on a particular retail brand's website. This implementation resulted in site conversion rate from intelligent guided selling recommendation to basket of 9%, and an 89% increase in the number of 'Buy Now' button clicks in February 2020 compared to January 2020. The ROI on the annual investment for LEGO was captured in weeks from inception of the service.
Brands are continually looking to understand the consumer. What motivates them to buy? What inspires purchase of one item over another?. They are also highly focused on building brand equity, regardless of the sales channels where consumers engage with them. We recently helped LEGO differentiate their brand on a national retailer's website, which had a powerful impact on their understanding of how shopper mindsets influence purchase decisions. As well as helping them convert more customers in the moment, it's been great in capturing real-time customer insights while better projecting the LEGO brand on another brand's website, thereby supercharging the company's global impact.
An executive conversation with Brad Christian
Global Chief Customer Officer

Vladimir is a visionary, inspirational and collaborative leader with a passion for Technology and Innovations. He has been with NIX for the last 16 years and is currently Senior Vice President of Sales & business Development. Being graduated in Experimental Physics & High Match, and working in IT and Software Development since 2001, was a part of the Digital Transformation since its early beginning.

Vladimir is a business Development professional with a strong background in business administration, marketing, sales, and account management. Strategic thinker with extensive experience in delivering high-impact solutions in software services, and proven ability to drive business expansion through aggressive sales initiatives that deliver revenue growth, market share, and market penetration. Responsible for developing relationships and up-selling to existing client base while showing a keen eye in identifying and developing new revenue streams.

Alexander Levashov

Alexander Levashov is a Managing Director of Magenable. He has an undergraduate degree in IT/business and MBA from Melbourne Business School. Alex has over 20 years of experience in digital and finance, delivering solutions to such organizations as USAID, Bendigo and Adelaide bank, ACMA prior to founding Magenable.