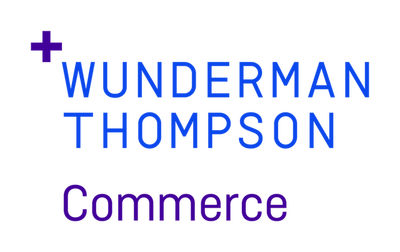 An executive conversation with James Westoby
Managing Director

Wunderman Thompson Commerce is a growth partner, built to inspire growth for clients. From a consultancy perspective, we don't just focus on eCommerce but how a transactional website fits into the overall digital experience of our clients' customers.
We combine strategic clarity, technical know-how and data-driven creative inspiration to make a big impact through the development and delivery of winning commerce strategies across channels. Everything we do is focused on inspiring client customers to act, and to transact, and we do it on a global scale, with more than 1,500 commerce experts across more than 20 offices.
With eCommerce accounting for an ever-increasing percentage of retail sales, there is a huge opportunity for businesses to grow, and COVID-19 has turbo-charged this growth. We are working with organizations today to help them take advantage of the upsurge in digital consumption and to navigate the many challenges. One of the questions we are regularly asked is whether the current accelerated move to online shopping is here to stay. So, we set out to understand this, undertaking a major survey on consumer experiences, behaviors and attitudes during the pandemic, and looking to a post-pandemic world. The results were striking and unequivocal, with only one in six (16%) UK consumers intending to return to their old shopping habits post-lockdown or pandemic, signifying the lasting change that COVID-19 will have on the retail industry. This accelerated and sustained appetite for digital is forcing businesses to re-think how they sell and fulfil their products. Those who fail to act, risk being left behind for good.
End-to-End Commerce Solutions
Our services help our clients win in the increasingly competitive and fast
changing world of digital business. We help our clients all the way from developing future growth strategies to solving both immediate and foundational challenges across technology, people and processes.
We work with brands and retailers to design end-to-end eCommerce journeys at all stages of the delivery life cycle:
Proposition design - customer research, customer journey design, internationalization strategy
Platform selection and RFP management
Experience design – user experience design, user interface design,
Discovery and design
Architectural design and oversight
Development, test and operational readiness
Prime Management – end-to-end management of all third parties
Change management and organizational design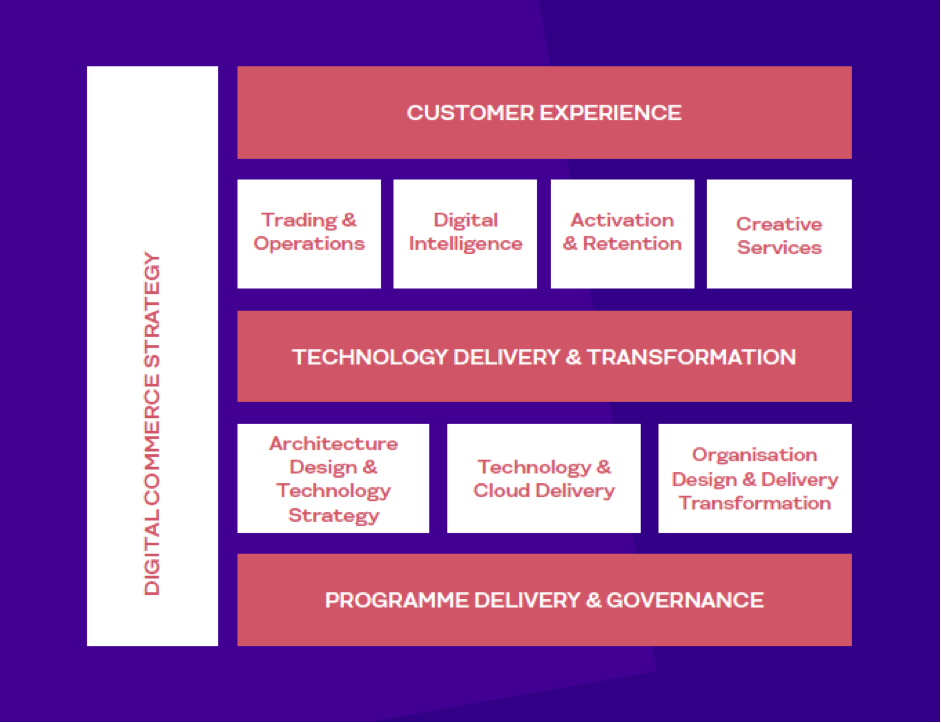 We have been defining and developing commerce solutions since the dawn of digital, 1989 to be precise. Since then, we've built over 400 eCommerce platforms, including the world's largest B2B and fashion platforms, and biggest grocery re-platform.

Wunderman Thompson Commerce was formally known as Salmon Ltd. We established the company in 1989 with a vision to inspire new efficiencies and automation for brands to help grow their businesses. Historically we were a systems integrator, our role was to plumb in an eCommerce platform and ensure that it worked alongside all the other systems that an organisation might have.
To use an analogy, we were the digital equivalent of the plumbers putting in the new boiler and the associated pipework to make the whole system work. We specialized in building and integrating leading eCommerce platforms with clients such as Argos and Boots. Today, whilst system integration is important, clients are looking for partners that can offer a complete end-to-end service suite of digital solutions to support complex customer journeys.
We now work across commerce channels that were unheard of in 1989 such as social commerce and marketplaces (Amazon). We combine strategic clarity, technical know-how and data-driven creative inspiration to make a big impact through the development and delivery of winning commerce strategies across channels.
Now as part of Wunderman Thompson, we can powerfully bring together people, processes, technology and data, married to inspirational, award-winning creativity, to support the growth plans of the most ambitious organizations.
We probably have one of the largest and most technically trained commerce teams globally that work across most of the leading commerce platforms such as Adobe/Magento, Salesforce, SAP, HCL Technologies, Spotify and Intershop as well as emerging commerce technologies such as commercetools and Big Commerce. Because of our collaboration with a great number of commerce partners, we are clued up on the latest technologies, working with them to the benefit of our clients. This means that clients get access to commerce technologists with deep understanding and experience across all the main platforms. This allows us to work with clients to evaluate, design and build the platform that's right for them. It also helps us future-proof their commerce infrastructure, introducing agility via the latest tech and methodologies. We also keep a close watch on consumer behaviors, preferences and expectations today and in the future, undertaking regular surveys for the latest insights to keep ourselves and our clients ahead.
But it's not just all about commerce platforms. Increasingly, we are advising clients on delivering across all the main commerce channels such as Direct to Consumer (D2C), retailer sites, marketplaces (Amazon, eBay, Tmall etc.) and social commerce. The competencies required for this service are quite different as they take a more executional/trading approach rather than pure platform architecture and build.
Our goal is to make sure that technology works for our clients, not against them. We work with the latest digital technologies to ensure we're applying innovation that makes a difference and with our deep experience in multichannel architecture, development, integration and support, we guide them to the right decisions, at the right time.
We don't believe that 'one size fits all' and, instead, base our strategy and recommendations on our understanding of our clients' business and goals, using our technology consulting services to turn our clients' multichannel vision into a reality.
For Sainsbury's, the second largest chain of supermarkets in the UK, we built a new platform to support double the capacity of its online sales, making it the highest value single eCommerce re-platform project at the time of launch. It involved managing 10 third-party partners, integrating 225 fulfilment centres and stores and migrating 8 million customers.
For DFS, we introduced a browser-based AR function embedded native in a home retail website, the first of its kind to automatically detect room space and display items to scale without the need for a 'marker' object, making it easier for every customer to achieve their ideal room design. This followed on from a major update of DFS's entire digital estate within <6 months.
For a well-known global CPG company, we rapidly developed a direct-to-consumer model for their brands during the COVID-19 crisis. And we are working with a leading international online luxury fashion retailer to revolutionize and converge its online estate, which includes a phased global rollout across 40 sites.
We have worked with multiple clients including GAME, DFS and Audi to help them establish continuous optimization frameworks that drive better performance. Our teams start by conducting deep-dive analysis of existing performance to identify obstacles in the customer journey and opportunities for improvement. Working with partners such as Google, Adobe and ContentSquare, we can develop a detailed view of customer behavior to understand not only 'what' is happening, but also 'why' it is happening. We then use A/B testing tools to assess the effectiveness of new concepts before rolling out successful tests permanently. Recent optimization work has seen conversion increase by as much as 25%.
We're an inclusive group of more than 1500 thinkers and doers across 20+ offices. Many of us have worked client-side so we know the expectations and pressures that our clients come with. We're proud of our 30+ year deep commerce experience and not afraid to challenge our clients' thinking to help strategize and build the most powerful eCommerce solutions for them. We also promote client best practice and inspiration by various proprietary models we've developed such as our Partner Value Model, and Collision, a methodology to inspire our culture to deliver success for clients.
Our teams thrive on customer challenges and we take real pride in the recognition we get from our Partners and clients. For example, the site we developed for Transcat was awarded the "Imagine Excellence 2019 Award" for Best B2B Implementation by Adobe/Magento. In 2019 we won "Best UX Award" for our work with Hotter Shoes at the UK Digital Growth Awards and in 2018 we won the "Delivery Initiative of the Year Award" at the Retail Systems Awards for our work with DFS. Recently our launch of a new Hotter website using headless technologies was called out by the client as an example of great technological co-operation at a particularly challenging time, during lockdown
Putting thought leadership into practice
Through our expertise in digital commerce and our network of digital thought leaders, our advisory board each quarter brings to our clients the latest thinking around:
Customer behavior changes
Shifting market and business models
Emerging technology
Legislative changes and more
Unlike other agencies, we take our thought leadership into practice through our innovation labs that help actualize future trends into measurable and actionable changes for the business.
One example of this, is the work we did for DFS. We wanted to try and implement webAR into the store experience online. To do this we very quickly created a simple demo, enabling us to get a basic understanding of how the technology works and how it could be implemented by DFS. Once we had the demo working it was a simple case of showcasing this to the client, including all the technical information that would be needed to implement it, and from there building it directly into the website itself a couple of sofas at a time. This was a great example of how you can go from a prototype, all the way through to a completed product quickly and effectively.