An executive conversation with Brent Feldman
Managing Partner
Matchbox Design Group is a group of fantastically creative individuals with expertise in many areas including Website Design, SEO, Social Media, Web Development, Design, Branding and Strategic Marketing.
In September of 2006 Cullen Whitmore and myself, Brent Feldman founded the company. We had a passion for web design and development and had honed our skills over the years. We started building our client base from prior freelance projects and contacts we had acquired through networking. Since our inception, our client list continues to grow and so does our list of services.
Our company creates ecommerce websites based on the WordPress platform using WooCommerce. We build all of our sites from the ground up through design and then development to make sure that each site is custom built to meet the needs of the clients.
We can help a customer not only build the site but also help discover opportunities either within their own company or by leveraging digital resources to amplify the ecommerce site. This could be through automation connected through mailchimp, better cross selling opportunities, B2B sales with pricing tiers and more.
Matchbox Design Group offers services to eCommerce merchants at various stages of their lifecycle—be it launching a new website to transitioning to a new platform. Upfront we try to solve as much as possible through the transition either from nothing to ecommerce or from an old ecommerce presence to a new one. We do this through discussing with the clients the finer points of their shipping, desired tax configuration and connection to any internal systems that might be needed (ERP, CRM).
Beginning: Right from the launch we are provide suggestions on marketing, awareness, product arrangement and sales/deals/discounts

Maturity: A well-functioning ecommerce site will still continually need maintenance to support it actually functioning properly. We make sure that plugins are updated, site speed is good and transactions are smooth.
Transition to a new site: There's no timetable on this whole process per se but this is the time to think about a new presence that better addresses the needs of a growing ecommerce site. As a codebase ages and goals change - it's good to catalog the new goals and direction of the site and try to build this into a new presence.
We've solved very complex problems like vast arrays of pricing data and customer data that had to be imported from very old ERP systems and developing custom product designers that feed data back to WooCommerce. All of the solutions we have provided have come about because of asking the right questions in discovery and having the right talent on our team to bring these ideas to life.
It's very easy for clients to get enamored by technology but our job as technical consultants is focus on what is going to help the client make more money or make workflows more efficient and not add bells and whistles that don't help the bottom line. Our goal is to find the weak spots in their operations, even some of the simple things so that we can bring new ideas to the table and help solve the things that bog them down. We've weeded out extraneous systems, bolt on solutions, extra plugins and more to make sure that we're creating an effective solution that isn't chasing the latest fad without vetting it and making sure it's worth it for the client.


We've solved very complex problems like vast arrays of pricing data and customer data that had to be imported from very old ERP systems and developing custom product designers that feed data back to WooCommerce. All of the solutions we have provided have come about because of asking the right questions in discovery and having the right talent on our team to bring these ideas to life.
We are always listening to the client to make sure you'd know what might be applicable to their business based on business need or environment. Just understanding more about the business, sales, operations and finer details can help put the pieces together in terms of what may be employed to help move the site farther. The other important part is to know what is available from a technology standpoint. This happens from continual learning and truly - experience. There's things that I wouldn't have dreamed of being able to take to the table had we not had the chance to work through the pitfalls and challenges of taking a risk and building these things for the first time.
We have been fortunate to have great long lasting relationships and I think we've done that through providing great service. We currently enjoy having a great Clutch review score of 4.8/5 with some in depth reviews of our projects and the overall client satisfaction. It's about listening and where things fall short - making it right. I can't say that we're always perfect or have hit the mark every time but if something falls short or we need to fix communication gaps - we're going to work to figure it out.
These great relationships have helped us get clients to take us with them to each new job they get or call us everytime there's a new product or thing they are looking to launch. We've retained some of the clients that we had since our first years in business and it's a great sense of pride that they value what we bring to the table.
In regards to getting new clients we owe a lot of credit to our own site optimization and digital strategy for the leads that come organically to the site. This has kept the pipeline full and growing for the past 5 years and while it's not our only source of new business, it has played a huge part.
I would say that our track record, great Clutch score, a long list of willing references and diligent customer service has made it an easier process to convince new clients to start working with us.
It's not every day that you get to work with a 100-year-old golf brand and develop its first eCommerce presence. A consumer-facing site for Imperial Sports would be a first for this historic brand. Not only did they want to add e-commerce capabilities to their B2B site, but they wanted to enter the B2C market by building a consumer-facing site to enhance their wholesale offering.
Our development team had the main task of converting the site from ExpressionEngine to WordPress. Because of this change, the client can now have more flexibility in maintaining their site, which we also built to be fully responsive. We also added WooCommerce to the site to handle the shopping cart and e-commerce capabilities for the site.
Showcasing the product lines, especially the new CoolCore line, was a crucial task for us. To accomplish this, we built two grid pages to highlight these products. As products frequently change with seasons and new offerings, we made sure to build these pages so that the site managers would have a large amount of control in the editing the page.
This site also integrates with their in house ERP system which doesn't have an accessible API. This presented an interesting challenge that we were able to overcome to help update inventory, pricing and customer info on a regular and timely basis.
Matchbox Design Group helped Imperial hit 25% of their annual sales goal in the first month of launching.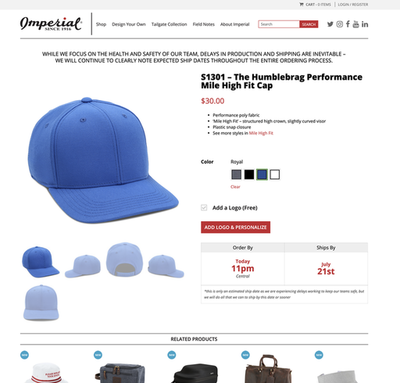 Focused on Client Experience and Thought Process
A 100-Year-Old Golf Brand Gets Its 1st E-Commerce Site
Our company thrives on good open communication and at the end of the day this is a journey but we like to hit problems, roadblocks and issues head on. We do this with empathy but overall a mindset on progress - "What can we do so it's better/easier/less difficult in the future". We have been in business for 14 years and if you don't have a commitment to transparency, it's just not easy to get through tough problems. Cullen and I are friends and business partners and we share that same openness with our team.
What we are most proud of is building our agency culture. Our team is chock-full of incredibly talented people who make every day amazing. They bring their A-games to the office and most pursue creative passions on the side. We have always felt this is important to help them add to their abilities and overall skills or just disconnect from work for a bit too.
We could not get to where we are today without our team and I think that's where Cullen and I gain a huge sense of pride. We enjoy watching them give new ideas and tactics to our clients to help them grow, figure out complicated support and technical issues and build the latest and greatest sites. Though we are relatively a small group, our technical understanding provides us the edge to work on projects large and small, including projects for Fortune 500/1000 companies. The Design, Development and SEO team work in collaborative fashion, each one reviewing the other teams work and keeping checks and balances thereby delivering better projects to our clients.

We've also been focused on our customer service through our growth. Our last 2 hires were an SEO Accounts Manager and Development Manager so that we could provide better service to our customers. These 2 roles are critical for us really solving communication gaps and getting issues solved faster, sometimes without the need of deeper support.
As a team we're always trying out new things in order to improve either our in-house process or how we can do better work for our clients. We've supported our team to attend conferences and get access to learning materials in order to facilitate a mindset of curiosity and learning. The more that we can facilitate these resources and opportunities, the more it can pay off to keep growing our ability to serve the customer better and work smarter.
We also focus on workflow improvement. We've been refining our process for 14 years but it's been important to give a voice to everyone in order to make it the best it can be. In the last 3 years, we've dramatically changed how we process our web design and development projects so that we iron out the kinks that get in the way of shipping something.
Finally, another important factor of how we work is centered on being a holistic resource for our clients. We don't want to just improve our area of service for the client but for the client's entire operation. If we can see an opportunity, we're inclined to rope in other partners or 3rd party resources used by the client in order to make sure that everyone is moving in sync. Sometimes clients just don't have the time to do this. We're always finding ways to better articulate our core goals and then help everyone involved reach them.
One of our clients needed a custom presence that synced with their aging ERP system. We built a way to pick up a nightly export of the internal data via CSV and import to WooCommerce. This was important because their sales people could sell any product at any price and therefore we had to make sure this was accurate per the site when they went to place an order.
We've built product customizers for custom product decoration and created ways to feed that back to ERP systems without an API. We've improved order picking and internal workflow by customizing the way order data is sent back to the company. All in all the sky's the limit on customization and the more we know about a given situation and how a company is currently functioning, we can give recommendations and build solutions to make things more efficient.
With MAK Grills it was great to turn on a new web presence for them but to help them hit a record sales day after dropping their more traditional channels of selling to focus on ecommerce and work with our team on SEO. We have been able to help MAK Grills develop their traffic and conversions through ongoing SEO.
During the current pandemic we've also helped a couple of our current clients, through optimization, focus and pivot from selling less B2B where the market dried up and more B2C where there were more direct ecommerce sales opportunities. Watching and taking advantage of these opportunities can be critical to make use of otherwise challenging times.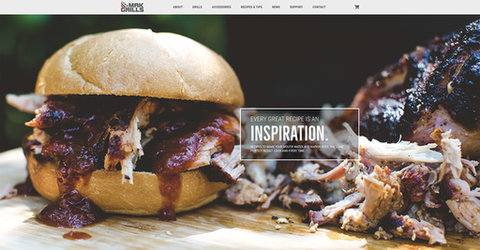 We custom develop each solution from the ground up to provide the most responsive and innovative work.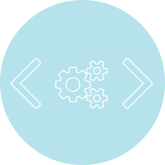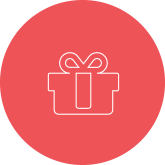 Alexander Levashov is a Managing Director of Magenable. He has an undergraduate degree in IT/business and MBA from Melbourne Business School. Alex has over 20 years of experience in digital and finance, delivering solutions to such organizations as USAID, Bendigo and Adelaide bank, ACMA prior to founding Magenable.