In today's modern digital space, it is very easy to get started in eCommerce. There is a whole raft of off the shelf SaaS products like Shopify, Wix, Squarespace and several others. This means that 9 times out of 10, our clients come to us after phase 1 of the eCommerce lifecycle (proof of concept). They have more than likely got a website and are selling products online (successfully or not), this is where we come in.
Phase 2 of the lifecycle is normally where a business has hit a roadblock, this can either be that sales are not growing or that they want to start differentiating themselves from the competition. It's at this stage where we can really add value in analyzing the clients business and identifying what the short, medium and long term priorities should be to achieve their goals.


Often when we inherit clients there is always an initial fear of how the migration will go, normally focused around if the incumbent developers will make things difficult or not. Almost in every project, we are able to gain access to the code and get a replication of the site up and running locally in our own systems. We then put the site through our review processes which cover everything from a database level code review to a front end UX review. From here we have normally identified a long list of changes and fixes we can make to immediately improve key metrics on the site, be it speed, conversion or user experience.
Alongside this the client themselves will normally have a long list of issues they have been wanting to resolve (hence why they are looking for a new partner) so we will estimate how long we think each of these items will take for us to implement. Off the back of this initial site review we work with the client to agree a timeline of implementation and prioritization of tasks and begin!
Sometimes this is a more customized design and front end (moving away from off the shelf templates) or it's implementing more complex back end solutions to deal with shipping and order management. More often than not this process ends up in a full scale project of launching a purpose built website where everything designed and built is dedicated to our clients' long term objectives. This then gives them a platform to work on for the next 5 years and continue to add features and processes that may not have been possible on a generic platform.


99% of all our clients stay with us post launch and continue to work with us on either support or ongoing development where we review performance together each quarter and continue to develop the long term development roadmap.
We are an award-winning design & technology company. Our team of strategists, creatives and engineers, turn complex customer journeys into simple online experiences and connections through technology, design and storytelling. We use our diverse skill sets across Strategy, Creative and Tech to provide full solutions to solve our clients' problems.
We create awesome web and mobile apps that help businesses scale up. Over the last 11 years we've worked with hundreds of businesses and entrepreneurs to grow through the innovative use of technology. Some of our notable clients include Historic Newspapers, Mih Jeans, House of Hackney, ddc NYC, Salvo1968, Collingwood Lighting, The New Craftsmen and many more. So we've seen what works and more importantly what doesn't.
As an Agency, we don't advertise. All of our work comes through referral or past relationships, which I think says everything about us and how we work. We work as an extension of our clients teams and believe our contribution is as much about advice as it is about implementation. We don't just act as an 'implementer of requests'. We always challenge thinking and requests and try to offer our insights for best outcomes based on challenges that have arisen.
eCommerce isn't just about B2C anymore (or D2C or Consumer selling, call it what you like!). While we at SOtech have been building B2C Ecommerce sites for over 12 years we have also been steadily moving with the global trend of translating these B2C best practices into the B2B (business to business) models.
So many of the features we have come to expect as standard when buying from traditional websites were often not regarded as important for B2B websites – this is no longer the case. So if you sell direct to customers, direct to other businesses or both, we can help you plan out your customer's journey and ensure they get access to all the tools they need to purchase with you seamlessly.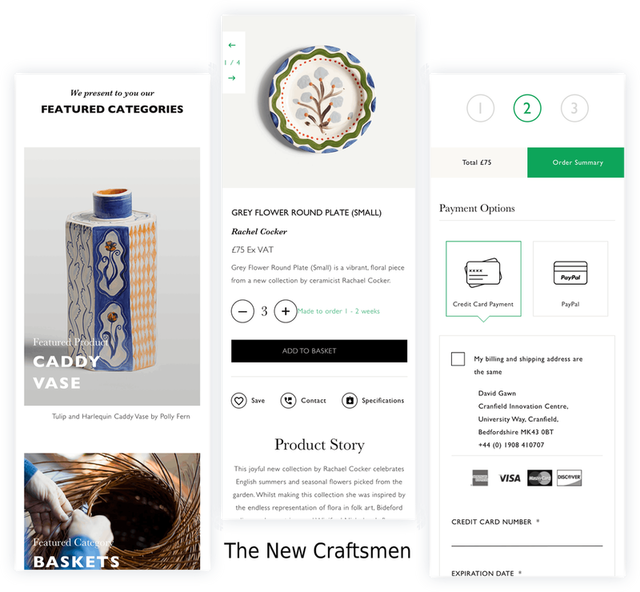 SOtech was founded in 2007 by Steven Oddy. In his late teens, Steve built his own eCommerce site selling personalized funny t-shirts—all of it completely custom, even down to how the personalized svg print files were created for printing and shipping. At its height, the site was doing 300 orders a day (all managed from Steve's house). Steve sold the business and kick started SOtech to help support local businesses sell online. Over the course of the last 12 years the business has gone from strength to strength not only working in eCommerce, but also App development, Design and Strategy.
Today the business is led by Mark Purdy, who has spent his entire career on the 'client side' running multi-million eCommerce and retail businesses. Mark and Steve had collaborated on a number of projects over the last 7-8 years and finally in 2018, Mark decided to join forces and take SOtech to the next level.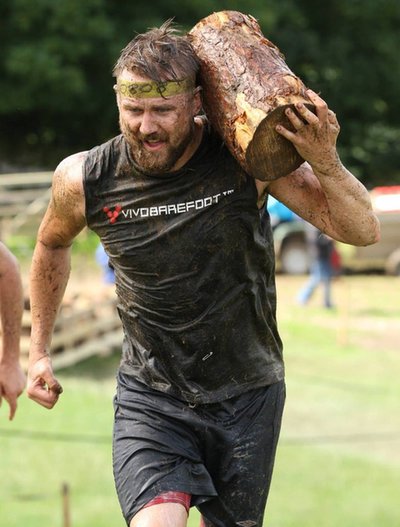 After graduating in Product Design and Engineering Applications, took up job at Dixons Carphone (in those days: Dixons Retail group), the largest electrical retailer in the U.K. "My role was a 'website merchandiser' and I earned £6.75 an hour. My workload consisted of checking product prices vs competitors and then updating product prices for the White Goods Categories. I did this for 7 months," Mark narrates.
His inquistive nature and curiosity to learn new things, led him to get involved in other areas of business, especially in the eCommerce team. "I went from my £6.75 per hour temp contract to being offered a team leader position within the team. In the next 3 years, I worked my way up to Head of Online Trading for Consumer Electronics across the entire group and was a key member of the management team," he recalls.
The rest of his career has been spent in various eCommerce / Digital Director positions for small, medium and large businesses both in the U.K and globally. Mark's passion is in scaling up big ideas that have the power to reinvent a business. He's implemented award winning strategies that have completely transformed the revenues and profits of already successful companies. He has led digital projects for Curry's & PC World, Vivobarefoot, Tom Dixon and other eCommerce brands across multiple industries.
"But I think it was my schooling at Dixons that has really forged my working and leadership style. I have never forgotten what it's like to have to spend your whole day working in the admin area of a website and to have to justify decisions to senior leadership teams about development investments to improve website performance. I still get excited looking at our clients analytics data (conversion rate, bounce rate, time on site etc)," he says.
"I have also always believed in work/life balance and can honestly say, even in some the most senior positions I've worked in within companies, I have hardly ever had to stay past 6pm or work 'outside' of normal hours. I believe in working hard when at work and switching off when at home and it hasn't done me any harm in my career so far."
"I also took time out of my career to go travelling with my wife (6 months across South and Central America) which some would say was a risk to leave a very good job with nothing lined up for my return, but I always believed I would find another role.
I think all of these things put together, coupled with how Steve and I work together has fed into our companies Core Values—One Team, One Family; Forward Thinking; Do The Right Things; Innovation; Be a Partner, which I always elaborate on with any new clients," says Mark.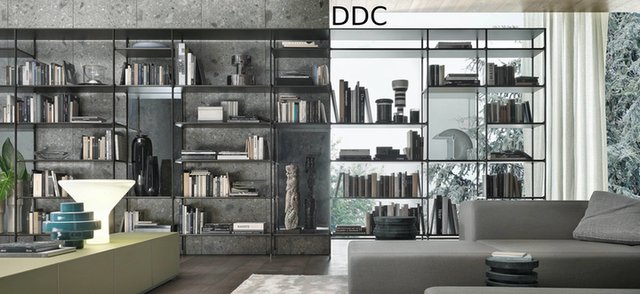 Where do we start! Basically we love complicated, we love unusual. If you want an e-commerce site to sell simple, individual items with nothing complex required - then we probably aren't the right agency. But, if you have a complicated product or challenging back end requirements, then that's what we love doing.
A great example of this is one of our B2B clients, Salvo1968. Salvo is the largest wholesaler of Italian food in London and take over 2,500 orders a month. Salvo was on a heavily customized Magento1 site and so acknowledged the need to migrate to Magento2. In an ideal world we would have used Magento Commerce Edition as it comes with a host of B2B functionalities, but the initial project budgets didn't allow for this. Therefore we built all the B2B functionality bespoke for Salvo within the platform and also built a bespoke solution connecting the site to their ERP system, Microsoft NAV. The result was a seamless upgrade of the platform with new designs and functionality, with simpler businesses processes end to end.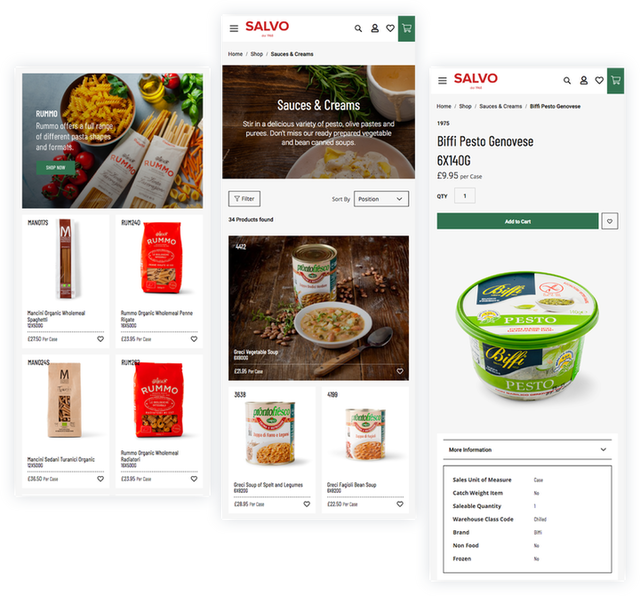 One of our clients, Historic Newspapers, which sells personalized original newspapers in stock dating back over 100 years, had already engaged with us to redesign their website and part of this was looking at their main navigation structure, which had been in place for nearly 8 years. I quite like nerding out on Google Analytics, so spent a day or so reviewing top pages, users flow through the site, where people exited, etc and proposed a new navigation structure that was far simpler and less cluttered than what they had. As their existing site was still running and we weren't due to launch the new site for a few months, we implemented the new Navigation as an A/B test to see if the proposed changes would deliver better results. The results were in fact fantastic, the new navigation delivered a 12% increase in average revenue with a 95.7% better chance of conversion than the previous structure.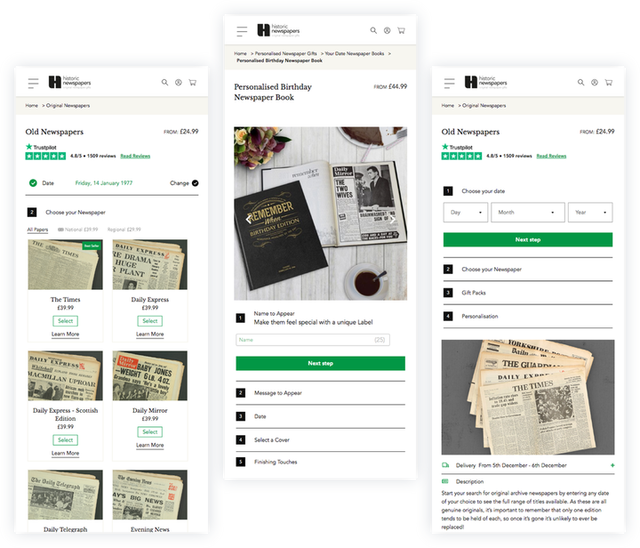 We want to support our clients make informed decisions and love to see the results of what we suggest.


Led not just by data-driven insight but by unrelenting curiosity, our inquisitive nature combined with strategic thinking and creative vision, makes us the ideal partner for forward.
Agility: With the recent pandemic of COVID-19 we have seen the impact on many of our clients. In some of our clients cases, like Historic Newspapers, it has improved their sales as more people are buying gifts to be sent direct to loved ones. In Salvo's case it had the opposite effect given that their main sales channels were all London based restaurants and cafes that had to shut down for 2-3 months.
However, we worked closely with Salvo to identify new revenue streams for them outside of their existing B2B set-up. Now Salvo didn't have the luxury of having a fleet capable of doing home deliveries, but they did have two open warehouse locations within 20mins of most London addresses. We identified the opportunity for a Click and Collect service and were able to push this live within 5 days of conception. This allowed them to offer customers the chance to buy essential products like Pasta, Sauces, Meats and Canned goods in bulk and collect within 24 hours of ordering and meant they kept revenue coming in. Off the back of this service Salvo also collaborated with Bella Italia, a nationwide Italian Restaurant chain to offer Bella Italia hampers, this time for home delivery via DPD express so customers could make their own pizzas and pastas at home.
At SOtech, we believe in being technology agnostic—we aim to find the right solution based on a client's requirements. We will never force a client down a technology route, simply because it's our 'preferred' language or platform. We think this differentiates us from other agencies our size as most agencies (for good reason) focus on one or two key technologies to specialize in, which is fine if you are always speaking to potential clients who have already decided on that technology.
But what we have found is that most clients don't know what they want, and actually don't care about which technology to opt. They are more focused on what's going to deliver the best end result.
So that's why we've built our core team and extended network of developers to cover a whole range to technologies and disciplines. This doesn't mean we're not experts in them though. We are an official Magento Partner, have won awards for our WooCommerce sites and delivered best in class platforms using bespoke languages like Laravel and React.
What sets us apart is the fact our core team understands eCommerce and the full stack nature of eCommerce businesses. It's through this experience that we are able to identify the right tech stack and make recommendations from on hand experience.
All of our clients, whether WooCommerce, Magento, Shopify or bespoke work with us because we understand their business goals and offer solutions and strategies for long term success.
Outside of tech we have our amazing creative team that not only focuses on digital web design but also offer branding, print and media services that clients need from us.
All of our team love challenges and love to challenge themselves. We believe in collaborative approach, So when we are kicking off a project, we make sure our creative team and development team are there at the project kick off to work through solutions together. This means a designer doesn't design something that a particular platform or technology isn't good at and equally it means our developers can feed into the design process to give their input early on.
We aim to stay at the forefront of technology developments and try to always be using the newest and latest versions of all our commonly used tech. This means we can test and learn and then ultimately pass this knowledge onto our clients.
The tech world and particularly the eCommerce world is moving so fast and platforms become outdated very easily. As part of all of our ongoing relationships we build in planned updates for all eCommerce platforms. With a platform like Magento these updates can be quite labor intensive, particularly when it is updating to a new version (i.e. going from 2.1 to 2.3). For Wordpress and WooCommerce the updates tend to happen more regularly and can be dealt with as part of a monthly support contract.
There are also occasion where technology becomes unsupported, which means the provider will no longer be releasing security patches, core code fixes or other browser related updates. This has now happened with Magento1 and is about to happen with AngularJS. We have had clients using both of these platforms and have had to be honest with them that ultimately we can support the tech stack but the recommendation is to re-build on a new technology.
Scalable: We build of our products in such a way that they can be easily scaled without huge additional cost. This is because we know businesses, particularly in the digital space, can immediately gain traction and grow exponentially in both traffic, active users and conversions. So we not only build in a way that can handle continued development for many years, we also ensure the set-up and infrastructure is able to quickly sustain growth.
Being a Strategic & Reliable Partner