Albertsons Companies is a leading food and drug retailer that operates stores across 34 states and the District of Columbia with more than 20 well-known banners including Albertsons, Safeway, Vons, Jewel-Osco, Shaw's, Acme, Tom Thumb, Randalls, United Supermarkets, Pavilions, Star Market, Haggen, Carrs, Kings Food Markets and Balducci's Food Lovers Market. Albertsons Companies is committed to helping people across the country live better lives by making a meaningful difference, neighborhood by neighborhood. Albertsons operates 2,278 retail food and drug stores with 1,722 pharmacies, 399 associated fuel centers, 22 dedicated distribution centers and 20 manufacturing facilities.
Albertsons could see online grocery potentially reach 20% of sales, driven by stepped-up e-commerce investment and greater consumer affinities for digital shopping and eating at home. Despite the challenging times, the grocer has "made remarkable progress" in e-commerce fulfillment. Albertsons has several micro-fulfillment centers (MFCs), powered by Takeoff Technologies. Earlier in the year, during earnings call Albertsons CEO Vivek Sankaran said the number of households that use the retailer's omnichannel services—such as buy online, pickup in store, or curbside pickup of on-demand delivery—increased fourfold since 2019. That's been good for the bottom line, he says, because omnichannel households spend three times more than in-store-only shoppers. "Our next priority is the acceleration of our digital and omnichannel capabilities," Sankaran said. "This digital transformation is designed to fuel our growth as we aim to drive increasing customer engagement, customer satisfaction and customer retention through an area of convenient shopping experiences."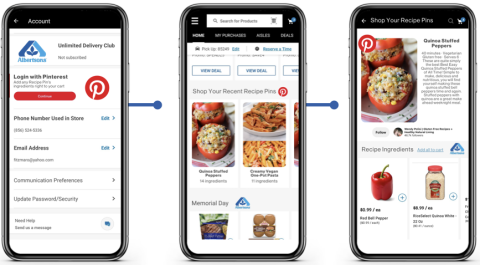 Last year Albertsons set out to reintroduce themselves to shoppers through new and refreshed offerings that make the grocery shopping experience more enjoyable and convenient. The company unveiled three new innovations: the launch of the free Deals & Delivery app, their new "Albertsons for U" shopper loyalty program and FreshPass™, their exclusive unlimited grocery delivery service with member-only perks. The Deals & Delivery app allows customers to shop, save and redeem rewards all in one place – from the comfort of home or while shopping in-store. The new app seamlessly integrates both the "Albertsons for U" loyalty program and the FreshPass™ subscription service program. Shoppers with the Deals & Delivery app will benefit from an integrated in-store experience. Smart features include a digital wallet and app coupon integration, list builders and a convenient pay-from-app feature.
To keep the momentum going, last year, Albertsons launched two new digital offerings, Meal Planning and Schedule & Save. "Our customers continue to look for new ways to save time and money when planning meals and shopping at their neighborhood Albertsons banner store," Chris Rupp, executive vice president and chief customer and digital officer at Albertsons said in a statement. "These two new features are important ways we're helping customers reduce the effort associated with grocery shopping so they can spend the time enjoying meals with family and friends."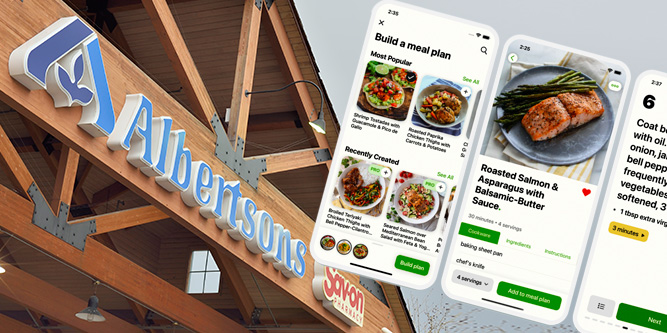 Albertsons acquired Mealime, a recipe-intelligence platform that gives shoppers access to 1,200 proprietary recipes. The platform serves up recipes to customers based on their criteria — healthy, vegan, gluten-free, etc. Customers determine what's for dinner in a convenient and personalized way. These shoppable recipes are created by professional chefs and dietitians, and curated and refined based on taste and dietary preferences. Users can complete a weekly shopping in under 10 minutes, with the options of pickup and delivery, or in-store shopping.
Albertsons also partnered with Pinterest, a leading platform for food discovery and inspiration, to drive new first-to-market shopping experiences. The multi-year agreement, the largest ever between the two partners, uses artificial intelligence (AI) and application programming interface (API) technology to help grocery shoppers plan inspired, fresh meals. Recipes will be seamlessly shoppable by integrating saved pins straight into Albertsons Cos. banner app. Shoppers add all of the ingredients to their cart in one click, and the integration will also recommend what consumers should make based on searches, saves and purchase.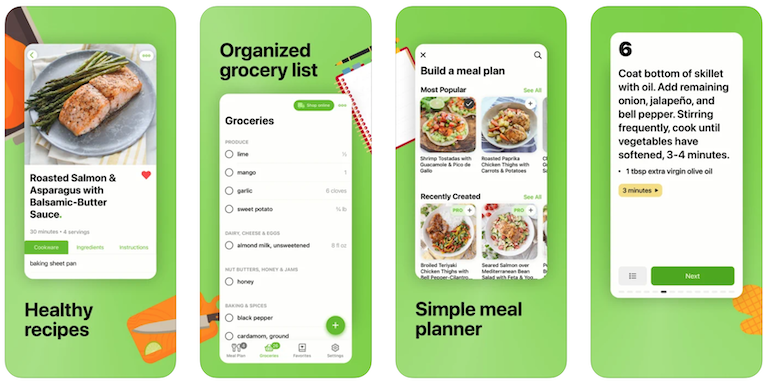 Albertsons Schedule & Save features, which is an online auto-replenishment offering enabling loyalty members to keep their grocery and household essentials always in stock. The convenient feature allows customers to automatically replenish their more frequently purchased items across categories in a way that's adaptable to every lifestyle. The products scheduled for purchase will be made available at discounted prices, providing considerable savings off the average shelf price, and shoppers can either pick them up or have them delivered.
Albertsons' partnership with Doordash, the leading last-mile logistics platform, offers shoppers on-demand grocery delivery across all its stores. Shoppers can now order groceries and essentials on-demand for delivery within an hour through DoorDash's top-rated marketplace with no time slot, queues or minimum order size required. Albertsons will offer more than 40,000 grocery items from stores for delivery via DoorDash, including fresh and prepared food, core grocery, floral and convenience items. "We are committed to expanding our delivery experience in order to meet our customers' needs whenever, wherever and however they want," said Rupp in a press note.