Amazon Fresh is the star of Amazon's emerging brick-and-mortar grocery portfolio. Not only does it offer quality groceries but the stores are also as futuristic as it comes—think cashierless shopping with "smart" carts and Alexa stations on hand to answer questions.
In August 2020, Amazon introduced its first Amazon Fresh grocery store—a new grocery store designed from the ground up to offer a seamless grocery shopping experience, whether customers are shopping in-store or online. Today, Amazon has 29 Amazon Fresh stores in the U.S. that enable customers to skip the checkout line thanks to Just Walk Out technology or Amazon Dash Carts.
Customers shopping Amazon Fresh find a wide assortment of national brands and high-quality produce, meat, and seafood. Plus, its culinary team offers customers a range of delicious prepared foods made fresh in store every day. Amazon Fresh has also introduced a new private label food brand—Aplenty—that provides delicious meals and is available only at Amazon Fresh. Aplenty offers products that are thoughtfully crafted using high-quality ingredients and cooking methods to deliver great taste at an incredible value.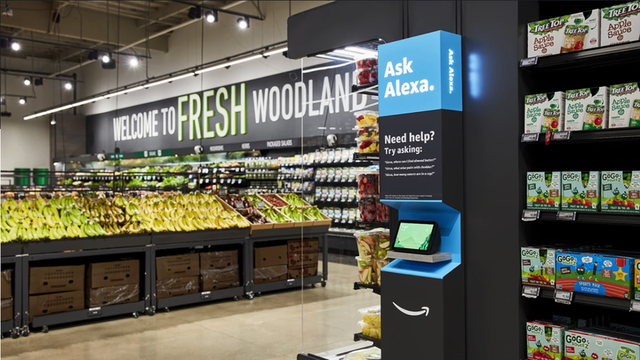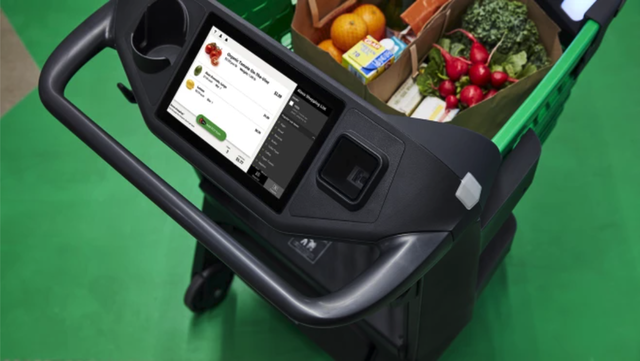 Amazon has introduced new ways to make grocery shopping more convenient, including the Amazon Dash Cart, which enables customers to skip the checkout line, and new Alexa features to help customers manage their shopping lists and better navigate our aisles.
Amazon's Dash Cart is a smart cart that calls on "computer vision algorithms and sensor fusion" to identify what the customer is adding to the cart. If the cart beeps when the item is dropped into the cart, all is well. If an orange light comes on, the process needs to be repeated. When the shopping is done, customer just scoots through the Dash Cart lane and sensors will automatically charge the purchases to the card on their Amazon account.
Customers can find items in the store more quickly by using Alexa and Alexa shopping lists. When customers arrive in store, they can access their Alexa shopping list through the Amazon app or on the Amazon Dash Cart, enabling them to quickly navigate aisles and check off items as they shop. Throughout the store we have Amazon Echo Show devices available to ask Alexa for help—simply say, "Alexa, where can I find the hot sauce?"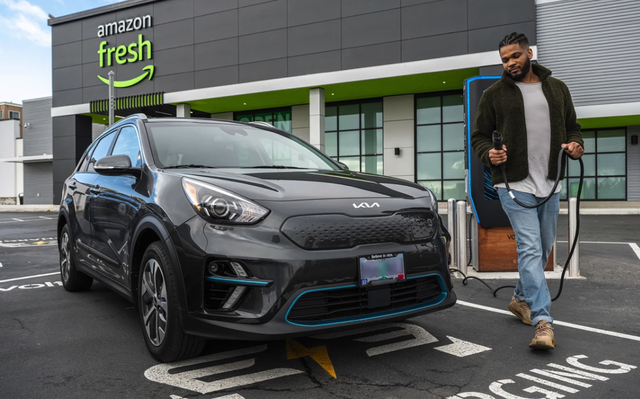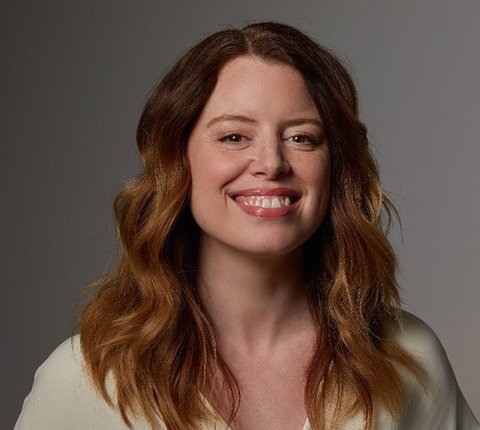 Amazon has taken its decades of operations experience to deliver consistently low prices for all, and FREE same-day delivery for Prime members. Amazon Fresh also offers same-day delivery and pickup direct from the store. Customers can pick up their orders by visiting our service counter or by pulling up to a dedicated pick-up parking spot. Amazon Fresh also offers Amazon.com package pick-up and free package-less product returns.
In an important milestone in meeting its Climate Pledge commitments, Amazon is seeking net-zero carbon certification for its newest Amazon Fresh grocery store. More than a dozen upgrades and features have been incorporated throughout the design and development of the 35,000-square-foot Seattle space to help make the store the world's first grocery store to pursue the International Living Future Institute Zero Carbon certification. As a result of these upgrades, the store will save nearly 185 tons of CO2e each year, equivalent to driving around the Earth 18 times in a standard passenger vehicle.
"We are constantly thinking about what we can do to make the customer shopping experience easier, more seamless, and more sustainable," said Stephenie Landry, vice president of Amazon Grocery. "We know many customers are prioritizing sustainability in what products they buy and where they choose to shop. With our newest Amazon Fresh store, we are taking the next step on our path to becoming a net-zero carbon business by 2040, and we welcome customers to experience this first-hand while shopping with us in this store."
Updates to this store include transitioning to a CO2-based refrigeration system, which reduces greenhouse gas emissions by 38 metric tons per year compared to a conventional system. The store also uses steel byproducts in the concrete floor to reduce the embodied carbon—the carbon associated with the manufacturing and installation of the flooring—by nearly 40% compared to a standard concrete floor. Another critical change is the fully electric kitchen space, where the store teams prepare fresh food that reduces the need for fossil fuel combustion in the store. The store is being electrified using 100% renewable electricity sourced from Amazon's renewable energy projects. Some upgrades will be used at all of the Amazon Fresh grocery stores moving forward, such as lower-carbon concrete flooring, which will help to reduce embodied carbon.
Stephenie Landry, vice president