Hy-Vee, Inc. is an employee-owned retailer operating more than 285 grocery stores across eight Midwestern states with sales of more than $12 billion annually. The supermarket chain is synonymous with quality, variety, convenience, healthy lifestyles, culinary expertise and superior customer service. Hy-Vee ranks in the Top 5 Most Trusted Brands and has been named one of America's Top 3 favorite grocery stores. The company's more than 93,000 employees provide "A Helpful Smile in Every Aisle" to customers every day.
In the grocery industry, Hy-Vee has established a reputation for being an early adopter of new technologies.
"Hy-Vee has been a leader in the e-commerce space for many years since the start of our Hy-Vee Aisles Online service," said Randy Edeker, chairman and CEO of Hy-Vee, in a press statement.
Established in 2015, Hy-Vee Aisles Online is Hy-Vee's grocery ordering service, which became instrumental following the outbreak of COVID-19. Since 2020, the service has grown rapidly due to increased demand. Hy-Vee continues to further enhance the service with more personalized service and added functionalities.
But online grocery ordering isn't the only e-commerce initiative up this retailer's sleeves. In the past year, Hy-Vee has invested heavily in digital and technology opportunities as it aims to make customers' lives easier with convenient and easy-to-use solutions.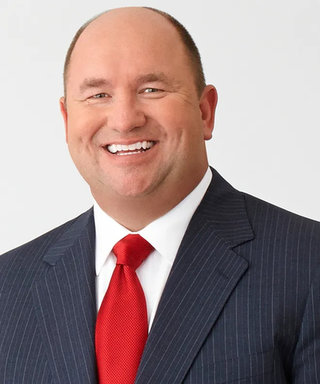 Randy Edeker, Chairman & CEO
Grocery Shopping Reimagined
September 2021 marked the opening of Hy-Vee's first digitized flagship store in Grimes, Iowa, bringing an entirely reimagined grocery shopping experience to its customers.
"The Grimes Hy-Vee is our most innovative store to-date with state-of-the-art technology integrated into every department," Edeker said.
Since then, the retailer has opened two other flagship stores in Eau Claire, Wisconsin, and Springfield, Missouri, that are modeled after the Grimes store.
Each store is powered by hundreds of digital shelf labels that display product information and pricing. More than 100 TVs displayed throughout the store feature Hy-Vee products, promotions and services. Digital ordering kiosks are also available for customers to order and customize cakes and fresh prepared foods, as well as access offerings via Hy-Vee Financial Services.
Hy-Vee partnered with several tech companies to bring the stores to life digitally with special touches integrated seamlessly throughout the store. In partnership with Chowbotics, Hy-Vee added Sally – a robot that can assemble custom salads made with fresh ingredients. Partnering with Simbe Robotics, Hy-Vee introduced an autonomous robot to some its stores that scans shelves to ensure items are in stock and priced correctly.
Each of the flagship locations also features Hy-Vee Scan & Go, mobile payment technology that allows customers to scan and bag their items as they shop. Self-checkout lanes are also in each store for a faster, more convenient checkout experience.
Health & Wellness Goes Digital
Evolving into a National Retailer
Hy-Vee's adoption of technology doesn't stop at groceries. For more than 50 years, Hy-Vee has been a leading pharmacy provider, operating more than 275 retail pharmacies and 21 specialty pharmacies under the Amber Specialty Pharmacy brand. In recent years, technology has become the No. 1 focus in growing the retailer's health and wellness portfolio.
One of Hy-Vee's most notable technologies developed in the past year has been its award-winning online COVID-19 vaccine scheduler and accompanying landing page that allowed patients to quickly and easily schedule their vaccination and stay up-to-date on the latest vaccine eligibility guidance when vaccine supply was most scarce. These online tools were critical in helping Hy-Vee administer millions of doses of the lifesaving COVID-19 vaccine to individuals across the Midwest in only a matter of months.
The retailer has also turned to technology to make healthcare more accessible to patients. In partnership with En-Vision America's ScripTalk product, Hy-Vee introduced talking prescription labels to its pharmacies to assist visually- and print-impaired patients. The labels are also available in 26 languages to assist non-English-speaking patients. To reach customers where they're at, the retailer launched virtual dietitian services that are available in both English and Spanish.
In its quest to become a national retailer, Hy-Vee has launched several national ship-to-home services over the past six months.
ShopHSTV.com is the companion site to Hy-Vee's existing Helpful Smiles TV (HSTV) free streaming network. The platform offers HSTV viewers a way to shop products from their favorite HSTV shows such as barware, home décor, kitchen and dining products, pantry items and more.
Hy-VeeDeals.com offers bulk snacks, candies, groceries, beverages, home and houseware products and more at great prices. For its Midwest customers, all weekly ads, digital coupons and hot deals are also aggregated on the site to be used in store or via Hy-Vee Aisles Online.
ShopPetShip.com offers the essentials for every pet, including food, grooming supplies, toys and more. Customers can also take advantage of subscription services to have pet products shipped directly to their homes.
WholeLottaGood.com features a full range of dietitian-approved health and specialty products including grocery items, vitamins, health and beauty products, fitness equipment and more.
According to Edeker, investing in advanced technologies will be a key part of Hy-Vee's growth strategy moving forward.
"Our mission has always been to make our customers' lives easier, healthier and happier," Edeker said. "To do that, we must be all-in on digital and invest in new and innovative solutions that will make our customers' lives easier."
As Hy-Vee looks to serve patients and customers beyond its traditional eight-state region, the retailer has turned to new online ventures. In 2021, Hy-Vee launched RedBox Rx, a low-cost telehealth and online pharmacy provider that ships prescribed treatments directly to patients' homes throughout the U.S. More recently, Hy-Vee introduced Vitamine, a national vitamin and supplement service that specializes in personalized vitamins that can be shipped directly to customers' homes. The site is powered by a team of registered dietitians who are also available to answer customer questions.