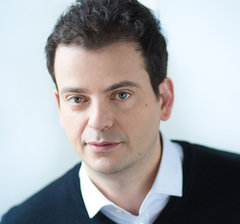 Frank Kouretas
Chief Product Officer at Orckestra
Orckestra understands the complexities associated with tech integrations and so our solutions provide grocers with the flexibility to leverage existing technology, enabling seamless integration to legacy and back-end systems without the need for costly re-platforming
Tyler Sickmeyer is the marketing thought leader and founder of Fidelitas Development, a full-service marketing and advertising agency that serves clients worldwide. Knowing that brand loyalty is a company's most important asset, Tyler and his team implement unique and innovative strategies to accomplish the goals of their clients.

As a sought-after keynote speaker, Tyler has inspired audiences around the world with his unique perspective in sharing solutions for today's marketing challenges. As the founder and host of The Lion's Share Marketing Podcast, marketing leaders are treated to a wide range of topics, from Customer Acquisition Strategies and eCommerce best practices to the latest marketing and communications trends. Tyler showcases how integrated marketing and digital storytelling drive results in an ever-changing world.

As the youngest independent Christian concert promoter in the nation Tyler was the first to utilize text message marketing and Facebook for event marketing. He leveraged cutting-edge technology to provide data-driven results and continues to do the same today.

Tyler stays on top of the latest trends while serving on the board of Live Ventures (NASDAQ: LIVE). With a wealth of experience in digital and traditional marketing, along with PR and eCommerce, Tyler develops campaigns that stand out among crowded platforms while helping leaders navigate a path to successfully connect with their audiences.

Originally from Illinois, Tyler now calls San Diego home along with his wife, two sons, and yellow lab.

Redefining a seamless online grocery experience
The pandemic brought about a seismic shift in our retail habits, resulting in the exponential growth of online shopping. eMarketer predicts that by 2025, online sales will make up about 17% of all grocery sales. As a result, grocers need to respond quickly and actively invest in providing their customers with easy and engaging online grocery shopping experiences. They've found a one stop-shopping solution and technology partner in Orckestra.
The name of the game when implementing new technology is efficiency. Orckestra enables grocers to leverage their existing technology investment in order to unify online and store commerce operations and user experiences to boost efficiency for customers and employees.
Orckestra Commerce Cloud resolves omnichannel complexities and logistical challenges facing grocers, no matter how complex the grocery model is with multiple banners and brands in multiple regions with different languages and currencies. Being cloud native makes it possible for grocers to control and leverage the cost efficiencies with state-of-the-art scalability.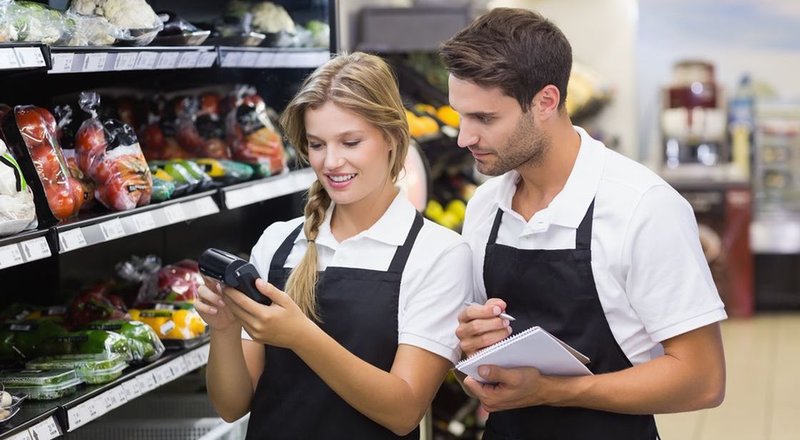 Omnichannel grocery the way it's intended to be
At the end of the day, Orckestra works because it builds customer and employee satisfaction. Its omnichannel solutions achieve success because they build customer loyalty and satisfaction and increase basket size with powerful front-end and back-end features. These features include comprehensive search and navigation for shoppers to easily find the items they want on one unified channel, a merchandising engine that serves up personalized online customer experiences, and an in-store Pick & Pack app for accurate orders and omnichannel order fulfillment that offers convenient in-store pickup or home delivery and time slot availability based on location.
Orckestra's cloud-based online grocery solution is built natively on Microsoft Azure, enabling customers to scale as their business grows. The API-based platform reduces time-to-market by seamlessly integrating with existing systems.
The exponential growth of online grocery shopping in the UK prompted grocery chain Aldi to look for a partner who could help them get to market fast and provide their customers with an engaging online experience that included convenient curbside pickup. They chose Orckestra Commerce Cloud to help them meet their complex technology integration challenges and build out new grocery fulfillment capabilities with an API-first platform that was easily integrated into their existing ERP, reporting solutions, POS, etc.
'The service took a record time of three months from POC to deployment in over 200 stores, facilitating an efficient store fulfillment and curbside pickup', said Frank Kouretas, Chief Product Officer, at Orckestra.
More than 200 stores have been successfully enabled with Click & Collect (service facilitating efficient store fulfillment and curbside pickup) across the UK—which took a record three months from POC to deployment in all stores. – Frank Kouretas, Chief Product Officer
DELIVERING ONLINE GROCERY FASTER AND BETTER THROUGH INNOVATIVE IN-STORE PICKING APP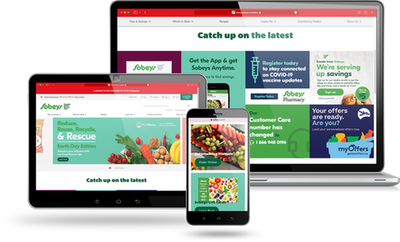 Sobeys Inc. is Canada's second largest national grocery chain. They have been offering online convenience for roughly 20 years and serve customers coast to coast, in all 10 provinces, with approximately 1,500 stores.


Sobeys implemented an in-store picking application to help pickers shop faster and with increased accuracy.


Their optimized in-store order fulfillment showed immediate benefits to their ecommerce business. Pickers are empowered to complete orders better and faster, significantly improving customer satisfaction and decreasing resolution costs for product replacements, delivery of missing items, and in-store coupons
Solving the order management challenges facing grocers today
Empowering in-store associates with Mobile Store Fulfillment solutions
The accelerated demand for online grocery shopping has challenged the industry to adapt to new technologies and best practices in record time. This means that grocers don't have a lot of time to test and evaluate new platforms. This is where the Orckestra platform really shines with its ability to balance business scalability with creating great customer experiences that are satisfying and build loyalty. Orckestra's Omnichannel Order Management System offers features such as real-time open carts, order history and order fulfillment status that enhances customer, manager and staff experiences. It integrates with Orckestra's customers' ERP, POS, planogram and all other back-end and legacy systems for streamlined orders from A-Z, enabling them to scale and grow revenue rapidly. A seamless integration and leveraging of the existing investment means no costly re-platforming.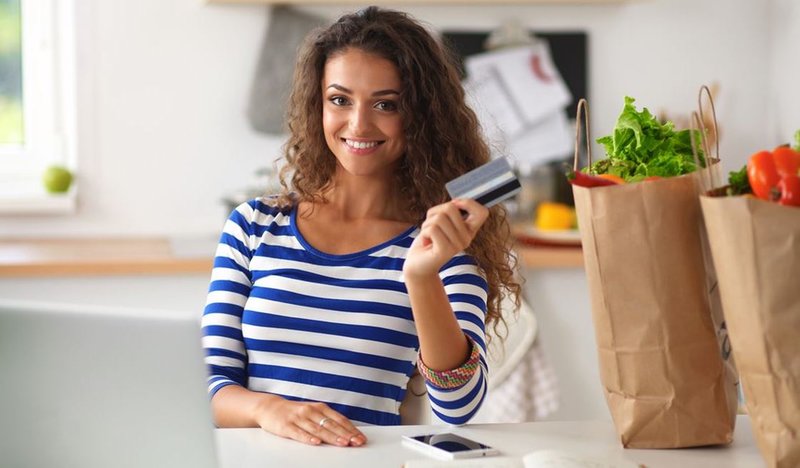 While the demand for online grocery purchasing was accelerating, the global supply chain was slowing to a crawl. If you've ordered online groceries in the past year, you've undoubtedly had to deal with item substitutions or a lack of availability. Turmoil from domestic politics, COVID-19 lockdowns, and geopolitical tensions have resulted in low inventory levels and sparsely stocked shelves, making product substitutions a nightmare for store associates. Add to that, COVID-19 illness and labour shortages, and you can see why grocers need to optimize the efficiency of their employees to boost customer satisfaction.
Orckestra understands that improving efficiency is a pillar of online grocery sales. That's why it has developed a powerful industry leading mobile solution called 'Pick & Pack' which provides in-store fulfillment designed to mitigate human error and empower pickers to assemble orders better and faster. This solution enables mobile devices to receive orders in picking priority, flags late running orders, identifies optimized picking routes for each store, supports multiple order batch picking, generates validation sound alerts for errors, facilitates substitutions and integrates with POS for one-click checkout and automatic price reconciliation. It also provides grocers with essential data that monitors Pick & Pack performance to continuously improve the customer service experience.
As the demand for online grocery grew, Sobeys instinctively recognized the need to modernize its online order fulfillment process to be more efficient while continuing to provide high-level quality and customer service. An internal study showed that with an average picking time of 1 hour per order and an evaluated 25% of orders going out with errors, improving the fulfillment process would be a relatively easy way to grow the online business.
Orckestra teamed up with Sobeys for native integration of its Pick & Pack solution. This integration enabled Sobeys to become one of the most digitally advanced grocery organizations in North America with optimized in-store order fulfillment demonstrating immediate benefits to their ecommerce business. They also saw significant improvement in the efficiency of their pickers.
Even IGA, a North American pioneer and leader in online grocery, was able to optimize its in-store order fulfillment and online commerce experience with Orckestra's cloud-based Mobile Pick & Pack solution. App downloads surpassed expectations by 300%!
Enabling order fulfillment efficiency with customer preferences front & center
Orckestra believes that the real work for grocers starts once the consumer clicks submit on an order as it is imperative for them to deliver a gold standard service in order to retain and grow their business. What better way to make customers feel valued than to give them the authority to choose their online grocery experiences?
Orckestra's solutions provide a holistic customer experience management, providing customers the self-serve capabilities to view their online history, wish lists and open carts, and gives customer service representatives real-time access to help them complete orders.
Additionally, the company's streamlined last mile fulfillment logistics allows customers to start orders online and finish in a preferred store, Click & Collect, schedule home delivery, or even order and deliver to family members. These solutions are designed with keeping the interests of grocers and their customers in mind, ensuring customers have the authority to select options that best suit their needs while providing managers the visibility to monitor every order status in real-time.
Thrifty Foods was looking to modernize their technology and revamp their ecommerce site to improve and personalize the online shopping experience as well as optimize commerce operations on the back-end. Orckestra partnered with their team to implement Orckestra Commerce Cloud, and speed up their time to market. The grocer's customers are now enjoying a seamless shopping journey and on-time delivery, while their in-store staff have the tools they need to optimize picking, manage specialty orders, and offer customers a more personalized service.
Leveraging existing technology for a seamless integration to legacy and back-end systems
"Orckestra understands the complexities associated with tech integrations and so our solutions provide grocers with the flexibility to leverage existing technology enabling seamless integration to legacy and back-end systems without the need for costly re-platforming." said Frank Kouretas, Chief Product Officer at Orckestra.
With the company's native, built-in capabilities in the grocery industry, it provides a future-proof & composable technology stack aimed to solve the commerce and order management challenges facing grocers, allowing them to enhance customer satisfaction while meeting their unique business needs.
Orckestra's tech-forward solutions tailored for the grocery industry provide an opportunity for grocers to open new markets significantly faster at lower cost and drive seamless customer engagements online and in stores with personalized experiences.
Orckestra is the technology partner that can provide you with the building blocks you need to create a healthy and thriving grocery ecosystem.