Where innovation matters to the customer on a consistent basis is where we will lean in hard.
Publix is an employee-owned company in the U.S. with more than 225,000 associates and currently operates 1,284 stores in Florida, Georgia, Alabama, Tennessee, South Carolina, North Carolina and Virginia. For 24 consecutive years, the company has been recognized by Fortune as a great place to work. In addition, Publix's dedication to superior quality and customer service is recognized among the top in the grocery business.

Publix understands quality technology products and services play a crucial role in providing its customers with the shopping experience they expect. Last year, Publix partnered with Instacart to launch the grocer's virtual convenience offering, Publix Quick Picks, enabling its customers to receive rapid delivery (as fast as 30 minutes) from Publix for the first time ever. "Since launching Publix Quick Picks on Instacart, we've seen rapid customer adoption. Our store locations and wide assortment, combined with Instacart Priority Delivery in as fast as 30 minutes, creates a winning solution for our customers," said Publix Vice President Omnichannel & Application Development Erik Katenkamp in a press note last year. "We continue to unlock capabilities to meet the changing needs of our customers, and we look forward to continuing to grow our portfolio of time-saving services — like Publix Quick Picks — to give customers more ways to get what they need from Publix." The company also offers curbside pickup from nearly all stores, as well as alcohol delivery and pickup. Ultra-fast 15-minute deliveries of Publix groceries from nano-sized warehouses will be available in the coming months for online shoppers.
Last year, Publix also deployed GPS technology in-store. GPS software allows shoppers to search for item locations in-app, giving them step-by-step directions to the item's location. This feature cuts down on time spent wandering through aisles and limits interaction with store associates–crucial benefits in light of coronavirus safety concerns. Publix took their tech game even further by implementing in-store kiosks around delis that allow customers to place orders themselves.
"We do a lot more innovation than people see. Most of our aggressive innovation is on the back side, where we know it's going to impact the customer on the front side. You'll never see it physically, other than noticing inventory is in a better position, or store locations are improved with parking lots that are easier to get in and out of." said Todd Jones, CEO of Publix in an interview with Progressive Grocer in 2020.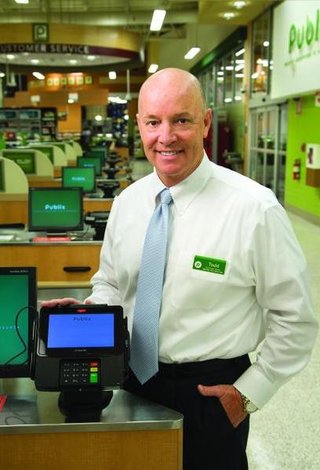 "Where innovation matters to the customer on a consistent basis is where we will lean in hard," says Jones. "There is also a difference between innovation and continuous improvement. We believe the winners for the long haul continuously improve inch by inch every single day on a million things, versus one thing that might work one out of a million times."