The last few years haven't been easy for frontline grocery workers. From supply chain shortages, to pandemic-related adaptations, to the changes in the labor market… it seems grocery frontlines are taking the brunt of every crisis we've faced.
Despite all of this, supermarkets are increasingly innovative and resilient. RIS's Grocery Tech Trends Report shows that more than half of grocers are increasing their YoY tech spend in 2022. In order to maintain a safe, memorable, and engaging customer experience, grocery retailers must look towards the future. And the future is better technology to support an employee-centric and aligned workforce.
It won't be easy. Skilled, reliable workers are key to an aligned workforce - no matter what technology grocers implement. Finding employees to keep shelves stocked and checkout queues moving has proven to be a monumental undertaking for the grocery industry. In fact, 74% of grocers cite the tight labor market as a major obstacle to overcome in the next 18 months.
Grocers have to increase their digital and in-store capabilities in order to keep pace with rapidly changing customer expectations. But slapping upgrades on top of a crumbling workforce infrastructure will surely end in failure. In order to ensure their investments in new technology are worthwhile, grocers need to first lay the proper foundation to enable the employees who bring those technologies to life.
Zipline is the field enablement platform we wished we had when we worked in stores. It quiets the noise and prioritizes the work for field teams. It puts everything in one place and gives employees the context they need to get their jobs done. Zipline gives you the agility you need to have more control over your business. It allows you to pivot quickly, roll out strategic initiatives and ensure your whole company is aligned.
Zipline understands the unique pressures grocers are facing today and ensures that everyone in the field has the information, context, and tools needed to be successful in their particular roles. By aligning the fleet, Zipline enables agility and best-in-class customer experiences at The Fresh Market and Hy-Vee.
The Hy-Vee team made the decision to partner with Zipline in March 2020. Days later, non-essential retail businesses began closing, and essential businesses were flooded with customers looking to stock up on supplies. Essential workers were on the front line of the pandemic and Hy-Vee realized that Covid-19 was accelerating their need for a store communications platform.
"We needed a really fast launch," said Jessica Ringena, Hy-Vee's SVP and Chief Revenue Officer. "Everything was changing so quickly as the pandemic developed, and no part of our business was going to be untouched. Our employees are the heart and soul of our company and we want them to know that we support them and are looking out for them, both during the pandemic and beyond. We asked Zipline to support us by helping us to launch in two weeks. Other vendors would've told us they need more time but Zipline rolled with it and really pushed to meet our deadline."
Ultimately, Hy-Vee's use of the communications solution Zipline "came about because I realized that as a retail grocer, we weren't structured well to be able to speak to our people," says Randy Edeker, Chairman and CEO of Hy-Vee. "...Zipline was just a program that we went out to find because we realized we're not able to speak to our people in a way that we should be able to speak to our people on a daily basis. I also learned right away that video was better than voice, that if they could see me say it, our people liked it a lot better than just hearing me say it. So, in the initial days, I was leaving voice messages that were 10, 15, 20 minutes long each night, telling everybody that we're going to be OK. And then I evolved to video on my cell phone. … And then Zipline came along as a way that we could easily get it to everyone instantly."
They rolled out Zipline to its more than 85,000 employees to help. Read more from Progressive Grocer about Zipline's role in the grocery brand's future.
As for Zipline's effect on his ability to share information with employees, Edeker, who's been CEO for 10 years, wishes, "I would have had it year one. We would be such a better company if we had because I could just tell everybody every week what's really going on. … For the most part, we are such a better company because of how we communicate today."
That's where Zipline comes in.
Grocery brands that are powered by Zipline are in good company.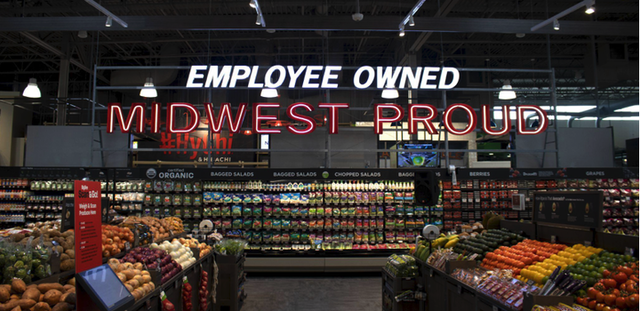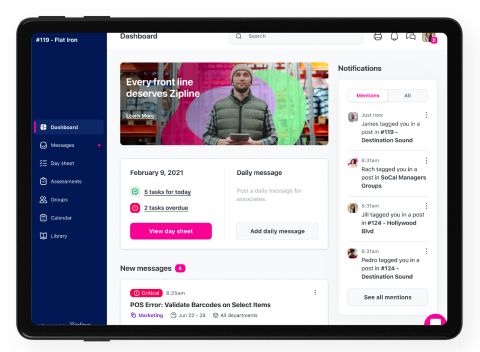 How Hy-Vee Used Zipline to Engage Employees and Deliver Personalized Communication to the Field
Hy-Vee, Inc. is an employee-owned grocery chain that operates more than 280 stores in 8 Midwestern states. Not only is Hy-Vee an exceptional grocery experience, but the brand also continues to push the boundaries of the traditional grocery store concept. At a new Hy-Vee store In Grimes, IA, you'll find much more than just groceries. With salad vending machines, a walk-in wine cellar, a full-service nail bar (and a WHOLE lot more), this store is setting a new template for what the supermarket experience can be.
‍How The Fresh Market Tripled Store Execution With Zipline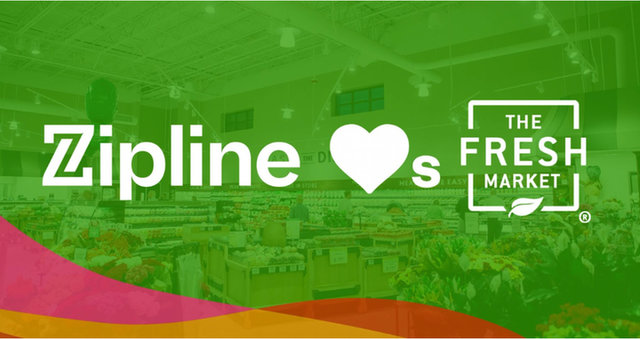 After the founders of The Fresh Market returned from a trip to Europe, they were inspired to bring the warmth, soul, and charm of open European food markets to Greensboro, North Carolina. The Fresh Market was 1982's boutique food shopping experience amid warehouse-style supermarket popularity. Today, with 159 locations in 22 states, The Fresh Market still provides an intimate and personalized shopping experience unique to their class. In fact, The Fresh Market was the winner of last year's USA Today's leaderboard as the "Best Supermarket in America" for 2021!
At the end of 2020, the company's management team looked at their technology and processes and realized they were ill-equipped to engage their 11,000 field employees. Email was simply not cutting it. So, at the end of 2020, The Fresh Market began searching for a modern solution to streamline communications between Store Support and the Field and standardize the way communications, projects, and tasks are rolled out to store teams, providing them with a one-stop-shop for the tools they needed to get their jobs done.
With Zipline, the grocery brand has streamlined all communication and task force management efforts through one source for Field Leaders and created one centralized dashboard to allow Store Support and Field Leaders enhanced visibility into monitoring the completion of essential tasks.
By transitioning away from desktop or paper communications to a completely mobile environment, The Fresh Market allows store teams more time on the sales floor to deliver impeccable guest experiences. They now see increased Team Member engagement around company initiatives, announcements, and events.
Now, with Zipline, The Fresh Market engages its 5,000-plus team members, enabling communications to flow from HQ to stores, creating less friction for store operations, and driving better experiences for shoppers.
Read more about how The Fresh Market deployed Zipline to streamline communications via The Progressive Grocer.


With Zipline, every employee understands what their brand stands for and what their role is in ensuring its success. Our platform solves for store execution (getting things done), employee engagement (keeping your teams aligned), and actionable feedback loops (so you know what's working… and what's not).
On top of this, we understand the complexities of retail and have mastered the hierarchies that make up these organizations. This is how we ensure that the right information is sent to the right person, every time.


And, Zipline is a true one-stop-shop for store teams. With an open-API and pre-built integrations with the leading systems field teams rely on every day to get their work done - like Dayforce, Adobe, Docebo, Medallia, and more - Zipline is a one-stop shop for frontline teams. Integrating multiple systems into a single platform doesn't just save employee time, it also synthesizes data from multiple tools into holistic, actionable insights that helps drive the business forward.
Because our leading comms philosophy is at the heart of everything we do, our customers see over 90% adoption, which translates to better business results. It's how Hy-Vee's CEO communicated his appreciation to front-line associates during the pandemic, and it's how The Fresh Market has tripled store execution.
Are you ready to join the future of retail? Align your entire fleet, ensuring that your powerful brand values can be reflected at every level of their organization. Put the "super" in your supermarket and see how Zipline can retool your grocery today.
Zipline: How Best-in-Class Grocery Brands Enable the Field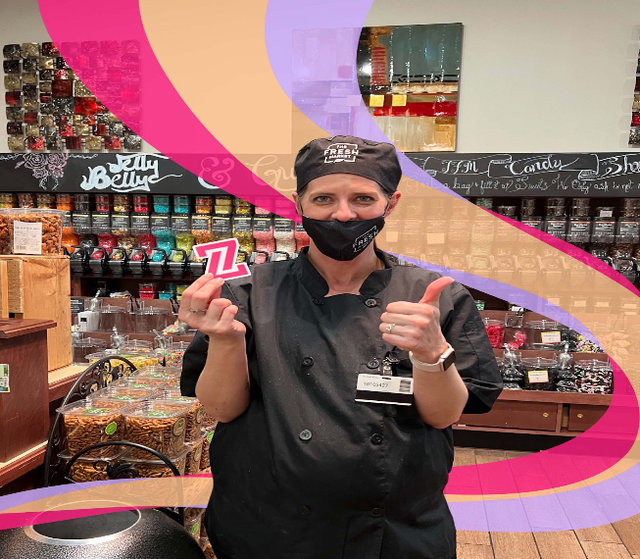 Alexander Levashov is a Managing Director of Magenable. He has an undergraduate degree in IT/business and MBA from Melbourne Business School. Alex has over 20 years of experience in digital and finance, delivering solutions to such organizations as USAID, Bendigo and Adelaide bank, ACMA prior to founding Magenable.