Walmart sells more groceries in the United States than any other retailer. According to a new 2022 report from Chicago-based Numerator, Walmart commands 18% of the grocery market share in the United States. Each week, approximately 220 million customers and members visit approximately 10,500 stores and clubs under 48 banners in 24 countries and eCommerce websites. With fiscal year 2021 revenue of $559 billion, Walmart employs 2.2 million associates worldwide.
In order to enable faster delivery, Walmart is making notable investments in the middle mile and supply chain network with automation in our broader supply chain. Walmart offers Grocery Pickup service and same-day grocery delivery in most of its store locations. It also offers additional omni-grocery services such as Express Delivery via DoorDash, Instacart delivery, and curbside pharmacy pickup. According to Walmart, the number of customers using grocery delivery has increased six-fold compared with pre-pandemic time.
Walmart is expanding its push to deliver groceries straight into customers' kitchen fridges, even when they aren't home. Walmart is targeting wealthier, time-strapped customers who are willing to pay a subscription — and are comfortable with a stranger entering their kitchen — to avoid going to the store or sitting at home waiting for their order to arrive. Here's how InHome works: Customers who subscribe order groceries online and select InHome as their delivery option. Walmart's employees wear a camera when they enter customers' homes, allowing shoppers to watch the process live from their phones.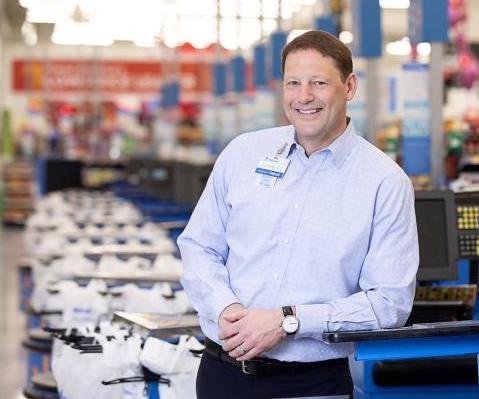 Charles Redfield, Chief Merchandising Officer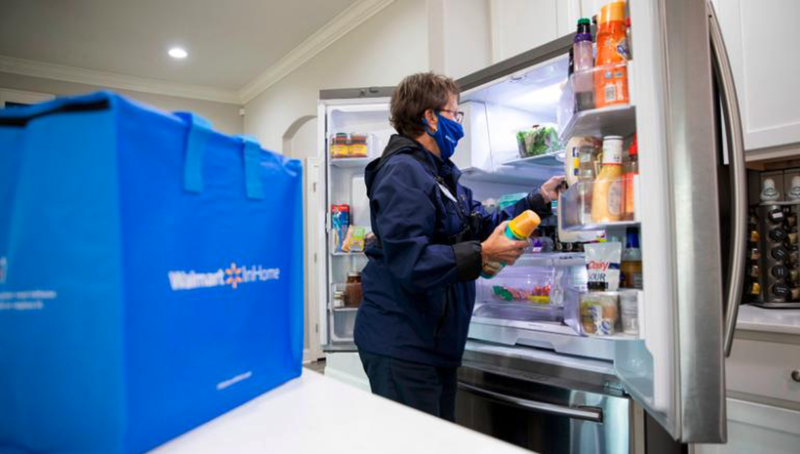 Last year, Walmart joined hands with Meredith Corporation (NYSE: MDP), the leading multi-platform media company reaching nearly 95% of women in the U.S., to help millions of busy families plan and prepare meals faster and more easily through AI-powered meal planning, shoppable recipes, visual search, chatbots, and more. The partnership pairs Meredith's expertise in food content, hyper-local consumer insights and proprietary technology platform with Walmart's wide customer reach, omnichannel presence, deep product assortment, convenient shopping experience and delivery options. This is the latest strategic addition to Walmart's thriving grocery eCommerce business. Through these new shoppable ad experiences, customers can meal plan and add recipe ingredients directly to their Walmart online grocery cart for convenient pickup or delivery. The innovative combination of inspiring content and commerce takes the guesswork out of meal planning for busy families, making it easier and faster to discover, plan, prepare and enjoy delicious meals together.
Walmart is constantly innovating across its stores, supply chain and customer experience to ensure it exceeds shopper expectations. Walmart is now repositioning as a destination where customers will want to spend their time. With a focus on digitally enabled shopping experience, the store aims to create an elevated experience that appeals to shoppers through a sleek design aesthetic, a layout that spotlights products, and end-to-end digital navigation that guides customers throughout their journeys. Stores also have self-checkout kiosks as well as contactless payment solutions, including Walmart Pay. Select locations also feature Scan & Go to help customers manage checkout directly. "In January, we unveiled the next phase for our signature experience, which we call 'Time Well Spent.' It focuses on making Walmart a destination where customers want to spend their time." said Walmart Chief Merchandising Officer Charles Redfield in an interview with Progressive Grocer.
Walmart has also made significant investments in omnichannel innovation, many of which allowed the retailer to leverage technology, talent and product assortment in stores and on walmart.com.