Across the Kroger Companies' family of companies that includes Kroger, Ralphs, Dillons, Smith's, King Soopers, Fry's, QFC, City Market, Owen's, Jay C, Pay Less, Baker's, Gerbes, Harris Teeter, Pick 'n Save, Metro Market, Mariano's, Fred Meyer, Food 4 Less, and Foods Co, nearly half a million associates serve over nine million customers daily through a seamless digital shopping experience and 2,800 retail food stores. The Kroger Co. (NYSE: KR) is dedicated to its Purpose: to Feed the Human We are.
Kroger is continuing its rapid advancement of online grocery options, announcing that it is expanding its fulfillment network to three new cities this year (Austin and San Antonio, Texas, and Birmingham, Alabama). Currently the Florida fulfillment center handles e-commerce grocery supporting grocery delivery in several geographies, including Orlando, Tampa, and Jacksonville. The Ocado Group (LSE: OCDO) powers the technology within the fulfillment centers.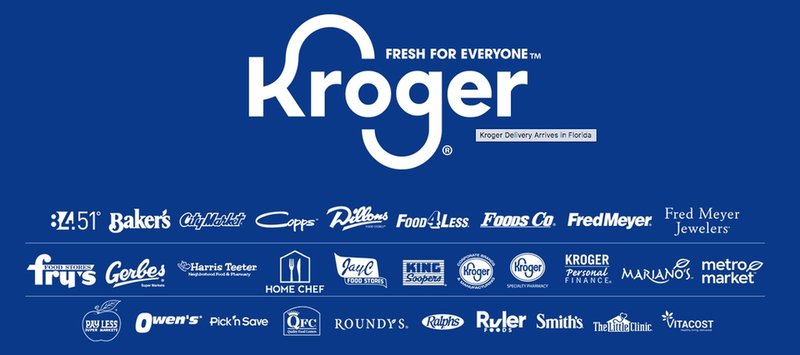 Earlier this year, Kroger announced it is taking digital delivery business into its own hands. The announcement marks a shift in Kroger's delivery strategy, which until now has primarily relied on Instacart to power its eCommerce delivery business. Certainly, there are advantages for the grocer to bringing delivery in-house, such as owning the transaction and retaining the full share of the profit, among others.
After placing an order via Kroger.com or the Kroger app, customers in regions where a CFC is located have groceries delivered by a knowledgeable Kroger Delivery associate in a temperature-controlled van. The associate delivers industry-leading customer service, including ensuring order freshness and satisfaction, managing order changes, and informing customers of loyalty membership benefits like earned fuel points through a partnership with Shell® and digital coupon savings.
Kroger Delivery Customer Experience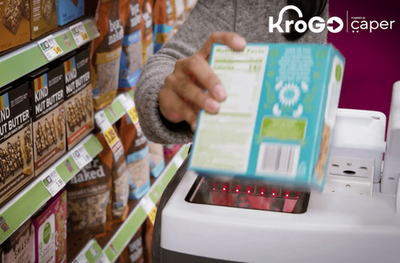 As part of Kroger's commitment to provide a differentiated and affordable grocery delivery experience for customers, Kroger Delivery offers variable delivery fees that do not require customers to provide a tip and are influenced by a number of factors like a customer's loyalty, delivery window popularity, route optimization, and order lead time. Variable delivery fees will allow Kroger Delivery to provide additional discounted options where it has the flexibility, creating a personalized offering and delivering value to customers in ways that matter.
Last year Kroger rolled out new "KroGO" shopping carts powered by Caper. Customers can swipe their reward cards, weigh produce right at the cart, scan the bar codes on items as shoppers plunk them off the shelves, and even put things back and remove them from the tab. The cart gives shoppers a running subtotal of purchases as items are added, helping people stay on budget. Once clients are done shopping, they can scan debit or credit cards and walk out without standing in line. With the carts' ability to display buying suggestions in real time based on shoppers' behavior, shoppers buy more than the average during their shopping trips.