Cross-Channel Visual Merchandising Ideas to Make the Register Ring for Retailers this Holiday Season
With the competitive holiday season approaching, retailers should be thinking about how to best connect and engage with their customers. Whether you run a shop with multiple in-person locations, or a boutique "main street" store, you'll likely see increased foot traffic at your retail location within the next few months.
The good news is, you have some help! With "Shop Local" initiatives and "Small Business Saturday" supported by big brand names – from product companies to credit card companies – customers are encouraged to shop in-person in their local towns or cities to support commerce in their communities.
To take best advantage of the traffic you are getting you need to ensure that you are engaging your customers with your visual merchandising to convert increased consumer footfall into an elevated revenue windfall this holiday season. Smart retailers have long used this strategy to let their products and in-store experience help with some of the heavy lifting when it comes to sales - which is particularly pertinent to small retailers who often have a smaller footprint and less in-store help. And what better sound to signal the holidays than your register ringing!
While customer engagement should be a top priority throughout the year, it's especially critical to driving sales during the holidays. Companies thrive when customer experience is central to their business model. Research by Deloitte shows that businesses that prioritize their customers - whether their in-store experience, online journey, or support - are 60% more profitable. Take advantage of the seasonal shopping spike as an opportunity to engage with your customers, to not only drive sales this holiday, but to build momentum and a more intimate relationship with your customers, ultimately driving sales throughout the year. Visual merchandising, done right, just might be your key to unlocking big revenue for your small retail business.
Ecommerce may have evolved into the preferred channel for most shoppers, but if you are a multi-channel retailer (online and physical store) don't underestimate the critical role your brick-and-mortar can play in your retail strategy. Last year, the number of in-person holiday shoppers over Thanksgiving weekend went up by 17% from 2021. Retailers need to be prepared with a cross-channel marketing strategy that thoughtfully considers all aspects of the customer journey - how they are using both online and offline shops to engage with their brand as much as their products. Thinking about all touchpoints in a customer journey across channels allows you to create a seamless and consistent experience from discovery to point of sale for new and repeat customers, alike.
With so many characteristics and variables unique to ecommerce and in-store shopping, what opportunities are there to create consistency from start to finish? How does that foster a greater sense of emotional connection with customers and impact retention and growth?
"It's near-impossible for retail stores to survive without a thoughtful merchandising strategy that attracts customers' attention and compels them to make"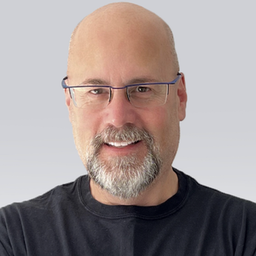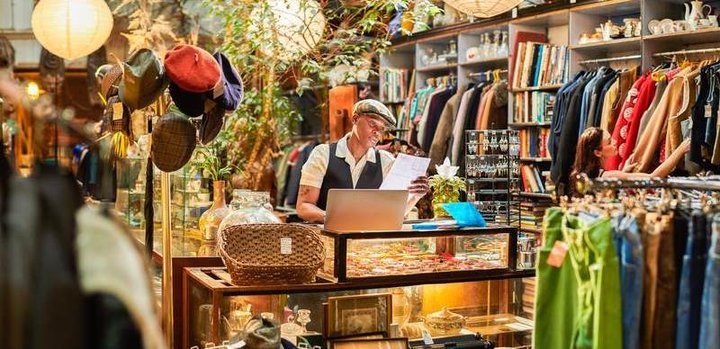 It's About the Journey as Much as the Destination: Bridging the In-Store and Online Customer Experience
The first assumption may be to invest more dollars in a brand strategy and more innovative technology to build the infrastructure to support a customized digital experience. Big box retailers are certainly already investing heavily here. For example, more online shops have introduced the digital dressing room to conveniently "try-on" items from their computers or smartphones. You may be thinking about a pair of sunglasses, so now all you need is your digital camera to try them on from the comfort of your living room. You also see this more often with home furnishing retailers – you can now scan a picture of your living room to see how a new rug would look, for example.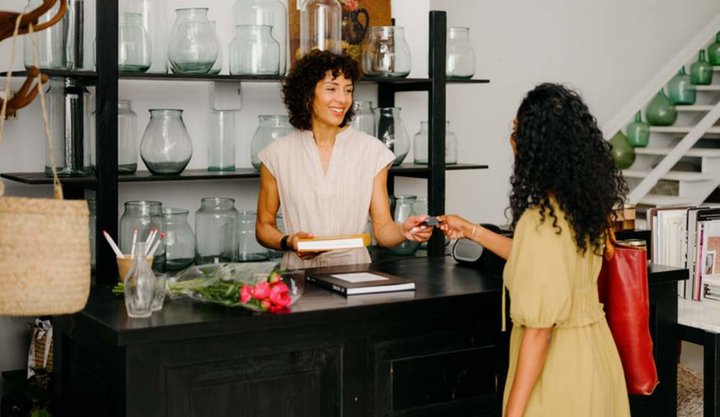 Embracing visual merchandising can act as an equalizer. Regardless of how expendable your budget may be, there's a lot that retailers – both big and small – can do with visual merchandising in the immediate term without breaking the bank:
Let your customer be your guide. Invite your best repeat customers for an early walk through of your shop before the holiday sales commence. They get early access and you get candid, trusted feedback on how effective your visual merchandising is working - and from the people who spend the most time and money in your store. This also fosters stronger engagement and can trigger even more word of mouth promotion. You cannot discount that feel of being an insider, so this is a win-win.


Build the (QR) bridge. Introduce QR codes throughout your store on popular items to connect your in-store shoppers to your online platform and inventory. This not only creates a connected experience in real time, but lets customers scan for an item that might be out of stock in the store but available online. It can also help give customers more detailed product information, suggested items and prompts for opt-in promotions or emails. Your online store and in-person shop should tell the same brand story, but have the ability to do so in different ways. Giving customers the opportunity to experience both in real-time strengthens the brand connection. It also allows for customers to scan and send product details, making the experience more shareable. And during the holiday season, sharing gift ideas within a customer's network increases the likelihood for a deeper and broader relationship - shortening the distance from discovery to sale.


Keep the register(y) ringing. Gift registries are also popular for the holiday season and can be set up easily using off-the-shelf tech. If customers see something they like in the shop, they can add it to their "holiday wish list" online and have it sent out as an e-blast to those they'd like to send it to. You can also offer online promotions that you can use in-store and vice versa, triggering more cross-channel engagement.
These are just a few ways to foster stronger customer engagement,optimize the customer journey and strengthen brand connection by creating a cohesive in-store and online shopping experience through visual and virtual merchandising. Investing in customer intimacy and understanding what your customer wants or appreciates most about your business doesn't need to break the bank. And it's critical to set up a sustainable strategy to engage with them throughout the year – and put that program in place before the holiday season arrives. By implementing a visual merchandising strategy that connects your customer journey beyond the brick-and-mortar, you'll be sure to hear the register ringing to the joyful tune of happy holiday shoppers this season.