The past few years have seen massive growth in digital customer engagement. From messaging to social media, the average shopper has shifted more and more of their interactions with retail brands to digital. In fact, a whopping 85% of consumers say they want to message with brands on the same channels they use to message family and friends.
So in this ever more digital age, is the traditional phone call with a human agent a thing of the past? Not quite. Research shows that what consumers really want is connected experiences that give them options. As the holidays approach, it's more critical than ever that retail brands not only meet their customers where they are, but also make sure they're connecting those experiences so customers can be sure they're not losing progress or context as they reach out to you from where it's most convenient for them.
Providing options is no longer optional
First things first: the overwhelming majority of consumers want to be able to choose between calling and messaging. This means that the average shopper thinks having different options for reaching your brand is non-negotiable.
You might be saying "Show me the proof!" As it turns out, a survey of 2,500 consumers shows that 91% prefer brands that offer them the choice to call or message, meaning brands that provide this flexibility have a significant opportunity to improve their bottom line.
But that's not the whole story. If you dig into the data, it turns out that your customers have different preferences depending on what they're doing throughout the day. Let's look at a few different scenarios:
When commuting on public transportation, 80% of consumers prefer to message
During work hours, it's similar: 75% prefer to message
The gap shrinks for lunch breaks, when 63% prefer to message
When commuting in a car, however, 69% prefer to call
At home, consumers are split: 53% prefer to call and 47% prefer to message
These different situations show that the very same customers who want to be able to call you from their car also want to be able to message you when they're on their lunch breaks. If you can't keep up with their busy lives, you may be missing out on opportunities to provide them with the best possible retail experiences.
The #1 thing brands can do to make consumer experiences better
Here's another thing we can learn from consumer research: your customers want to be sure that if they call in after having a messaging conversation, they're not going to have to start from scratch and reshare their contact information, reason for calling, and other details. The same holds true for messaging after an initial phone conversation.
It might sound surprising in this day and age, but 84% of consumers say they have to repeat themselves "often" or "all the time." And on top of that, almost half say they "hate it" and it makes them want to "take their business elsewhere."
In fact, this kind of repetition is your customers' absolute biggest pet peeve. When it comes to interacting with voice or messaging bots, 65% of consumers say the #1 thing brands can do to make their experiences better is to prevent them from having to repeat themselves. Clearly, this source of frustration has persisted well into the digital age, and retail brands that aim to limit or prevent this will come out on top.
The average shopper thinks having different options for reaching your brand is non-negotiable. 91% of consumers prefer brands that offer them the choice to call or message.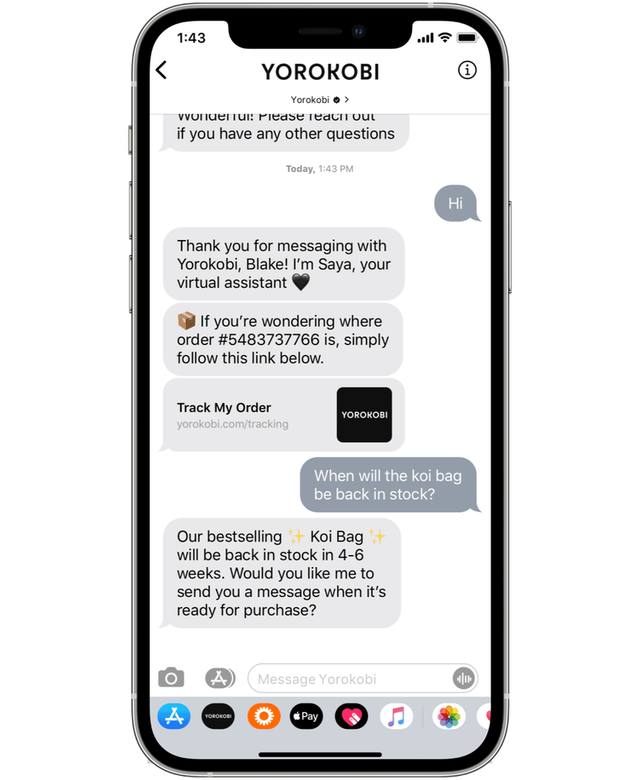 Making it on the "nice list" with more connected experiences
So what's a retailer to do? The answer seems to keep coming down to the word connection. Connection is about making links between your past interactions with a customer and your new interactions with them. It's about connecting what your bot agents and your human agents have learned about them and heard from them. And it's about connecting what they've said on the phone to what they've messaged, emailed, or texted you.


Here are the facts: consumers say they're more likely to do business with a brand when
88%: the brand can connect the history of their interactions
82%: automated experiences take what the brand already knows about them and can connect it to their current situation
87%: the brand can connect their interactions across voice and messaging
With apologies to Santa, when it comes to being named to a customer's naughty or nice list, brands that provide connected customer engagement will have the edge over their competition this holiday season.
Hold the phone! Consumers have made it clear: they want retail brands to connect voice and messaging
By Nirali Amin, VP- Enterprise Solutions, LivePerson


Nirali Amin is Vice President, Enterprise Solutions at LivePerson, a global leader in customer engagement solutions. She helps brands deploy and optimize experiences on consumers' preferred channels so they can hold conversations with millions of their customers as personally as they would with one.