Picture this: It's the 90s and you've got on your favorite graphic tee and are driving to the mall to do some holiday shopping and buy the latest CD for your Discman. Once you've finished your shopping at Sam Goody, you aimlessly walk around, pop into stores, and chat with the employees as you throw items over your arm for the dressing room. Almost all your shopping and socializing is done at the mall, and your allowance is spent here nearly every weekend.
Fast forward to 2020 and the COVID-19 pandemic has temporarily closed almost all in-person retail, and an accelerated wave of digital-native stores are popping up. They're setting the stage for the future world of commerce which will be built online, not in store. Your allowance has turned into a salary and is spent via Shopify-powered shopping carts on ecommerce websites inside Google Chrome, while your store browsing consists of Instagram photos, social shares, and online ads.
Today, especially during a stressful time like holiday shopping, customers expect fast, painless, and easy digital experiences whenever they interact with a brand—whether it's through the online store, social media, or customer service. Now, in the midst of 2022, this reality is even more extreme, with 45% of shoppers buying more directly on websites than ever before. Yet Gladly's 2022 Customer Expectations Report found that businesses are losing $75 billion a year in revenue due to inadequate customer service alone.
With the barriers to start a new brand being lower than ever, today's e-commerce world is both diluted and noisy, creating endless options for consumers, shortening their attention spans and customer-support fuses. So how can companies take advantage of the busy holiday season and use these touchpoints as an opportunity to differentiate themselves from competitors and meet customer needs at the same time?
Below are 4 mind shifts to help your brand stand out in the crowd during the busiest months in retail in this digital-first era of commerce.
Make the Customer the Center of Gravity Year-Round
Unfortunately, we have all undergone a long and painful customer service experience at some point in our lives and the fact is, returns rise during the holidays. Whether making a return or chatting to a help bot to learn more about a company's exchange policy, bad customer service experiences have become a common occurrence that we've started to expect and accept. Customer service has such a bad reputation that 58% of shoppers said they would rather stand in line at the DMV than jump through hoops to get help from a live agent. Brands that have identified this pain point have been able to repair this reputation by making the customer the center of gravity.
In order to center customer service around the customer journey, brands must provide their service agents with a way to easily and quickly understand the individual journey of each customer. Though almost every company thinks with a customer-first approach, their technology partners rarely support them in this. They might be customer-first at their core but if they're still using old-school methods for support like separate tickets for each channel (voice, email, chat, SMS, social), they're saying one thing to the consumer but treating them like an outsider when it comes to how they're helped. Nobody likes repeating themselves! Customer service agents need to be able to access all relevant information on who the customer is (their past purchases, etc.) and their customer service conversation history in one place (independent of channel) in order to make fast individualized recommendations that leave a lasting, positive impression with the customer.
Be Channel Independent
Today, 57% of consumers want to be able to easily transition from a chatbot to a live customer service agent, leading brands to use an omnichannel approach to customer service. The term omnichannel was well-intentioned, but unfortunately it's now code for "bolted together". Historically, the CX systems brands used tended to have various channels bolted together—a one system per channel type approach—because new channels become available over time. First voice, then email, then SMS, then chat, then all the separate social channels. Bolting all these together creates a type of "franken-monster" that leaves disgruntled customers and distressed service agents in its wake.
But more tools does not necessarily mean more functionality—in fact, it usually means more work. Service agents spend the critical first minutes of a support interaction flipping between channels looking for info and context before they can even address a customer question. This creates stress and chaos on their end and impatience and irritation on the other with customers.
The problem with the omnichannel approach is that it creates a new service ticket for every interaction—something that takes away from the human experience of shopping. Shoppers (73%) found the idea of being treated like a person rather than a ticket number appealing, telling us that customers still look for the human element of shopping even if they're doing it from the comfort of their own homes, interacting with a self-service bot, or on the phone with an operator. When brands rely on case numbers, customers often have to repeat their issue to each and every agent because information is hidden in different tickets from different channels, taking time away from solving the problem and causing frustration for the customer.
In today's world, where 42% of shoppers say they would stop buying from a brand altogether after just two bad service experiences, channel independence is crucial. Just as Frankenstein's inability to love was his ultimate downfall, an omnichannel approach to customer service without a centralized view of the customer journey will inevitably cause customer frustration and risk violating the two-strike rule.
Just as Frankenstein's inability to love was his ultimate downfall, an omnichannel approach to customer service without a centralized view of the customer journey will inevitably cause customer frustration and risk violating the two-strike rule.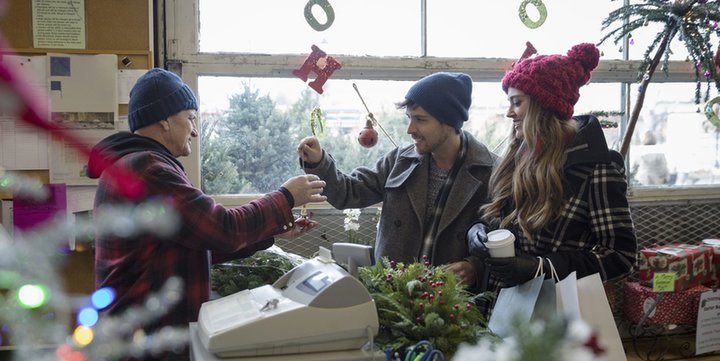 Improving the Customer Experience with Personalization and Self-Service
By now, self-service has become the norm for customers interacting with companies. In fact, research from Gladly's 2022 Customer Expectations Report shows that when shopping online, 76% of customers prefer to help themselves. Especially during this hectic time of year, this is welcomed news for businesses feeling the weight of repeated, common inquiries clogging up time better spent on more valuable conversations. But there is a gap between customer expectations and reality when it comes to the self-service experience.
A great self-service experience treats customers like people, not orders. Brands should recognize customers and make them feel known by leveraging everything they already know about them. Offer a personal self-service experience based on each customer's identity, automatically gathering relevant customer information. Furthermore, great self-service is personalized to the individual and builds a deeper connection to the brand. Customers are happier when they choose their experience with companies. But giving customers more control happens differently before, during, and after the buying experience—and each is key to building loyalty.
Although self-service is more than just an FAQ page, information should be easy to access and consume—not hidden in a dark corner of a website. When customers do need more, the self-service experience should begin with the context of who the customer is and understand their unique history. Self-service options should reflect their relationship with the brand in the curated options presented, instead of a long list of options.
If customers need more help, the transition between self-serve and live conversations must be seamless. Treat self-service like any other channel. It's part of the lifelong conversation the customer has with a brand.
After self-service, brands should identify potential adjacent issues. If a customer changes their order, verifying the action with a receipt via SMS or email makes it feel certain. Channels like phone or chat might feel ephemeral the moment someone hangs up or closes the window.
Confidence is contagious—and the best way to make your customers feel confident in their relationship with a Brand is to offer relevant, easy-to-use self-service supported by real people when necessary.
Partnering to Power Through
With 72% of shoppers willing to spend more with a brand that provides a great customer experience, it's clear customer experience is a competitive advantage. But it isn't easy. It's difficult for companies to break away from old habits. Changing the way you handle tickets, cases, and workflows to truly make service your business requires a mindset shift.
The best mountain climbers know that the hardest part of the journey isn't reaching the top, it's coming back down safely. Changing software is really just the beginning. While any software can inform process changes, no software by itself can change old habits. It requires expertise to help other teams adopt a new, better way of working—and make it stick. What's required is a shift from a transactional to a loyalty-driven perspective—and align everyone towards the future state of a whole company customer loyalty mindset.
The ecommerce world has seen a Cambrian explosion over the past few years, and expectations, technologies, and strategies are changing faster than many can keep up. But one thing will always stay the same—customer support will continue to be the most important and often the first direct touchpoint between brands and their customers. Investing in the right customer support technology not only saves your business in the long run—more revenue, streamlined processes, happier and more empowered support centers—but also keeps customers coming back beyond just the holiday season. The proof is in the data. A personalized customer experience is truly the best way for retail businesses to thrive in economic uncertainty with an army of utmost loyal customers.
Optimizing the Customer-First World of Commerce This Holiday Season
By: Jason Finkelstein, Chief Marketing Officer, Gladly


Jason Finkelstein is CMO at Gladly, a customer service platform helping the world's most loved brands deliver loyalty through radically personal customer service. Jason is a 5-time CMO with experience at high-growth startups, private and public SaaS businesses including AdRoll, Traitify (acquired by Paradox), AVG Technologies (acquired by Avast) and Location Labs (acquired by AVG). He is also a co-founder of Numa and serves as a GTM advisor for several B2B SaaS businesses.