If there's one aspect of modern living where humans have consistently high expectations, it's retail. With soaring demand and questions about supply-chain stability, how are retailers supposed to keep delivering over the peak season?
Below are some tangible things you can begin doing today to get your retail supply chain in fighting shape for the holiday season. Deloitte predicts a 4% to 6% rise in holiday-season spending in 2022, for a new total of $1.47 trillion spent between November and January. Here is how to ensure you get your rightful share of consumer dollars.
Help Customers Avoid Crowds at Retail Locations
A substantial number of consumers prefer home delivery when it comes to making purchases — and eCommerce sales volume may overtake retail sales in the coming years. Retailers can help customers get the best possible experience when they visit a brick-and-mortar establishment. Here are practical steps to take:
Eliminate checkout lines with buy-online, pickup-in-store options and curbside pickup.
Provide faster home-delivery options so customers don't feel obligated to shop in-store.
Allow customers to return items purchased online or in-store and provide an expedited process for these reverse logistics.
Adopt contactless payment options to facilitate speedy checkouts.
This isn't just for the benefit of your clientele — it's also for your own sanity. Every effort to streamline the customer experience puts money back in your pocket.
Compare Inventory Against Past Peaks
It's even more critical to ensure your inventory can keep up with demand during peak season. Expect customers to be even more impatient and ready to spend elsewhere if they can't get what they need or are promised something's in stock when it really isn't.
Prepare your inventory for peak season as early as possible by analyzing past data to get an idea of what you can expect. For this, you need demand-planning software and you're practically spoiled for choices in 2022. Any top picks will perform historical and predictive analysis that would take ages to complete by hand.
SKU stow locations are just one example of how demand planning can impact the retail supply chain and your peak-season strategy. Instead of duplicating your entire inventory across multiple warehouse locations, use observation or software assistance to spot trends. These trends will inform where you stow different inventory items to correspond to location-based demand and provide the most efficient order fulfillment.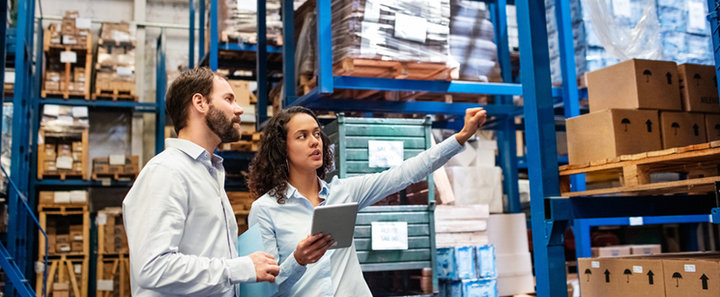 Work to Diversify Your Supply Chain
Whether you're mainly anticipating brick-and-mortar sales, online sales or a mix, you don't want customers to come up empty-handed when they're ready to spend. Not every variable is under your control — especially where suppliers are concerned. But you do have some options for hardening your retail supply chain against the unexpected.
There are significant benefits associated with diversifying your supplier partners. Above all, diversification grants you flexibility during demanding times, like peak-season holiday shopping rushes. One supplier may have the most competitive lead times, while another offers the best prices.
Diversification means you can make judgment calls to prioritize competitive pricing or guaranteed order fulfillment at peak demand. More options also protect you against unforeseen events, such as global pandemics, regional labor disputes and other disruptive influences.
Use Competitive Tactics to Lessen the Logistics Load
Many say the holiday shopping season officially begins in October now, with Prime Day moving from its previous placement in July. Major retailers have answered by moving their biggest promotions of the calendar year.
Why follow the pack? People will be glued to major retailers' websites during peak shopping seasons. You also understand that if you wait until the most obvious shopping weeks to court all your peak-season shoppers, your warehouses and supply chain will scramble with the volume.
Instead, find competitive ways to stagger your peak-season promotions with those of your competitors — or pre-empt them with even earlier campaigns and sales. You'll peel away some of the customers who would've swamped you during the holiday shopping rush, spread out the load on your warehouses and fleets across more of the year and capture customers before other retailers.
Is Your Retail Supply Chain Ready?
The peak season is make-or-break time for retail supply chains and it's going to put yours to the test. The above suggestions are just a start, but they'll help you get a jump on things and think strategically about how to be flexible, clever and competitive throughout the holiday-shopping frenzy.
How to Prepare Your Retail Supply Chain for Peak Season
By Megan Vitanza, Digital Content Consultant at WebFX

Megan Vitanza is a Digital Content Consultant for WebFX. She specializes in off-page SEO and conversion rate optimization and has over six years of experience working with clients in the supply chain and industrial sectors. She enjoys learning more about these subjects and sharing that knowledge with others. When Megan isn't writing new content and optimizing websites, you'll find her constructing a new Lego set, stargazing or rereading Harry Potter for the millionth time.