Covid-19 catapulted online grocery from roughly $500 million to over $3 billion in monthly profits. However, the pandemic also contributed to its recent downturn, as public health restrictions gradually lifted and shoppers returned to physical stores. Coupled with soaring inflation, consumers are rethinking how they grocery shop – resulting in online grocery profits dropping 26% from 2020 highs.
On the bright side, inflation is slowly simmering down from 9.1% in June to 8.2% in September. Additionally, millions of families will soon begin preparing for the holiday hosting season, where households spent an average of $448 on Thanksgiving alone last year. The festive shopping blitz presents an opportunity for online grocery to mount a comeback – but they must start by analyzing consumer trends and preferences, and employing smarter customer experience (CX) strategies that align with them.
Shoppers Are Extra Price-Sensitive this Year
Our recent Retail Benchmarks Report quantifies online shopping shifts amid high inflation, underscoring new concerns and sensitivities related to price. In fact, most Americans (53%) are opting for store-brand alternatives to their preferred brands in response to cost increases, creating new opportunities for grocers to promote and drive sales around these more affordable options.
As grocers know, store-brands are far more profitable than name-brands, and online stores should do what they can to promote them. Grocery platforms can optimize their "shop similar" menus to suggest items on promotion, overstocked items that need to be moved, or brands at a better value (i.e. lower cost per ounce). By paying attention to heightened price sensitivities, online grocery can better align itself with consumer trends, and in turn drive purchases and revenue.
Holiday Pre-Planning will Outshine Impulse Buying
According to our report, half of Americans will also pre-plan their holiday shopping to maximize their budget and curb impulse purchases. To align, online grocers should implement an optimal pre-order process, allowing customers to order their Thanksgiving or holiday feasts in advance. Even incorporating an "early bird" discount for pre-orders can also help bolster holiday profits.
In addition to planning purchases in advance, shoppers are also pre-planning how they'll pay for them through BNPL (Buy Now Pay Later) services and their accumulated reward points. More than half (54%) have built-up their credit card rewards war chest to spend during the holidays, and 39% are actively seeking credit cards that emphasize holiday rewards. Grocers should ensure their digital platforms are well-equipped to effectively process and accommodate the expected uptick in reward redemptions, in addition to broadening their payments offerings to accept BNPL services, which 39% of Americans are using this year. Also, brands who have their own rewards cards or loyalty programs should look to promote them throughout the fall and ensure customers can easily cash-in on what they've accumulated. As consumers pre-plan their holiday spending this year, grocers can align with new promotions and purchase options that entice customers to shop early.
Grocers should ensure their digital platforms can process and accommodate the expected uptick in reward redemptions, in addition to broadening their payments offerings to accept BNPL services.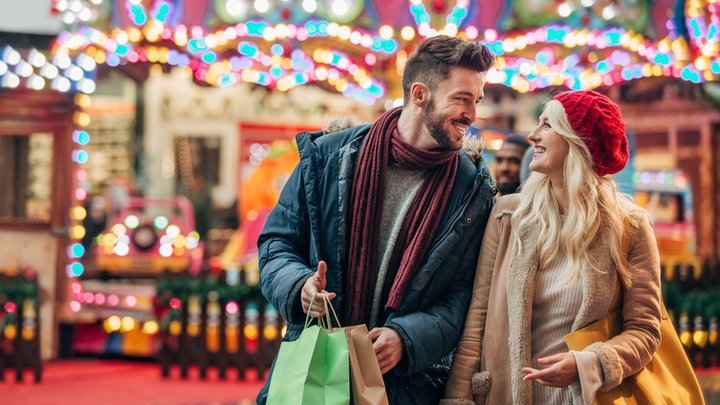 Shoppers Demand a Disruption-Free Experience
While cost may be the dominant decision driver for this year's holiday purchases, user experience (UX) also plays a big role. In fact, 27% of Americans determine their online purchasing decisions based on the quality of their CX (customer experience). Online grocers must maximize efforts around retaining the customers they do have by providing the best possible CX.
McKinsey found that 49% of online shoppers will buy elsewhere after only one poor experience, and 90% of poor online experiences are a result of CX "hiccups." To curate an easy-to-operate online store, grocers can start by ensuring optimal checkout and login processes. Simple login and checkout means users can start and complete purchases in as few taps or clicks as possible, driving customer satisfaction and curbing cart abandonment. To take CX above and beyond, online grocers can also get proactive about enhancing the shopping experience through personalization. By offering targeted promotions and item suggestions based on each user's purchases, search history, and clicks, grocers can maximize their holiday returns. Minimizing CX hiccups and creating a personalized experience ultimately drives retention, which is paramount this holiday season.
Shoppers Use Multiple Channels
The final piece of online grocery's holiday puzzle is adopting a seamless omnichannel approach. Grocers should consider their online platforms as an extension of their brick-and-mortar store, rather than a separate entity. Recent research found that 57% of those who shop for food online do so at the same retailer they shop at in-person. Additionally, 70% of respondents who order groceries for pick-up actually enter the store, providing additional revenue streams for grocers. For example, customers ordering online for in-store pick up may see something else they want or remember an item they forgot to purchase while placing their order.
Synchronization between the digital and in-store teams is also critical. Inventory status should be updated regularly across mediums to ensure orders aren't placed for items that have gone out of stock during the shopping frenzy. Grocers should also monitor the number of available delivery drivers and in-store workers who package orders to avoid potential delays. Lastly, both the automated and human customer service departments must operate smoothly, as issues are bound to arise during the holiday shopping season. By providing consumers the ability to seamlessly transition between channels (in-app, online, in-store), grocers will build customer loyalty and drive bigger profits, a win-win scenario.
Online grocery can make a comeback this holiday season if they anticipate consumer spending habits and create experiences that align. By responding to shoppers' price sensitivities, helping them pre-plan, creating an intuitive user experience, and synchronizing their various digital and physical shopping channels, online grocers can seize the opportunity to win back customers and round out 2022 strong.
CX Tips to Help Online Grocery Capitalize on Holiday Shopping


Elissa Quinby is the Senior Director of Retail Marketing at Quantum Metric, a platform that empowers a customer-centric culture, helping business and technology teams align faster on customer needs and prioritize the opportunities that will drive the most value.