This holiday season is poised to be one of the longest shopping seasons on record—and there's a strong case to be made that it has already been going on strong for weeks now. But with an inflation-battered public pickier about how they'll be spending their holiday dollars, retailers need to bring their A-game this winter to fully take advantage of the most profitable time of year.
That's easier said than done, though; logistical issues still linger and complicate planning for retailers. Aftershocks of the pandemic disruption to supply chains around the world are still reverberating, and though things have improved, we're not back to normal yet. Optimizing revenues and retaining market share this season will be trickier than ever, and many retailers are turning to the latest advances in artificial intelligence (AI) technology for help.
AI is seeing widespread adoption in the retail and grocery spaces in recent years. CRM platforms utilize AI for sentiment analysis and data integrity, and multiple marketing software products take advantage of AI to help predict buyers' behavior and make sales projections. AI has made its way into the physical store as well, tracking customer flow patterns to help design more efficient, attractive stores.
But the advantages of utilizing AI on-premise at retail locations can go far beyond those use cases. Here are a number of ways that artificial intelligence can help retailers gain an edge over the competition this holiday season:
1. AI gets you to JIT (Just-in-Time) Ordering Automatically
Inventory management systems, when powered with AI, can automate ordering and order-writing processes. AI-enabled cameras can catch outs, scan backrooms to check for backstock, and then order more inventory as soon as products are no longer available for customers in the store. This takes this task off of your team's plate completely.



2. AI improves ordering speed and accuracy
Those management systems can also utilize AI-enabled camera systems to stay in the "Goldilocks zone" for inventory ordering cycles—not too fast (which comes at the cost of accurate ordering), but not too slow (where retailers can assure accurate, needed ordering but will lose out on the advantages of speed). This increases availability and sales, and reduces extra touches from your team, backstock, and shrink. During a time when customers are as price-sensitive as they are right now, anything retailers can do to avoid price increases will win major market share points—cutting down on the waste that accompanies over-ordering is one way to retain revenue without putting an extra cost on consumers' plates.




3. AI improves your planograms
Intelligent cameras scan your shelves hourly, detecting trends. They can learn planograms and catch Chronic Outs. This is when a product is selling faster than expected and causing more outs or touches than planned. If a product is constantly going out of stock early, then likely there is not enough shelf space allocated for it. AI can take advantage of this data and recommend small edits to the shelf to increase shelf space on these products and lower shelf space on slow movers. Then the AI cameras can scan the shelf to check for Planogram Compliance.
4. AI bridges the gap created by labor shortages
Finding enough workers has been a challenge for the last few years for every industry, but it's been felt acutely in the retail space. Some retailers have been dreading the holiday months due to a lack of floor workers, but those who have adopted automation systems powered by AI have kept margins healthy by letting the employees they do have work smarter. Clear direction on what items need to be stocked, and how many pieces are needed, can help employees restock without wasting time and trips getting the wrong item or quantity. The timeliness of the automation makes it seem to customers that the store is well-stocked by a much larger team than may actually be on staff. With the rising cost of labor, retailers who lean into computer-driven AI systems will be able to cost-efficiently staff without impacting productivity well into the future.



Artificial intelligence can be the game-changer for retailers to fully take advantage of the most profitable time of year.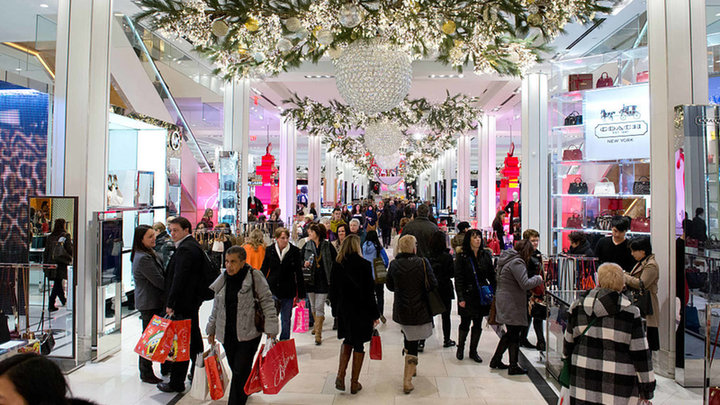 5. AI can speed up e-comm picking and eliminate substitutions
E-comm has never been more important. Substitutions are the number one cause for customer frustration and churn. AI cameras can increase availability, and can help customers and e-comm pickers skip products that are not available in stores, reducing frustration, and increase pick speed of your e-comm team.
The automation capabilities that AI can unlock for retailers are a game-changer. Some of them can be integrated into physical stores easily—in a matter of hours, rather than weeks or months. There's only so much we can control about what goes on with a product before it enters stores. But once it does arrive, savvy retailers can ensure products are where they need to be in a timely manner, reducing the number of products that sit unclaimed in the back, or even out front (if they were stocked too late).
Retailers should review their technology stacks regularly, with updates, replacements, or upgrades put in place quickly. Artificial intelligence functions should be at the top of the wish list during those reviews. AI represents a transformative opportunity for retailers to retain revenue this holiday season—and the holiday seasons to come.
How AI can help retailers retain revenue this holiday


Francois Chaubard is the CEO of Focal Systems, a deep-learning computer vision company focused on automating brick-and-mortar retail. Prior to founding Focal Systems, Chaubard worked at Apple as a deep learning researcher on secret projects. Before that, he attended Stanford University as a dual masters in CS and EE where he researched deep learning and computer vision under Fei Fei Li, the Director of the Stanford Artificial Intelligence Lab (SAIL) at Stanford University. There he created and taught 2 courses: CS231m: Mobile Computer Vision and CS224d: Deep Learning for NLP. He was also the TA for Stanford's famous Machine Learning course CS229: Machine Learning. Before that, he was a missile guidance algorithm researcher at Lockheed Martin building the next generation of the U.S. AEGIS Ballistic Missile Defense System. Before that, he received a bachelor's from University of Delaware in Mathematics and Mechanical Engineering.