As shopper attention becomes more difficult to capture during the holidays this year, retailers are looking for ways to stand out.
In 2020 and 2021, consumers shifted online and discovered how personalized digital shopping can be. Now that we're in 2022, holiday shoppers are looking to recapture this type of experience in-store, with 80% of consumers wanting personalization from retailers, according to an Epsilon survey. The following strategies can help businesses add personalization to the buyer experiences through employee engagement:
Train Employees on Product Benefits
Considered purchases are especially difficult for customers to navigate without a human touch, so one way to leverage employee engagement is to train them in the product benefits of your highest selling products.
A key component of this training is focusing on the solutions the product provides instead of the features. Marketing principles emphasize that showing consumers the transformation that specific benefits will bring them is more effective on sell-through rates than just pitting brands with similar features against each other.
One of the best ways to instill these values through training is to create fun short-form content. For employees, micro-learning keeps them actively engaged because it doesn't feel like a long monotonous PowerPoint presentation. According to research from EdApp, the average retention rate from micro-learning is 70% to 90% in contrast to 15% from traditional learning.
Forward thinking brands will see that the benefits of these training methods will equip employees to provide an in-store experience that feels personalized beyond what digital customer experience can offer.
Treat Employees Like Customers
Some companies call their employees family. Even better is to treat your employees like customers, as this creates the mindset that employee engagement and retention is of key importance. Losing customers is often top of mind, but the experience for them begins with employee interactions.
The ripple effect of an employee that feels acknowledged can impact retention and team morale. According to Atlassian, celebrating wins can improve a team's sense of well-being by up to 16 percentage points. This leads to better performance and team building.
Some ways to put this into practice are to celebrate team and sales milestones, address employee feedback quickly, and reward loyal employees. These methods are similar to how you would treat loyal customers.
Zappos is famous for happy customers, but few people know that their culture fosters happy employees as well. Employees that are more engaged remain motivated to go the extra mile by providing personalization across customer interactions in both digital and physical customer experience.
Forward thinking brands see training frontline employees will equip them to provide an in-store experience that feels personalized beyond what digital customer experience can offer.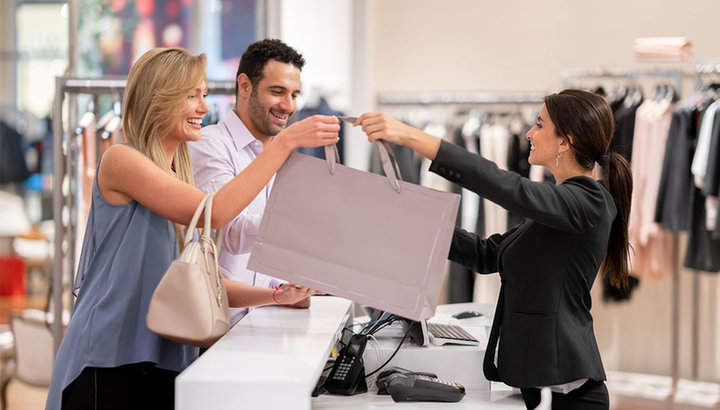 Celebrate Product Sales Milestones
Milestone celebrations are a way to show your employees how important they are. This can make a difference in retaining talent during the labor shortage. Retail milestones are often centered around top-line revenue, but one way to flip this dynamic is to celebrate specific product sales milestones for your most important brands.


Set specific unit sales goals for priority brands and rally employees to work together towards these goals. This will lead to employees understanding that the efforts they put into educating customers on each brand makes an impact on overall sales volume. This, paired with visibility into how much progress needs to be made to achieve them, helps employees feel a sense of ownership and united in a common cause.
Companies like DoorDash keep their team motivated by using incentives that celebrate milestones or goals. The 4 programs are Peak Pay, Challenges, Drive Orders Incentives, and DoorDash Reward Program for Drivers.
Retailers who implement similar programs to incentivize goals will keep employees motivated to provide personalization for customers in an effort to hit sales milestones.
Employee Engagement: Key to Creating Personalized Customer Experiences and Boost In-Store Sales this Holiday Season
By Andrew Duffy, CEO and Co-founder, SparkPlug


Karl Haller leads IBM's Consumer Industry Center of Competency, where he works with retailers and consumer goods companies worldwide to digitally reinvent their businesses and operationalize the use of advanced capabilities across their enterprise. Karl has over 25 years of experience in retail, fashion, and consumer goods, and has served in executive positions in Strategy, Customer Engagement, and Marketing at Brooks Brothers, Tommy Hilfiger, The Limited, and Doner Advertising. Karl began his career in the strategy consulting practice at PricewaterhouseCoopers.