Operational Communication for the Holiday Season
Gary Stonell, SVP of Sales and Operations, Opterus


Gary has 20 years of sales management and business development experience in CPG and SaaS. Beginning his career in CPG, he worked for Kraft Foods, Philips Electronics, then SunRype Products fostering partnerships with retailers and managing various aspects of the sales and marketing processes. More recently at Sysomos/Meltwater, a SaaS based Social Media content management platform, Gary led the Enterprise sales team responsible for managing existing clients and new logo acquisition. The key to his success has been a meaningful focus on building business relationships with collaborative solution based partnerships.
Although ecommerce continues to be the most popular method of holiday shopping, retailers must also be prepared for a rebound of in-store foot traffic, with consumers who plan to shop this way growing from 28% in 2020 to 35% in 2022.
As the holiday season begins, hiring seasonal employees, supply chain issues, inflation and a looming recession are top of mind for many. Retailers must be prepared to provide a quality, satisfactory shopping experience for customers, as well as ensure employees are prepared for the holiday rush. Retailers can streamline store operations to ensure that they are able to handle anything that comes their way, prepare employees and ensure efficient and accurate task execution.
Prepare for the unexpected this holiday season
Over the past few years, retailers have been dealt many challenges, ranging from the COVID-19 pandemic to supply chain and inflation issues. And heading into this holiday season, retailers are continuing to face these challenges. Retailers have learned a lot about resiliency and what it takes to be successful, which includes effective, fast communication and visibility on task and employee management.
Digital management processes allow retailers to be ready to handle anything thrown their way. Although supply chain disruption and inflation aren't always controllable, retailers can ensure they can quickly react to any challenges through employee performance and store preparation. For example, store associates can make sure that available inventory is on the shelf and ready for holiday shoppers, not hidden in the back room.
With unified workforce tools, retailers can guarantee that the store itself and its associates are prepared for the holiday season by ensuring proper communication and task execution. Store associates can quickly and conveniently speak to managers if any questions do arise. As well, retailers can make sure that tasks are completed accurately and on time. For example, associates can complete merchandising displays, submit pictures, and then audit the results – all in one centralized location
Ensure employees are well-informed about holiday campaigns, products and promotions
When bringing on new team members and seasonal help to handle the holiday rush, retailers can make the onboarding process easier by using digital management tools to train new associates. This allows retailers to ensure that all holiday hires get all the information they need to be successful throughout the busy season.
Providing store associates access to resources and information also improves the customer experience. Employees must be ready and equipped to handle any customer questions, and automating task management processes provides all employees access to resources and task updates.
With information readily available on an associate's mobile device, they can easily assist customers and answer questions about holiday campaigns, products and promotions. For instance, if a shopper wants to know if a specific product is included in a holiday sale, a store associate can quickly search for the answer.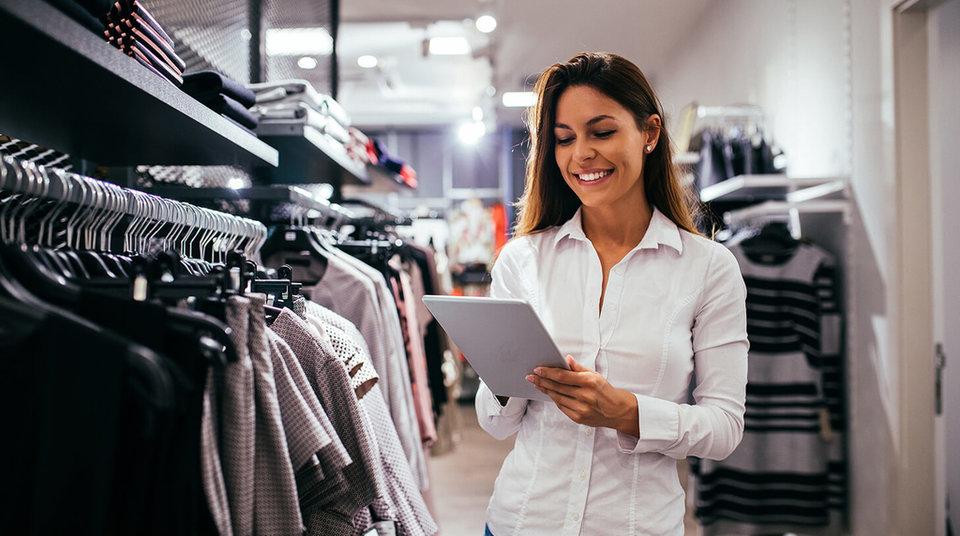 With unified workforce tools, retailers can guarantee that the store itself and its associates are prepared for the holiday season by ensuring proper communication and task execution.
Guarantee employees are equipped to handle tasks when the store gets busy
Fifty-four percent of shoppers in a recent report say they're likely to look at a product online and buy it in-store. With this in mind, retailers must be prepared to provide an exceptional in-store shopping experience to these omnichannel shoppers. Retailers can do so by streamlining communication and task execution throughout the management process, ensuring the retailer is equipped to handle in-store and online customers.
For example, as customers now expect multiple pickup options for ecommerce orders, employees must be able to handle BOPIS and curbside fulfillment efficiently and effectively, while also managing and assisting shoppers in-store. Automating store processes makes it easier to manage BOPIS and curbside during the holidays, and it also ensures that customers don't have to wait long when they pick up orders.
Avoid the naughty list by improving the employee and customer experience
During the critical holiday season, retailers can build loyalty with seasonal hires and shoppers that continues into the year ahead. When retailers use technology to optimize employee management, they can set themselves up for a merry and bright holiday season: preparing for the unexpected, enabling employees to be more well-informed to assist shoppers and ensuring that tasks are completed in a timely, accurate manner.