It's time to talk turkey.


The holiday season is upon us, and with rising inflation and supply chain snafus, grocery customers are looking to bring their traditions to the table for less.


For some, this means shopping earlier and more often. For others, it means leveraging time and money-saving technology like curbside pick-up and loyalty app promotions. And for grocery store workers - well, it means there's a whole lot more complexity to deal with.
The role of grocery store workers already changed significantly during the pandemic. No longer viewed as simply staff members who fill shelves and operate cash registers, grocery workers took on a new importance: essential workers, who were called on to keep their customers healthy and safe.


Now, frontline grocery workers are grappling with even more changing customer expectations as well as an onslaught of new in-store technology implementations.
These shifts have not been without challenges or added stress. In fact, 2 in 5 retail workers were considering leaving the industry as of last summer, according to field enablement platform provider Zipline.


But these challenges are manageable, especially if retailers look to open, consistent communication as a means of retaining grocery employees and keeping them engaged and happy in their jobs. Studies show that increased employee engagement results in an 18% increase in productivity.


The result of these factors has been the formation of the next generation of the grocery workforce: a community of essential employees who, when they are given the right communication tools, feel happier, more loyal and more prepared to tackle every new aspect of their jobs.
Regular communication counts
In the aftermath of the Covid-19 pandemic, retail companies - especially grocers - have been dealing with an unprecedented labor shortage. Talent is in short supply as more employees are choosing to leave roles in retail altogether in favor of less stressful roles elsewhere.


It's now more important than ever for grocery chain executives to focus on how to take care of their employees. From a communication standpoint, this means giving frontline employees a voice, ensuring they understand the company's purpose, and making it as easy as possible for them to complete daily tasks and be successful in their roles.


Communication became more critical than ever. But, up to that point, communication in the grocery industry, as in many other areas of retail, had been fragmented; it mostly consisted of emails, in-store signage, store huddles and other outdated methods of communication.


To remedy this, some retailers found that a centralized communication platform was a useful tool because it puts store communications all in one place, with an easy-to-understand dashboard, and targets messages to employees based on location and role.


Grocery chain Hy-Vee deployed San Francisco-based Zipline's communication platform in the early days of the pandemic. The platform quickly became the retailer's primary communication method, and in turn helped its stores stay open at a pivotal time.


Hy-Vee President and CEO Randy Edeker has used Zipline to connect with every associate, every week, via a video message, to show his appreciation and support for Hy-Vee's workforce throughout the pandemic. "For the most part, we are such a better company because of how we communicate today," says Edeker.
The hidden cost of technology upgrades
According to Retail Info Systems' annual Grocery Tech Trends report, more than half (54%) of grocers are increasing their year-over-year tech spend in 2022. Historic supply chain issues, labor shortages, and the ongoing Covid-19 health crisis are currently pushing grocery store operations to the limit. In order to maintain a safe, memorable, and engaging customer experience, grocery retailers must look towards the future. And the future is better technology.


For instance, many grocers are reporting a slew of POS investments over the next 12 months. Point-of-sale upgrades are the foundation on which most in-store technology enhancements are built. Without an up-to-date POS, grocers can't process contactless payments, execute click-and-collect orders, or allow for self-service checkout – all things customers have come to expect from their neighborhood stores.


But a POS upgrade also requires immense coordination between grocery headquarters teams, vendor teams, and frontline workers. Implementing a new POS often means several registers must be offline for hours at a time, requiring workers to perform more manual workarounds. Stores need to be staffed up to deal with these complexities, which usually requires on-call shifts. Business as usual grinds to a halt but customer expectations remain high – and frontline employees are caught in the crossfire.
In today's consumer environment, it's imperative that grocery retailers are prepared to support this next generation of grocery workers with more sophisticated modes of communication.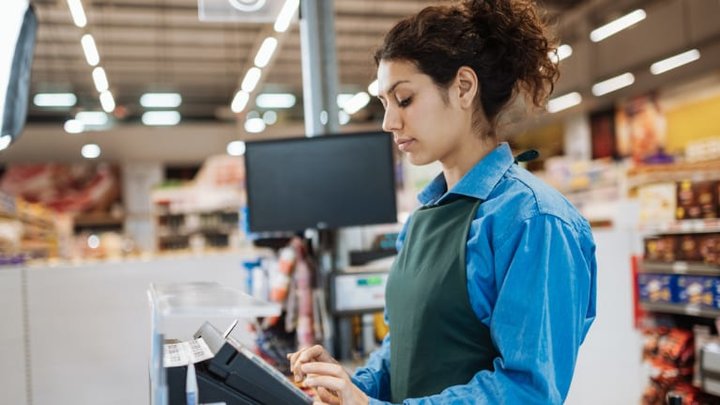 Success starts with associates
Better in-store technology cannot be implemented without increasing demands on grocery's already overloaded frontline workforce. From e-commerce upgrades to point-of-sale improvements, nearly every grocery technology upgrade comes with this hidden cost.


In order to ensure their investments in new technology are worthwhile, grocers need to first lay the proper foundation to enable the employees who bring those technologies to life. Properly equipping frontline associates with the information and context they need to execute in-store initiatives is the difference between success and failure.


"Store associates bring their best selves to their jobs when they understand their company's vision and how the work they do impacts those goals. We see this every day with grocery front lines who go above and beyond their daily tasks to impact customers and bring a brand vision to life," says Melissa Wong, CEO and Co-Founder of Zipline.


Zipline recently partnered with The Fresh Market to centralize communication and streamline information for associates. The Zipline platform also gives The Fresh Market's field leaders greater visibility into monitoring the completion of important tasks in stores. After achieving 90% adoption of Zipline at 159 stores, The Fresh Market has dramatically improved its store execution.
Fostering the workforce community
The transition to becoming essential workers has created new needs for grocery employees, who as a group have grown and bonded together over the past two years and formed a close-knit community.


In today's consumer environment, it's imperative that grocery retailers are prepared to support this next generation of grocery workers with more sophisticated modes of communication. Tacking notes on a break room corkboard won't cut it.


By bringing everything into one place on a digital platform, grocers can make team members' jobs easier. Frontline workers can easily access information and messages, and management teams can ensure that everyone has received the messages.


Furthermore, funneling information directly down to the employees who need it most helps even hourly team members feel like a part of something bigger. They become more dedicated to, and invested in, their employer's brand.


Grocers that take steps to realize the potential of meaningful communication help their employees feel valued, motivated, loyal and excited. In short: better communication makes employees more engaged. And when studies show that engaged employees drive a 23% increase in profitability, there's no doubt that grocers who don't invest in the right communication tools will be left behind.
Empowering the Grocery Workforce for the Holiday Season
By Emily Lane, Head of Content, Zipline


Emily Lane is Head of Content at Zipline, helping best-in-class brands bring their corporate strategies to life in stores through better communication. Prior to Zipline, Emily spent 10 years managing store communication at major retail brands like Gymboree, Gap and Old Navy.