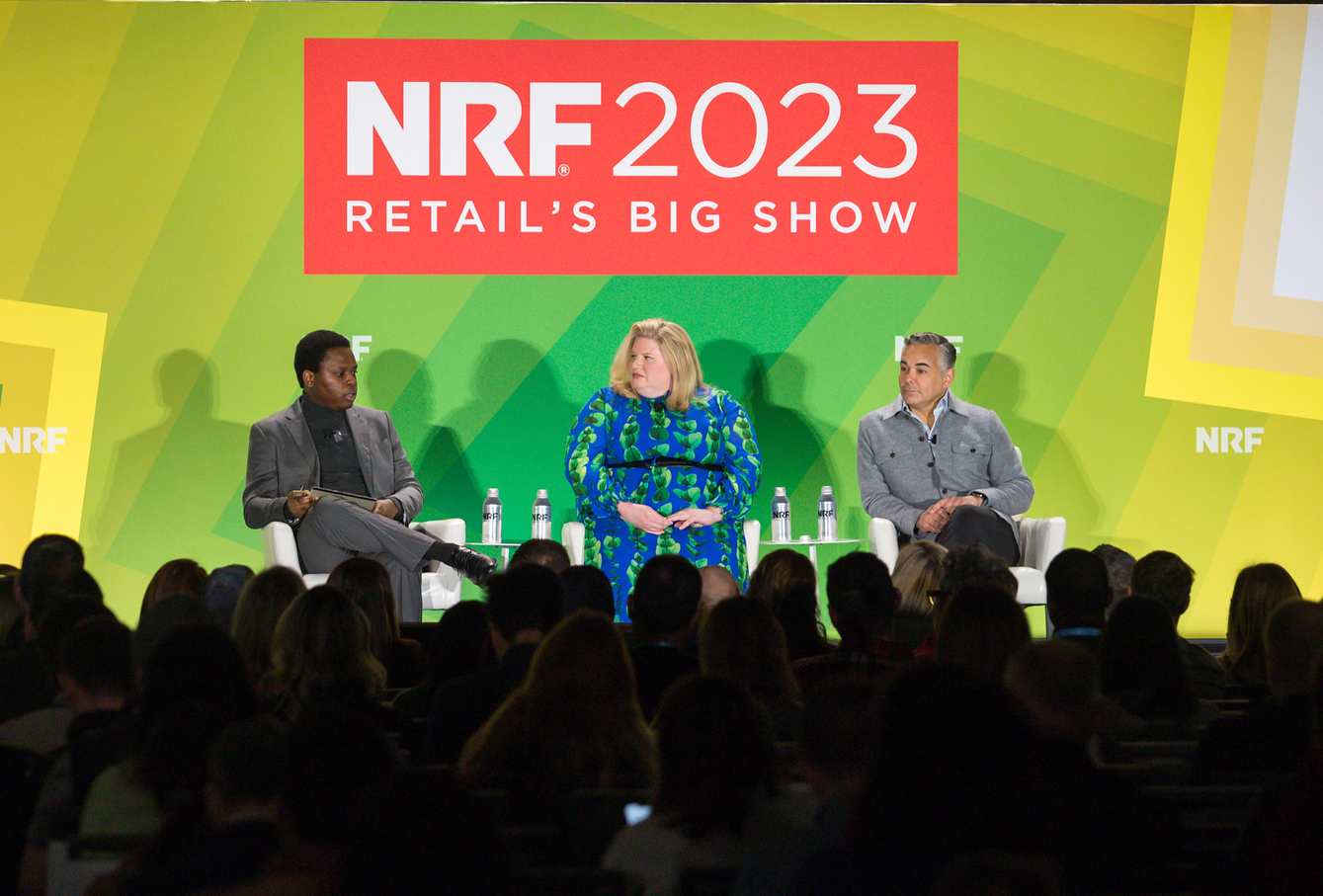 Catering to Today's Grocery Consumer
In this featured session Rick Gomez of Target and Kristen Riggs of Salty Snacks, The Hershey Company discussed about reinventing grocery.
Rick Gomez, Executive Vice President and Chief Food and Beverage Officer at Target discussed how in the face of a drastically changing environment, Target has emerged as an omnichannel grocery powerhouse through industry-leading same-day fulfillment options, a re-imagined private label assortment, and an innovative approach to partnerships with dynamic startups and established national brands.
Gomez highlighted Target's competitive advantages, particularly in food and beverage innovation, where they are leading the way in providing new and exciting products to customers. Target's exclusive vegan, plant-based line launched with Tabitha Brown has been particularly successful, demonstrating the importance of offering affordable and approachable products in response to customer demand.
Another area where Target is excelling is in providing value through ease. The retailer's dinner solution meal bags, priced at around $15, have been a huge success with customers, providing an affordable and convenient meal solution for families. Additionally, Target's private brand portfolio is growing at twice the rate of national brands, which Gomez attributes to their guests' search for value during tough economic times.
Target's multi-category offerings are also a key advantage, providing customers with one-stop shopping that cannot be found at most grocery stores. And Target's commitment to supporting emerging brands has helped scale their businesses, as seen in the successful partnership with the McBride Sisters wine brand.
Gomez also emphasized the importance of omnichannel retail, noting that customers are increasingly using a mix of in-store and digital shopping methods. Target is committed to building both experiences and providing the best of both, recognizing that the store experience is just as important as the digital experience.
The pandemic prompted Target to transform its business overnight, expanding same-day services and offering curbside pickup for dry and frozen groceries, alcohol, fresh produce, and more. Target also brought its popular in-store Starbucks cafes into its curbside pickup service, and has expanded its pickup and same-day delivery options for alcohol. The Starbucks drive-up option, in particular, has been wildly successful, demonstrating Target's ability to innovate and provide joy to customers in everyday moments.
Innovation is key to Target's success, and Gomez emphasized the importance of putting the consumer at the center of all innovation efforts. Whether addressing pain points or providing delightful experiences, innovation is essential to providing ease, joy, and affordability to customers. Through a focus on innovation and a commitment to meeting the needs of their guests, Target has emerged as a leading omnichannel grocery retailer, poised for continued success in the future.
Rick emphasized the importance of understanding the needs and desires of Target's guests, stating that their ability to meet those needs has been a key factor in their success during the pandemic and beyond."(We must) have our finger on the pulse of our guests … (so) we can be there as a retailer that can help meet their needs when they need it most. That's what served us well during the pandemic and that's what will serve us now," noted Rick.

Kristen Riggs, President of Salty Snacks at The Hershey Company, discussed the evolution of consumer behaviors over the past two years, highlighting the impact of the pandemic on consumer preferences. As a result of spending more time at home, consumers have established new routines and invested in their homes, leading to a greater focus on family and what makes them happy. To meet changing consumer needs, Kristen emphasized the importance of working with retail partners to develop strategies that offer value and home-centered connection. "Examples of this include how we bundle offerings or promotions, like family movie night or how we consider different sizes of packages, like pantry packs for chocolate or larger popcorn bags for families to share. Celebrating seasons also has become increasingly important for friends and family to connect through decorating, baking, gifting and celebrating earlier and in more ways," explained Kristen.
She also spoke about the critical role of technology, data, and insights in understanding consumers and their changing behaviors. "This is a shared currency with our retail partners for consumer personalization," she said. By utilizing a data strategy that focuses on the right data to solve specific questions or challenges and provides real-time insights for agile decision-making, companies can better meet evolving consumer needs. During the pandemic, Salty Snacks harmonized various data sources such as public health data, mobility data, retail data, and consumer research to predict demand and adjust production, media, inventory, and retail execution to meet changing needs.
As companies continue to navigate an uncertain environment, Kristen highlighted the challenge and opportunity for the year ahead: uncertainty. "We no longer have plans where you can set it and forget it for the year. We work with retail partners to assess scenarios and alternatives so that we are prepared to pivot. Together, we use real-time, macro and micro data and insights to understand consumers and make changes to deliver the right messages, to the right people to reach them in the right time and in the right place," notes Kristen.