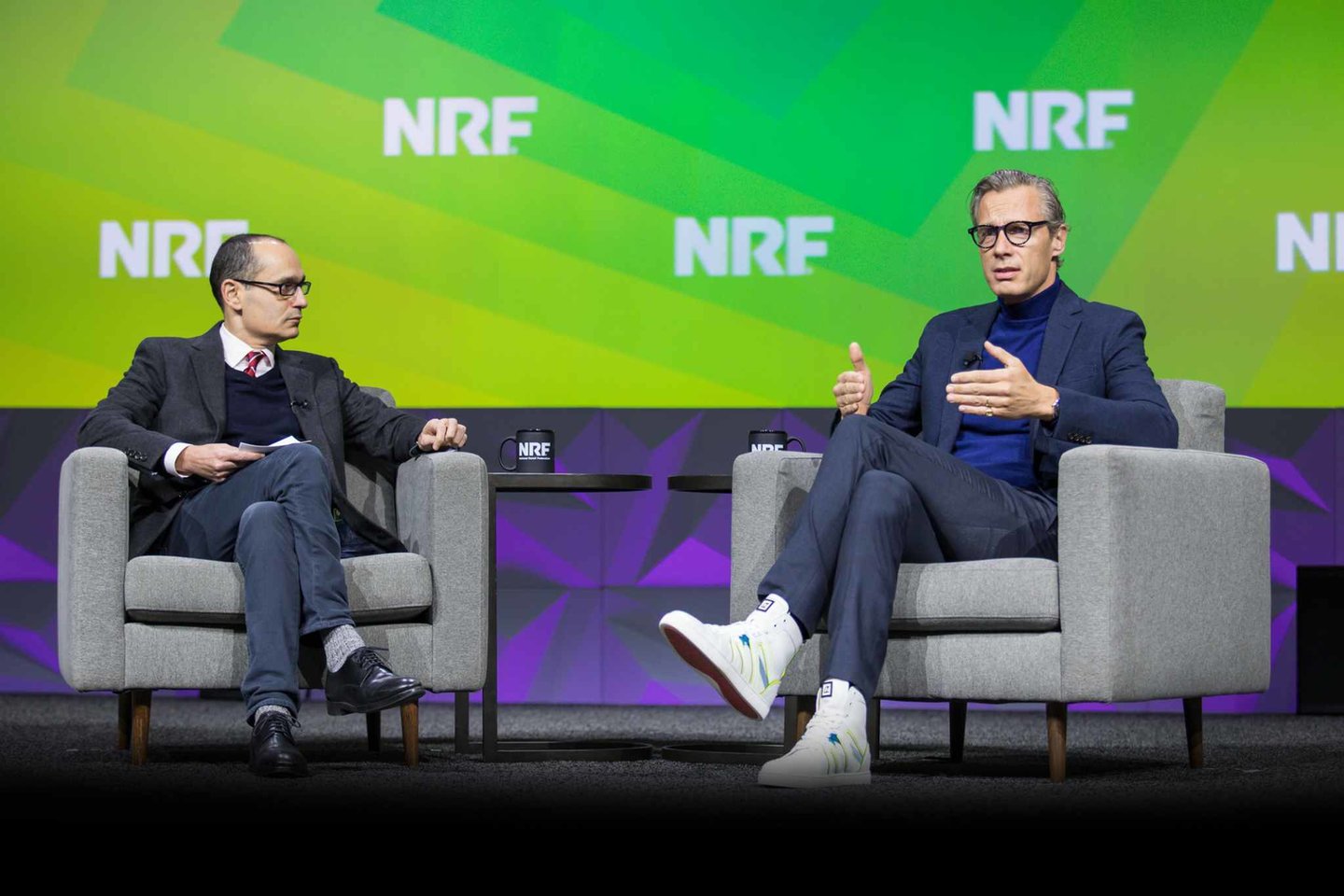 Revolutionizing Luxury Experiences
A Conversation with Neiman Marcus Group CEO Geoffroy van Raemdonck
In this Main Stage fireside chat, Phil Wahba, senior writer, Fortune magazine, sat down with Neiman Marcus Group (NMG) CEO, Geoffroy van Raemdonck for a conversation that explored how Neiman Marcus is setting itself apart in the hyper-competitive luxury market.
Phil began the conversation asking Geoffroy about the benefits and risks of the retailer's high concentration levels of customers and brands--Two percent of Neiman's customer base generates 40 percent of dollar sales, and its 20 largest brands represent half of its revenue.
Geoffroy responded, the two percent still represents "thousands of customers."
Neiman Marcus is neither a department store nor digital pure play. "We are truly in a relationship business. And that means that we spend time focusing on a few clients who have the potential to engage a lot with us, and we build that relationship so that we drive customer lifetime value," he added. "The value is really that as you get to know someone, you're able to really provide them what's right for them, and know their family, know what moments are important to them, and surprise them," says Geoffroy. "When you look at buying something that's going to create this magic emotion, and that is a commitment, you're looking for someone to guide you, inspire you, to tell you it fits, to tell you that you can stretch further."
By giving these shoppers the ultimate personalized experience, associates are able to drive sales and retain loyal clients for years. Those two percent shop an average of 25 times at Neiman's annually and spend $27,000 on average, with 90 percent retained. Since they're loyal, they're less promotionally-driven. "It means that our business is quite predictable because year on year, we start with a solid base of customers," said Geoffroy.
The average tenure of the company's roughly 4,000 sales associates is nine years, and 1,000 of those associates sell more than $1 million a year. He uses those numbers, he said, as a "measure of the connection they have with their customers, because they're paid on commission. They're there to really do what's right for the customer, and it's fascinating to see how far they go."
He told the story of one associate who had an ongoing text conversation with a customer about coping during COVID-19. The conversation had nothing to do with sales, until the customer asked how he might thank his wife for her efforts to keep the house going during the pandemic. That resulted in the purchase of a seven-carat diamond. "When the customer said, 'I want to buy something,' the trust was there," Geoffroy said. "It's so beautiful to see that we can be in the intimacy of families, and then be there when they want to experience the emotion of luxury."
"Our purpose is to make life extraordinary for our customers [by] leading with love," Geoffroy noted.
Concentration of Brands:
Twenty brands contribute to 50 percent of Neiman Marcus' revenue. These core group for brands are "that have multiple years of excellence in delivering beautiful product experiences to customers and those thrive in a good economy and they thrive almost better in volatile times." Geoffroy said, "These are brands that resonate, that have integrity, that really appeal to the luxury customer. They're also brands that sell well. So our business again is quite stable."
Neiman Marcus also remains committed to stocking emerging brands to support discovery and curation. Geoffroy explained, "Luxury brands see us [Neiman Marcus] as "a conduit" to access new consumers via our stores and online business." He also highlighted that some of the top luxury brands have expanded as part of the mix over the last year due to the exposure and insights Neiman's provides. "We can represent [brands] at the level and the standard of integrity that they have, but also introduce them to a customer they don't have today," he explained. "The end [goal] is to drive profitability." In the fall the luxury retailer added 200 new brands to expose customers to new products.
The conversation also touched on the ongoing importance of stores and the immersive experiences Neiman Marcus provides.
"At the end of the day, we are all social creatures," Geoffroy said. "We want interactions. We want to touch the product. We want the advice."
To streamline the shopping experience but still drive "discovery" among new merchandise, Neiman Marcus is using "immersive product experience" designs at store level. This includes developing temporary curated store designs that revolve around themed product assortments and designer brands. "Instead of featuring overwhelming 'endless aisles' of merchandise, these creative, new settings are designed to inspire and drive [customers'] consideration to purchase," Geoffroy explained.
The retailer has committed to making a $200 million strategic investment in stores over three years to add space for style advisors as well as food and beverage concepts to make it a top destination for luxury consumers. "Pre-COVID, there was too much debt and we couldn't invest in our business," he explained. "Now we can, and it is making a difference in our customer experiences and relationships."