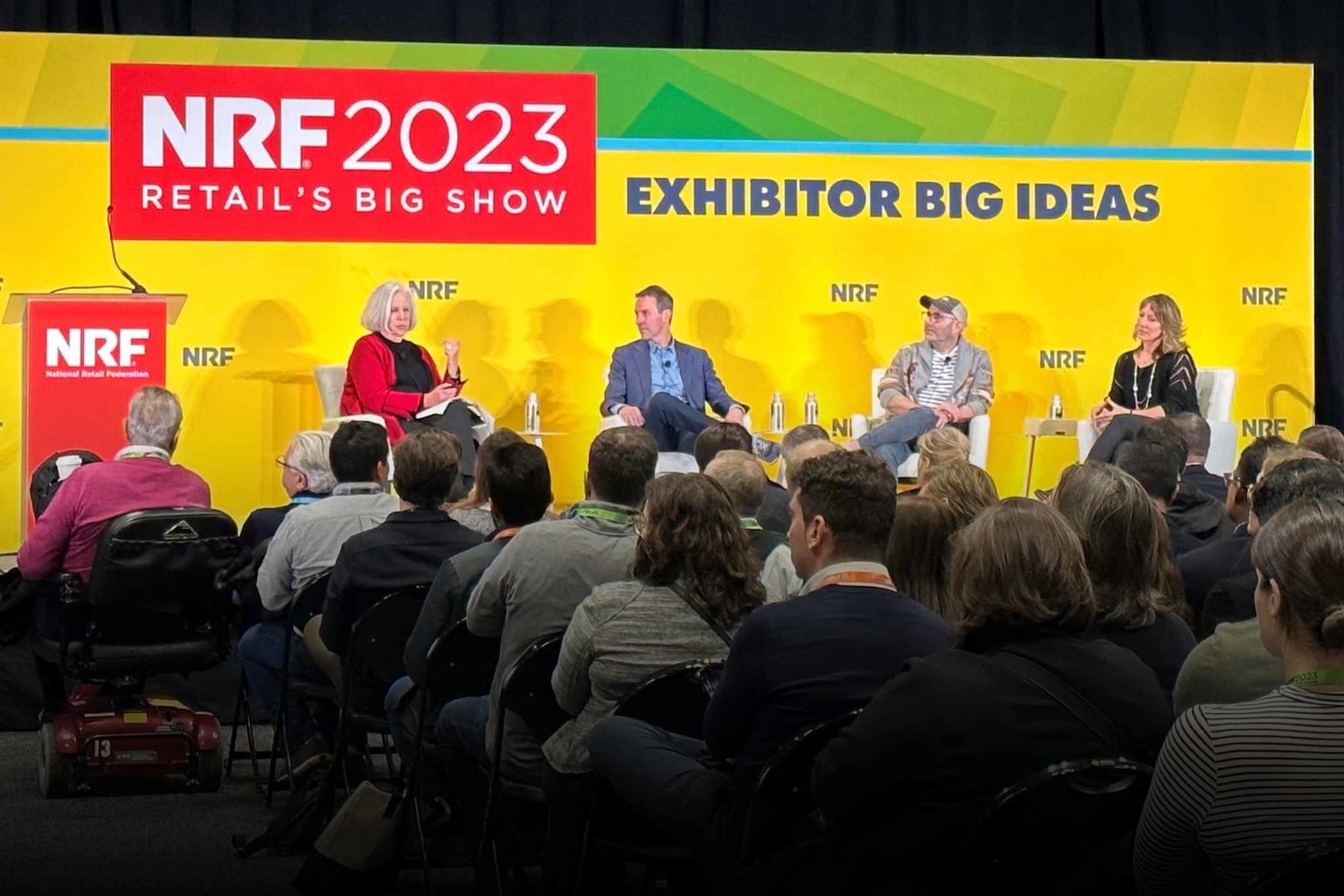 20 Strategies and Tactics from the Omnichannel Retail Index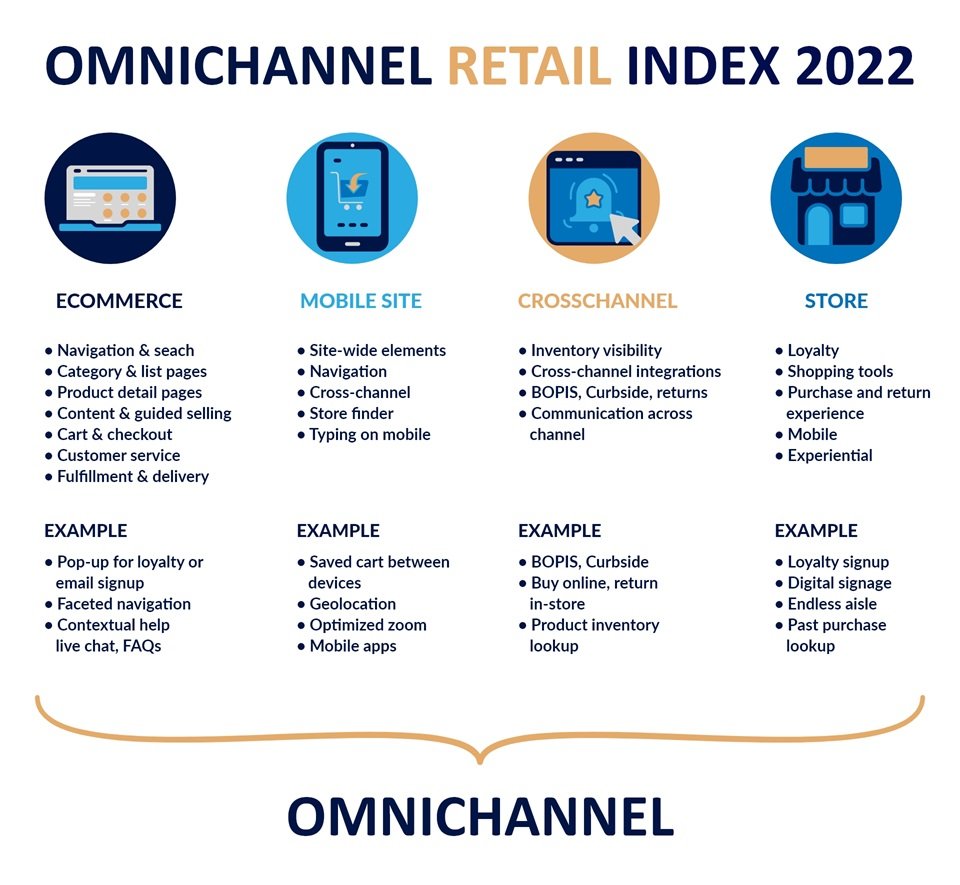 Matt Blonder, President, Global eCommerce, Wolverine Worldwide, Rob Garf, GM & VP, Retail, Salesforce, Kacey Sharrett VP, eCommerce, GoPro, Kathy Kimple, Executive Director, OSF Digital
This session was packed and discussed how retailers and brands still lag behind for omnichannel capabilities, supported by data from the Omnichannel Retail Index benchmarking study. Kathy Kimple, Executive Director at OSF Digital, moderated the session, joined by industry veterans Kacey Sharrett of GoPro, Matt Blonder of Wolverine Worldwide, and Rob Garf of Salesforce. "When we break down the overall best practices adoption by channels, we see that there's a huge jump in mobile and store channels pre-pandemic to this year. This validates that brands and retailers did focus on upping their omnichannel game, especially in mobile and store capabilities. The big disappointment here is that cross-channel (inventory visibility across channels, endless aisle, etc.) has remained flat over the past 3 years…" stated Kathy.
KATHY: The Omni-Channel Retail Index is a benchmarking exercise we initiated seven years ago, where we analyze 115-125 retailers and brands across 14 verticals and 250-300 criteria points. Our focus is on the digital experience, including webstores, mobile, the store, and cross-channel experience. Our seven years of data informs our clients and helps them concentrate on the industry's critical areas. The highest score we've seen in the index is 85%, a considerable increase from the previous year's 72%. Best practices adoption rate is at 61%, and we identify and measure the adoption rate of the industry's best practices. Department stores lead the way in some categories, and specialties also perform well.
NAVIGATION & SEARCH
KK: Search is essential to optimizing the shopping experience and increasing conversions. Optimizing navigation and search is recognized as one of the most impactful ways to improve the shopping experience and increase conversions. The majority of companies (80%) have already implemented best practices such as auto-suggest search terms. According to this year's index, there has been an increase in the number of companies (64%) incorporating display images in dearch suggestion, compared to previous years. Companies are now focusing on the right real estate for the search bar and looking at search results pages.
KACEY: Monitoring metrics and using a search analyzer, along with product data, can help identify trends and address issues promptly. At GoPro, we found that customers did not use the search bar as much and preferred the global nav. To address this, we brought visual elements and tools up into the global nav, allowing users to skip a step and quickly find the products they are looking for.
PRODUCT LISTING PAGE
KATHY: Product Listing Page offers a rich opportunity to allow shoppers to easily find what they are looking for. By incorporating features such as filtering by store availability, it can become a valuable tool for guided selling. It is worth noting that all of the department stores included in the index allow shoppers to view store availability information, and this is also common in the pet vertical.
KACEY: This year, GoPro implemented some new features to enhance the user experience. Given that many visitors to our site are new users and not frequent purchasers, we introduced a product finder, which functions like a quiz. We ask users about their intended use, affinities, and activities, and then match them with the camera and accessories that best suit their needs. This feature has been particularly successful with younger users who enjoy the instant gratification of a quiz. For those who prefer a more traditional approach, we also introduced "shot by activity," which is a highly curated page featuring a dozen or so activities that people use GoPros for. This page showcases the product in use through point-of-view shots and provides information on the necessary accessories. We believe that offering highly curated content is critical and resonates well with different target audiences. While we do have selling features, our primary focus is on providing value to the consumer.
ROB: According to research from Salesforce, consumers traverse around nine touchpoints during a shopping journey. Given the low conversion rates these days, it is likely that they will visit other websites after leaving yours. Therefore, it's essential to allow for product availability and continue to support their shopping journey. Another area that catches my attention on the product listing page is filtering. Our customers are focusing on fine-tuning their filtering options, which requires organizing product data efficiently. However, going one step further, automating this process with artificial intelligence could be the next step. It's crucial to understand what the consumer is doing, especially if they're signing in. By motivating them to do so at the beginning of their shopping journey, we can create a more personalized experience on the product listing page every time they visit. While there have been some advancements and innovations in this area, there is still room for improvement, as shown by the data.
PRODUCT DETAIL PAGE
KATHY: I find it shocking that only 24% offer back in stock notification and only 19% include kitting and bundling functionality
MATT: When it comes to the product detail page, we often feel compelled to include as much information as possible to cater to varying needs and decision-making factors of consumers. However, we tend to forget that every added element comes at a cost of load time and page weight. As retailers, we need to be mindful of what we add and what we don't in order to maintain a maximum two-second load time from a visual perspective. One example of a commonly included element is the "notify me when it's back in stock" feature. While it may seem crucial, it may not be as useful for certain product categories, such as those that are widely available and trend-based. From my experience, customers make purchases based on immediate needs and budget, and waiting for a back-in-stock notification may not be an option. Therefore, I recommend removing this feature from the page to improve load times, knowing that customers are unlikely to hold onto their money for an extended period. Ultimately, it's a trade-off between load times and what consumers actually find helpful in their journey.
KACEY: We offer bundling as a service to our consumers. We have many new users who are not familiar with the brand, nuance and products, so we offer a starter kit, which is an opening bundle that comes with a subscription at a great discount. This is all in service to providing a good consumer experience. For those who like to vlog and create content, we have a creator kit with items such as a medium mod and a light mod that complement their purchase. We've found that consumers spend only a little bit of time on each page, so we guide them toward certain bundles based on their needs and preferences. Discounts are also a factor, as many retailers offer "buy more, save more" deals.
MATT: In 23 years I have put in digital retail, particularly in the fashion industry, I have not seen bundling work effectively. Fashion industry is heavily reliant on high skew count, size, color, and trend-based products. Holding onto items for a long time, except for commodity franchise items, would mean we are not doing our job. Our success is measured by sell-through, not long-term consistency. In cases where multiple products are required to make something work (like in Kasey's industry), bundling makes sense. However, in my line of work, I have not seen bundling result in any significant increase in UV, up T or conversions. In fact, it often has the opposite effect. Additionally, operationally, it can be a nightmare.
SOCIAL INFLUENCE
KATHY: Despite the power social influence holds, many organizations are still struggling to effectively leverage it. However, we have observed some promising trends such as customer ratings, user-generated content, and social proof messaging. During a recent client presentation, we explained the concept of social proof messaging, which involves displaying information like "50 people have this item in their cart right now" or "100 were sold in the last hour" to give customers a sense of confidence or a fear of missing out. We have seen significant growth in this area and believe it will continue to be a valuable tool for building trust and driving sales.
KACEY: We've had excellent results using social proofing, which is all about creating urgency in shopping, providing information, and giving affirmation to consumers. It lets them know that others also find this item popular, and helps communicate newness or limited stock, all of which can be crucial in making a purchase decision. A year ago, we partnered with Tagstar for a proof of concept and saw tremendous success during the holiday season. We decided to roll it out across the site, but we also learned that it's essential to carefully curate the messages and avoid unexpected results, like giving away sales information. While other retailers are also using social proofing, I believe it's specific to each vertical, and it needs to be balanced with other page elements and weights.
ROB: To add on to the topic of social influence, I believe that store associates and customer service agents can also be considered as influencers. As someone who has been in retail for a long time and has grown up in the store, I know that these associates are our biggest brand ambassadors. It's important to mobilize them and tap into not only the corporate channels, but also their personal channels, and showcase their expertise and insights on a page or in a chat, even on third-party sites. This approach is more genuine and customers value the information they receive from people who have a real connection to the brand.
LIVE CHAT
A popular feature among the digital consumer, Live Chat makes it easier to get quick answers to questions, and leads to a swift resolution of issues when implemented well. As expected, in 2022 Live Chat continues to gain traction and, as the technology improves, more AI capabilities are being leveraged. Chatbots will likely automate many Live Chat functions, helping consumers with basic customer service issues, including updated item arrival times and loyalty program membership/rewards totals.
CART & CHECKOUT
KATHY: It's worth mentioning that only 40% of users have saved items for later, and only 33% of the website has a section dedicated to wishlists or saved lists.
ROB: Certainly, younger generations are increasingly seeking digital engagement on live chat, as I have observed with my 16-year-old who prefers not to speak to service agents. In my previous retail experience, we used to "hide and seek" the 800 number but realized that by making it more visible, sales increased despite the resulting increase in call volume. However, one concerning trend I've noticed is the excessive number of checkout fields (11 to 12), which has led to the adoption or revamping of loyalty programs in the industry. By leveraging sorting and AI technologies, we can identify consumers and offer incentives to encourage them to log in, resulting in a more streamlined checkout process and increased conversions. Additionally, our holiday shopping index revealed that although the percentage of orders made through "Buy now pay later" services has plateaued, the average order value has decreased, indicating that consumers are using this service for smaller transactions in addition to larger purchases.
PAYMENTS
In addition to making sure online payments are secure and quick, retailers and brands are increasingly investing in expanding payment options such as "buy now pay later" (BNPL) and payment installment plans to expand reach and broaden target customers. In addition, a smaller group of retailers and brands are actively experimenting with alternative payment methods such as cryptocurrency and Venmo payments. It is interesting to note, 72% offer BNPL option.
CUSTOMER SERVICE INFO
The ability to easily contact customer service is critical when shopping online. While the majority of retailers and brands in the Index offer two or more ways for shoppers to reach and communicate with customer service, most can significantly improve how and where they highlight customer service options. Few include customer service information in the header and although SMS communication is a consumer favorite, only 23% provide customer service via SMS.
KATHY: Only 26% of websites include customer service information in the cart, while 30% have it in the header. This creates a mixed message where we claim to want to communicate with customers, but also make it difficult to do so. As a former retailer, I understand this dilemma as labor costs can be expensive.
MATT: I have been fortunate enough to work with several exceptional customer service organizations that didn't see themselves solely as a solution for order inquiries. Instead, they saw themselves as advocates for the brand and product, and an opportunity to guide consumers through their purchase journey. In my experience, organizations where customer service is a priority have better consumer experiences, higher customer satisfaction rates, and increased sales due to running sales through that channel. It's impressive to witness a phenomenal customer service representative turn a negative inquiry, such as "where's my order" or "where the hell's my order," into a positive experience. Translating that positivity into sales is significant. The emergence of text-based customer service platforms that offer asynchronous communication has been transformative. It allows customers to interact with customer service agents in a way that suits their schedule. Therefore, I highly recommend that entities view their customer service teams as not just someone to catch the ball, but someone who can also throw the ball.
FULFILLMENT
Speedy delivery remains a high priority for shoppers, but with current supply chain challenges, transparent and timely communication about delivery expectations is paramount. While speed is important, shipping costs are critical too, and the majority offer free shipping, however not without minimum purchase thresholds.
KATHY: It is necessary to examine how transparency, fulfillment, cost, and efficiency are evolving. In terms of delivery, transparency remains an issue, with only 24% sharing expected delivery dates, which is surprising given that some of the largest companies can now provide delivery times down to the minute and within a three-hour window. Although 61% offer next-day delivery, only 28% offer same-day delivery, suggesting there may be opportunities for improvement.
ROB: If I recall correctly, same-day delivery decreased by around 25% year over year. This significant drop suggests that during the pandemic, people had no choice but to buy online and wanted their products as quickly as possible. However, as we discussed before, every vertical is different, and not all items require immediate delivery, except for fast-moving consumer goods. The decline in same-day delivery also highlights how difficult and costly it can be, especially during a labor and workforce shortage. Balancing the needs of online and in-store customers while fulfilling orders and managing inventory is a daunting task. I believe that same-day delivery will eventually increase as stores streamline their processes, optimize inventory management, and address the new priorities of store associates. It's challenging to provide an accurate Available-to-Promise estimate when there is uncertainty about the product's availability on the same day, but there is more leeway when it comes to next-day delivery. While there was a dip in same-day delivery, I anticipate that it will increase over time for certain categories.
MATT: Over the past six months, there has been a significant market shift in consumer behavior regarding the trade-off between cost and speed. Many consumers who previously prioritized speed are now prioritizing economy. We've conducted multiple tests on various mechanics, interaction models, and prices, and the data consistently shows a shift towards more economical options. It's unclear how long this trend will last, but it's not surprising given the current economic climate. This recent market shift underscores the importance of offering a range of pricing options that cater to different consumer preferences.
KACEY: The pandemic has taught people that sometimes things don't go as planned. Widespread delays have been seen due to weather and other factors, and consumers have become more forgiving. There is now a bit of wiggle room for transparency, and consumers are more aware of the costs involved in shipping. This understanding has emerged as a positive outcome of the pandemic.
BOPIS / BORIS
In 2016, only 33% of retailers and brands offered BOPIS options. Today, 84% offer BOPIS. The adoption of buy online return in store (BORIS) has been more swift – a table stake functionality offered by 92%.
KATHY: BOPIS has become a standard service that customers expect, as well as the ability to return items in-store. Customers are willing to drive to the store to collect their items within a few hours, provided that the promised delivery time is met. It's noteworthy that stores have not yet fully adopted scheduling for pickups. This is perhaps because they have prioritized offering a guarantee that orders will be ready within a specific timeframe after purchase confirmation. We have observed that all the retailers we work with are mindful of this service level and strive to fulfill their promises. Therefore, we consider BOPIS and in-store returns to be essential requirements for retailers.
CURBSIDE:
KATHY: Although curbside pickup was not a common service before the pandemic, it has become more prevalent with 62% of retailers or brands offering it. We have spoken with several retailers and we understand that curbside pickup may pose some challenges for stores in outlet centers where there may be limited staff available to assist customers. However, we have worked with clients to develop strategies to address this issue, and we believe that curbside pickup is feasible even for these types of stores. It's not just a service for big box retailers, and it's particularly convenient during inclement weather, such as in the middle of January in the Northeast, when customers may prefer to stay in their cars. Therefore, we believe that curbside pickup is a service that is here to stay.
BONUS:
SUSTAINABILITY
KATHY: We have examined the adoption rates of sustainability practices and programs, and we have observed that they come in various forms. Sometimes, it is just a checkbox in the "about us" page indicating that they participate in sustainable initiatives. However, we are noticing that sustainability is starting to take a more prominent role in product detail pages and loyalty programs, which is a surprising yet effective approach. For instance, we are working with a client on a loyalty program that rewards customers with loyalty points for bringing their own bag to the store. This approach not only reinforces sustainability efforts but also increases foot traffic in stores. We are pleased to report that 67% of the retailers that we analyzed in our index had some form of sustainability initiative, whether it involved eco-friendly products, packaging, sourcing, or donating.
ROB: Providing consumers choice around more sustainable, environmentally friendly, maybe it costs more, maybe it doesn't, is importanr. Okay, I can wait a couple more days on the delivery, if it's going to be a more environmentally friendly way to get it there. According to our research over the holiday, while 83% of the top 100 retailers have some initiative around sustainability, over the holiday, only 25% of them, actually publicly put that out there as part of the shopping journey. The others had it on their about us or investor page. So I feel it's there's going to be a shift over time of having more transparency around sustainability customers looking for it like board and then have the choice.
RECOMMERCE
KACEY: We have just started measuring just a year ago. In our early measurements, we found that 24% of retailers offered some kind of recommerce program, such as secondhand, pre-loved, or trade-in options. We see that this trend is starting to gain traction, and as trend-watchers focused on sustainability, we conducted further research on this topic. Our upcoming recommerce index examines what brands are doing in this space, and we analyzed 40 brands against 155 criteria points. Early findings show that the number of brands offering dedicated resales has exploded by 400%, with 31 brands last year and 120 brands this year. Outdoor brands are leading the pack on recommerce, but we believe that it applies to many different brands.
MATT: As a brand that promotes the enjoyment of the outdoors, we consider recommerce to be a vital part of our ecosystem. Preserving the environment for future generations is paramount to our mission, and recommerce offers an excellent opportunity to reduce our impact and convey our sustainability story. Moreover, it allows us to engage with consumers who are deeply committed to this cause. In the past, recommerce was confined to vintage and second-hand stores, but now it's becoming a crucial aspect of the overall puzzle, with Patagonia leading the way. Fortunately, many providers are entering this space, enabling a holistic, global, and true circular approach, whereas previously, retailers had to piece together various solutions to make it work.
METAVERSE
MATT: Personally, I don't think we're going to see a complete shift to virtual reality anytime soon. Although there are experts who believe that within the next year or two, all meetings will be conducted virtually, I don't think that's a realistic expectation. The cost of purchasing devices for everyone in a family is a barrier to entry, and there's a one-to-one relationship between the user and the device. As retailers, we tend to try to fit our old retail thinking into new spaces, like we did with social media in the past, when we tried to force purchasing into the feed before consumers were ready for it. I think the same will happen with the metaverse. People will explore it, but they won't use it to replace the physical universe just yet. Retailers should start to understand the metaverse and how to engage with it in brand-authentic, consumer-centric ways. It's important to think about what the consumer wants and needs in that moment, rather than forcing our own behaviors into virtual worlds.
ROB: Shopping used to be a separate, linear activity, but now it's embedded in everything we do, from scrolling through social media feeds to receiving texts from friends. It's important for brands to consider how you show up for your consumers when they're planning a hiking trip or a ski vacation. Even if they don't start with GoPro, what resources are they using to plan, execute, and purchase the gear they need for their trip? This type of shopping is what we refer to as "shopping at the edge," and it's a real-world application of the Metaverse, but it's not confined to a virtual space. We call it "shopping at the edge," where retailers need to show up where consumers are and provide solutions. It's important to understand the consumer's problem and test different approaches to address it. We need to identify the consumer's problem, assess it, test it, and find ways to show up where they are.