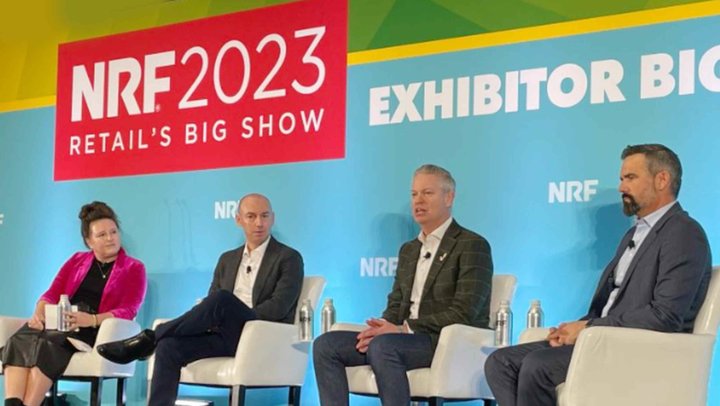 Marina Chernyak, VP, US Retail at Visa steered the panel discussion that focused on the concept of Web3 and how it has become a reference to emerging technologies like crypto, virtual reality, and the Metaverse. The discussion also touched upon how customer engagement and loyalty have evolved in the digital era, and how Web 3.0 technologies can be leveraged to target new demographics and drive customer engagement and loyalty. The panelists discussed various examples of Web3 technologies and the challenges and implementation strategies associated with them. The final topic of discussion was about advice for retailers who are looking to pilot a Web3initiative.
Jeff Lambert, the Head of Merchant Loyalty in North America for Visa, explains that Visa's core crypto strategy is to be the bridge between crypto and block chain, and its 80 million merchants and 15,000 financial institutions issuing Visa cards. Jeff adds that Web3 can be the rails to enable loyalty conversion from customers to members, and Web3 can also enable the collaboration between brands to provide customers with new benefits. On the topic of data, Jeff observes that the shift over the past decade has been towards retailers using data internally and targeting their loyalty members, and retailers are pulling in data from various disparate sources (such as spend data from Visa) to enrich their own datasets, enabling personalization. Personalization and understanding the drivers of consumer behavior are the undercurrents for this trend. Jeff suggested that brands should embrace the concept of a digital community to identify and engage with their audience by finding a community that resonates with their brand. On the other hand, brands must also explore how they can leverage NFTs, particularly smart contracts, to create unique benefits and experiences that can help to develop and maintain customer loyalty. The loyalty tier concept, as we know it, is likely to become transferable and may be owned by customers. However, for a loyalty program to work across different platforms, NFTs may be an open source solution that can be validated and used across multiple databases.
Tyler Moebius, CEO of Smart Media Technologies, discussed the company's enterprise Web3 platform that focuses on the utility of Web3.0, specifically tokens, Web3 wallets, and spatial web experiences. Moebius said that Web3 is really about the democratization of data and ownership. Web3 can give ownership of data and monetization of content to the creator economy and the end-users. Tyler explained that Web3 can help brands and enterprises in evolving their CRM and moving towards the engagement of users with the brand. By using Web3 wallets, brands can reward users for engagement and create interoperability between loyalty programs. Tyler emphasized that Web3wallets will be the killer app of the future as it can authenticate users across websites and make Web3.0 easy for enterprise and users. Moebius also talked about how his company is providing a custodial Web3 wallet that can be owned by anyone with a smartphone with two taps.
Scott Lawrence, Senior Vice President for Verizon Business Group, discussed the role of Verizon in Web 3.0 and how the company is leveraging its technology to unlock new use cases for clients. With distributed applications being a key component of Web 3.0, Scott highlights that Verizon's 5G service and mobile edge computing capabilities are essential to enabling the use of Web 3.0 capabilities. Scott pointed out that the high level of digital interaction due to COVID has changed consumer expectations and has accelerated the digital transformation of enterprise customers globally. To illustrate how Web3.0 can drive customer engagement and brand loyalty, Scott cited an innovation showcase with Burberry at their London headquarters where they created a gamified experience for customers to interact and merge physical and digital worlds in the flagship store. Scott also talked about how high-end luxury providers are using digital twin technology to increase customer engagement and brand loyalty while also benefiting on the operation side.