The Here and Now of Retail: What Every Retailer Must Know to Navigate Today's Landscape
Produced by Microsoft
The retail industry accelerated its pace of innovation throughout the global pandemic, embracing cutting edge technologies to enable things like curbside pickup and real-time inventory. Retailers are exploring the potential of technology to build autonomous stores, predictive customer experiences and the power of AI. Successful companies are using data to unlock insights that attract new customers and build brand loyalty, build supply chain visibility and predictability, and shape a value-led future for the retail industry and its customers. The future of the retail industry is still being written, and technology is helping to ensure a resilient path forward.
In this presentation, Alysa Taylor, Corporate Vice President, Azure & Industry Marketing, Microsoft, highlighted three critical areas that retailers are currently grappling with, and where technology can play a vital role: loyalty, visibility, and sustainability. Her insights shed light on the challenges facing the industry and the potential solutions enabled by technology. Here are the key takeaways from her presentation:
Loyalty: While loyalty has always been a priority for retailers, today, it is important to focus on both attracting and retaining customers. Data is a powerful tool in accomplishing this, and retailers generate more data than ever before. To unlock the value of this data, three critical steps are necessary: making it accessible, making it usable, and reasoning over it. Retailers need to pull data from various sources and organize it into retail-specific data models. Pre-built AI models can be used to gain insights and take action. By doing this, retailers can achieve a 360-degree view of their customers, personalize shopping experiences, identify trends and behaviors, and prevent fraudulent activities. For example, GNC, a multinational health and wellness retailer, increased customer retention by 37% by creating 25 million unique profiles and offering specific incentives to their customers.


Visibility: Supply chain disruptions have reached an unprecedented level of chaos. Although some improvements have been made, they are not enough to meet consumer demand. In January of last year, 60% of consumers were searching for out-of-stock items, leading to revenue loss and decreased customer loyalty. Retailers must have supply chain visibility and the ability to communicate with customers to prevent such disruptions. Retailers need to leverage technology to provide real-time insights into their supply chains, anticipate and mitigate disruptions, and optimize inventory management. Improving supply chain visibility and communication can prevent customer churn and revenue loss, as demonstrated by Alysa Taylor's personal experience of disappointment and lost confidence in a retailer's ability to deliver goods in a timely fashion.


Sustainability: Sustainability has become a top priority for organizations across industries due to climate change initiatives, regulations, and consumer preferences. However, only 37% of organizations acknowledge the trend, indicating that companies could lose potential customers and revenue by not offering sustainable options. The retail grocery industry, in particular, can make a significant impact by partnering with sustainable suppliers and reducing carbon emissions. Retailers need to understand the technology, emissions tracking, and partnerships necessary to achieve sustainability goals. Each organization has unique sustainability initiatives that require customized plans, including specific suppliers and standardized carbon emissions reporting. For example, GoodLeaf, a Canadian company that uses vertical farming and technology to manage emissions and reduce waste, can be a sustainable partner for grocers. By prioritizing sustainability, retailers can not only appeal to consumers but also be responsible to the planet.
FedEx is leveraging its vast data resources to improve its services and customer experience. The company has launched FedEx Dataworks to explore three ways to leverage its data, which amounts to about a petabyte every day: to improve the company's resilience, to digitize customers' supply chains, and to expand beyond last mile services in the e-commerce sector.
To provide better value to its customers, FedEx has re-engaged with Microsoft to explore how to utilize data to provide retailers with better insights both before and after a purchase. This includes providing delivery predictions during the shopping process, which has resulted in a significant increase in cart conversion. FedEx has developed a system that provides brands with clear visibility into the package's tracking and potential risks of it not arriving, allowing consumers to make informed decisions.
FedEx is also working on a solution that bridges the gap between pre-purchase and post-purchase experiences, eliminating silos across the customer acquisition, good experience, easy checkout, post-purchase experience, and returns experience. FedEx has integrated its delivery prediction insights into the Microsoft Supply Chain Center, where brands can utilize them as part of their overall ecosystem, offering a seamless experience for customers from acquisition to delivery and returns processes.
To optimize the cost of goods sold, particularly transportation costs, FedEx has implemented a feature called transportation as a service, which enables customers to understand the placement of their inventory as it is connected to the core inventory of the Microsoft Supply Chain Center. With this feature, customers can ensure that they fulfill their delivery commitments while minimizing costs.
FedEx has created a comprehensive bundled solution that includes label-less returns, which takes place within the brand's website, preserving the consumer experience. Consumers receive a QR code that can be scanned at any of the 60,000 retail locations in FedEx's network, and the location takes care of the package. Brands and retailers can easily integrate these capabilities and take advantage of them.
The market is experiencing a rapid evolution due to changes in regulations and consumer preferences, leading to a high demand for sustainability reporting. Regulations such as the EU's corporate sustainability reporting directive and the SEC's climate requirements will significantly impact how businesses report their sustainability data. Meanwhile, product-focused initiatives aimed at improving specific practices in product development or service delivery are emerging, affecting various sectors.
In the retail industry, there are three main factors to consider. Firstly, operational boundaries can create barriers when trying to gather data related to emissions, energy usage, and sustainability practices. Secondly, the issue of supply chain requires detailed tracking of suppliers' practices and data collection around key factors such as the point of origin of products. Lastly, consumers are increasingly seeking sustainable products while regulations are being put in place to enforce these demands, requiring a significant amount of data to track and report on.
To address these challenges, we [E&Y] have partnered with Microsoft in various ways, including using their Sustainability Manager product to help retailers comprehend their emissions scope. Additionally, we are exploring innovative approaches such as establishing data hubs that aggregate and analyze ESG data, creating sustainability command centers to help organizations navigate the regulatory landscape and consumer demands. These data hubs have a Microsoft Power Platform interface and are necessary due to the numerous data sources needed to manage regulations, track sustainability, and make informed business decisions.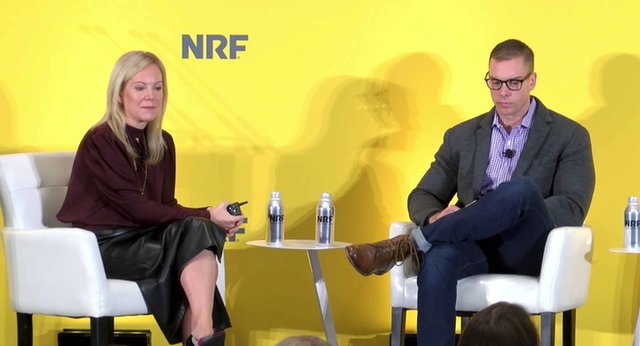 Key takeaways from the presentation of Tony Kreager, SVP, Data Engineering and Data Science FedEx Dataworks:
Key takeways from the presentation of Derek Przybylo, Principal, EY Climate Change and Sustainability Services, Ernst & Young: