Vera Bradley's Modern Store Experience Lifts Productivity, Engages Associates and Meets Customer Demand
Produced by Zebra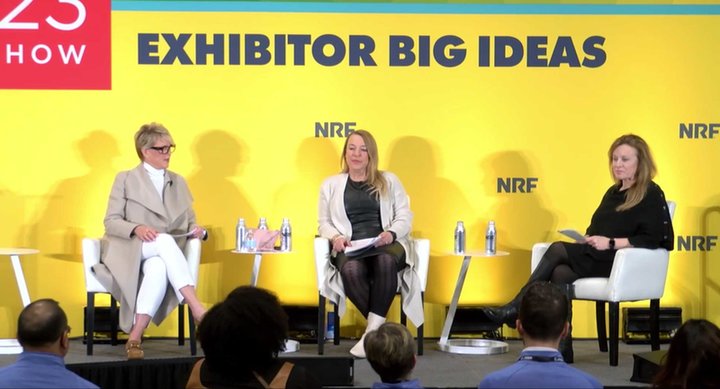 Retail's relationship with customers is shifting from a monologue to a dialogue, with retail associates directly engaging with customers to enhance their experience. And technology empowers them to do so optimally. During this conversation, moderated by Sara Lauer, Head of Zebra Customer Success at Zebra Technologies, leaders from Vera Bradley discuss the significance of technology in improving the customer experience, optimizing inventory, and engaging associates at Vera Bradley stores. They also discuss how Zebra's hardware, software, and service offerings are being used by Vera Bradley to increase employee retention and satisfaction, and optimize inventory management. Finally, they share how Zebra has influenced their customer engagement strategy. Vera Bradley, a top designer of women's handbags, luggage, fashion and home accessories, unique gifts, has over 130 stores, an online presence, and its products are available in around 1,700 specialty retail locations across the United States, as well as in select department stores, national accounts, and third-party e-commerce sites.
Mary Beth Trypus, Chief Revenue Officer at Vera Bradley, discusses how customers of Vera Bradley have an emotional connection with the brand and are deeply engaged with the team in the stores. She emphasizes the significance of customer experience in this context, as well as the role of technology in creating a seamless and frictionless journey for customers. This involves efficiently managing inventory, using digital technology to engage with customers before and after they visit the store, optimizing CRM, scheduling appointments, providing training for staff, and following up with customers after their visit. The emphasis is on integrating technology to streamline operations and create a more personalized experience for customers. The company actively listens to the voice of the customer and holds teams accountable for their performance. The brand focuses on providing predictability to the store teams and offering training tools and mentoring.
Kelly Brown, Vice President of Stores at Vera Bradley, discusses the staffing challenges the company currently faces. Many older associates who retired but continued to work part-time prioritized health and safety during the pandemic and chose not to work anymore. This resulted in the company hiring newer associates in the past couple of years, lowering the average age of the workforce. This has brought challenges in terms of training, communication, retention, and development of the new staff. Kelly's team has been trying to understand what they can do to make the job easier for the team by speaking with the store managers, district managers, and associates. The team uses the Zebra Task Manager system to keep them organized, manage workload coming from all of the cross-functional departments throughout the organization, and balance out the workload to focus on the customer.
In addition to the Zebra Task Manager system, Vera Bradley utilizes Zebra's Workforce Management solutions to better engage associates by communicating top priorities, providing in-the-moment training and mentoring, offering predictability, and alerting store teams when to expect workflow changes. It allows associates and store managers to have a direct view and flexibility into schedules and task execution. The workforce manager scheduling system optimizes labor models to stay within their payroll budget and ensure that labor is present when the traffic is there. The task manager system helps reduce back and forth between the team and cross-functional partners. "Before having a workforce manager, store managers spent about four to five hours completing a schedule because they had to do everything manually. They had to figure out availability and time-off requests and try to match their labor with their traffic on their own. However, once we implemented the workforce manager, they were able to reduce the scheduling process to 30 to 60 minutes," notes Kelly. The company was recognized as Forbes' best midsize employer for 2022, and Kelly would like to maintain that recognition for 2023 by focusing on employee engagement and retention. The company has an annual associate engagement survey, and feedback from the teams is integrated into the daily work processes. "But really, our focus is trying to make the job easier for the team. An engaged associate is one that's not frazzled and has to do a million things. It's keeping them focused on doing the right things at the right times," says Kelly. Vera Bradley also uses Zebra's SmartCount to streamline inventory counts and drive better inventory efficiency and visibility, helping improve omnichannel services and customer service.